Some celebrities are rich enough to get whatever it is they want, wherever they may be, but how about when their desires become unavailable? Okay, this is the current situation super songstress, Queen 'Bey' Beyoncé and her mega-rich husband, Jay Z has found themselves in. Unbelievably, the power couple had been unable to find the perfect L.A. home that suits their taste, passion, style and desire… rather, they negotiated their way into a rental for Sh13 million a month (Say what????!!!)… and yes, rich celebrities bargain too!
Based on TMZ, the super couple met with the owner of the seven-bedroom, nine-bathroom 16,000 sq ft property and handled the negotiations for the rental directly and as such they were able to haggle a discount from $200,000 to $150,000 a month, because they agreed to enter into a special deal with the owner of the Beverly Hills mansion which was bought by billionaire Markus Persson, founder of cult video game, Minecraft. They have reportedly endorsed a 12-month agreement for the glam Holmby Hills bolthole and bargained a special deal of where the owner shaved more than $50,000 a month off the asking price.
The super couple's been longing to move out of the Beverly Hills area hotel where they've been living while searching for a new apartment– so they made up their minds to go back to their old digs where Bey and Jay paid $200,000/month for the pad last year, thanks to the recent negotiation which gave rise to a slash of $50,000.
Even though they are familiar with the crib in ritzy Holmby Hills which they rented last summer on a short-term lease, they are still searching for a good permanent home to buy in L.A. However, their reason for moving to L.A is still unclear, but it was recently claimed that the couple's friend, Gwyneth Paltrow was instrumental in their decision to move from New York City to California as the 'Iron Man 3′ star advised it would be a better place to raise a family. So based on the claim, it is all for their three-year-old daughter, Blue Ivy and maybe some other kids, if they so wish to have more.
Report shows that Beyoncé and Jay Z are planning on making LA their permanent home based a lot on the advice of their friends of which the most influential one which prompted their move was Gwyneth Paltrow.
The 42-year-old actress, who returned to LA from London with her family of two children, Apple, 10, and Moses, 8, and estranged husband, Chris Martin in 2013, has a very strong belief that California offers a better quality of life.
The insider said: "Gwyneth was telling Jay and Bey about the quality of life for her kids in LA and really swayed Beyoncé and Jay to make the move. It's all about Blue Ivy."
The 'Pretty Hurts' hitmaker, 33, and the 45-year-old rapper might also be sending Blue to the same school as Gwyneth's children. But as previously reported, the duo have already enrolled the three-year-old in an elite private school which costs $15,080 per year. Scroll on to take a peek at the interior of the Beyoncé and Jay Z's rental home, and prepare for severe pangs of envy.
See Photos Of Beyonce's New Crib Below:
Here is what their sitting room looks like
Here is a view of their bedroom
And how about this? …You got it so right! The Gym section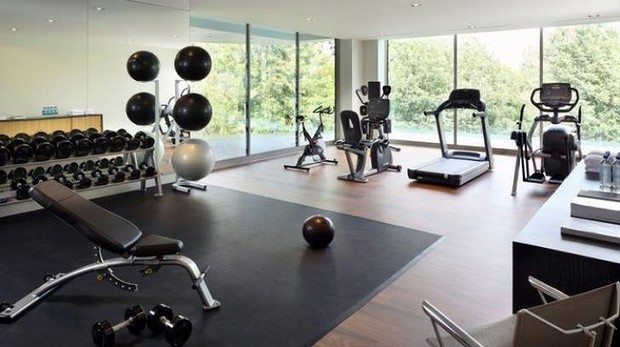 Here is the side view from outside with a sprawling lawn…..Cool right?
See what the top view looks like
This is another Side View
A view of the entrance
Sitting room
Other amenities in the home include a 75-foot gallery, a large screening room, massage room, infinity pool, outdoor kitchen and a tennis court.
The apartment also boasts of seven bedrooms, eight and a half bathrooms, and two libraries, for starters. Outside, there is a tennis court, an infinity pool with secluded, to-die-for views, and plenty of room for a swing set for Blue Ivy.
Is this Beyonce's new crib worth the price? Tell us what you think about it in the comment section below:
See also:
Children And Pornography: What To Do As A Parent