Richard Gere could be rightly tagged a Hollywood veteran. In a career that has spanned 4 decades, the actor stands as a shining example and encouragement to many in the industry. While he has acted in several movies from back in the late seventies, he is best known for his appearances in Looking for Mr. Goodbar (1977) and Days of Heaven (1978). Adding to his popularity was his role in the films American Gigolo (1980), which gave him a whole new identity as a sex symbol. His incredible portrayal of his film characters has earned him a Golden Globe Award and a Screen Actors Guild Award. Read on to find out more on his career, as we also answer the question; is Richard Gere gay?
Richard Gere Bio – How Old Is He?
Richard Gere was born in Philadelphia, Pennsylvania, on August 31, 1949, to parents Homer George Gere and Doris Ann. His father, although originally tending towards being a minister, worked as an insurance agent for the Nationwide Mutual Insurance Company while his mother was a home keeper.
Though born in Philadelphia, Gere was raised in Syracuse, New York, where he attended North Syracuse Central High School. While there, the youngster participated and excelled in extracurricular activities such as music, gymnastics. He even played the trumpet for the school band.
Following his graduation in 1967, Richard Gere proceeded to the University of Massachusetts Amherst on a gymnastics scholarship, where he majored in philosophy. But for reasons we are yet to decipher, he abruptly left College just two years into his study.
Career
Richard Gere got his start working at the Seattle Repertory Theatre and the Provincetown Playhouse on Cape Cod back in 1969. While there, he starred in the play, Rosencrantz and Guildenstern Are Dead and also appeared in the original London stage version of Grease in 1973. Still, at the Repertory Theater, Gere starred as a homosexual character in the 1979 Broadway production of Bent where his performance landed him a Theater World Award.
In the mid-1970s, Gere began appearing on the big screens of Hollywood in films like Looking for Mr. Goodbar (1977) and Days of Heaven (1978). His major role came two years later when he starred in the crime drama American Gigolo (1980) and the romantic drama An Officer and a Gentleman (1982). The latter film grossed about $130 million and won two Academy Awards from six nominations in total. The film also got Gere his first Golden Globe Award nomination.
In the years that followed, Richard Gere would go on to appear in several films, including Internal Affairs (1990), Pretty Woman (1990), Sommersby (1993), Primal Fear (1996), The Jackal (1997) and Runaway Bride (1999). In 1999, he was dubbed the Sexiest Man Alive by People magazine.
At the turn of the millennium, Gere continued to appear in films such as The Mothman Prophecies (2002), Unfaithful (2002), and Chicago (2002) which gave him his first Golden Globe Award. He also starred in Shall We Dance? (2004), Bee Season (2005), The Hunting Party (2007), I'm Not There (2007), Nights in Rodanthe (2008), Arbitrage (2012) and Norman: The Moderate Rise and Tragic Fall of a New York Fixer (2016).
In 2012, Richard Gere received the Hamptons International Film Festival's Golden Starfish Award for Lifetime Achievement, and the Career Achievement Award from the Hollywood Film Awards. Beyond acting, Gere is also a seasoned musician who composed the piano theme for the 1990 film, Pretty Woman and the guitar solo in the 1999 film Runaway Bride.
Who is His Son?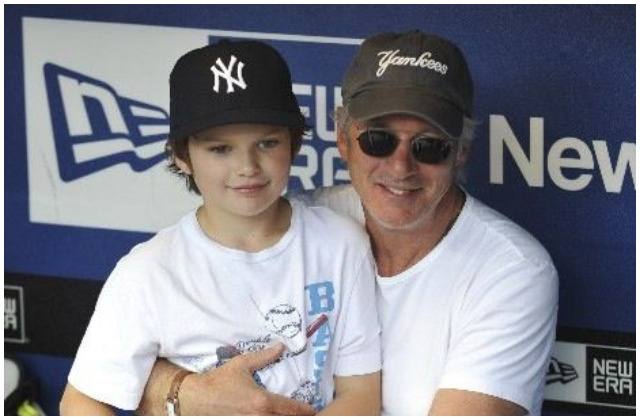 Before we answer the question; is Richard Gere gay? Here is a look at his marital life. The famed actor has been married to Spanish activist Alejandra Silva since April 2018. Together, the couple have a son who was born in February 2019.
Silva, however, isn't his first wife. From 1991-1995, Gere was married to supermodel Cindy Crawford. After they parted ways, he married model and actress Carey Lowell on November 2002. Together, the pair also have a son named Homer James Jigme Gere born in February 2000. After eleven years together, the couple split in September 2013 and spent the next three years battling for a better deal of an imminent divorce. The marriage was finally dissolved in October 2016.
Is Richard Gere Gay?
There have been speculations surrounding Richard Gere's sexuality ever since he played a role in the 1979 Broadway production of Bent. However, can be far from the truth that the said rumors, especially as Gere himself has not come out plain to identify as one and has been involved with numerous women over the years.
See also: Who is Trevante Rhodes and Where is He Now, Is He Gay?
How Tall is the Actor?
Richard Gere maintains a sturdy average build. He stands at a height of 5 feet 10 inches (1.80 meters) and weighs about 79 kg (174 pounds). His once light brown hair has given way to grey hairs, while his eyes are light brown in color.