Pretty Woman, American Gigolo, Shall we Dance, An Officer and a Gentleman all have one thing in common and that is the existence of the talents of Richard Gere, one of the biggest actors from the 80s. His career started in 1969 in the theatre and he managed to build it to the point of winning a Golden Globe and SAG award.
Richard Gere is known for playing the leading man in romantic comedies and this made him a sort of sex symbol when his career in acting began. But it would appear that in his regular life, the actor was something of a lover boy, who got into a number of relationships and has a total of three marriages to his name. 
Richard Gere's First Marriage Was To Supermodel Cindy Crawford
Full Name: Cynthia Ann Crawford.
Date of Birth: February 20, 1966.
Place of Birth: DeKalb, Illinois, United States of America.
Occupation: Modeling, Acting, and Businesswoman.
Years Active: 1985 to date.
Marital Status: Was married to Richard Gere from 1991 to 1995, currently married to Rande Gerber from May 29, 1998, to date.
Number of Children: 2 with Rande Gerber – Presley Walker Gerber (born on 2nd July 1999) and Kaia Jordan Gerber (born on 3rd September 2001).
Herb Ritts, a photographer, was having a barbecue in his home in 1988 that had in attendance celebrities such as Richard Gere. Cindy Crawford was a model whose career was just starting off and was also at the party but unlike her, all the other people there were seasoned actors, actresses, and models – people who had worked for years in entertainment.
So naturally, Crawford was smitten and impressed by everyone, but mostly by Richard Gere. They had two dates and shortly after they began their relationship. The couple dated for four years before getting married at a Vegas wedding in 1991 where they exchanged foil wedding rings. There were many things to love about the Gere Crawford union, they were both attractive people who had good careers. But in 1995 their dreamlike relationship came to an end.
There are a number of reasons why the couple got divorced but the top two causes of their split were their age difference and the celebrity status they both held. According to Crawford, she and Gere never really worked on building a friendship and that was a chink in the armor of their relationship. There were a lot of rumors when they went their separate ways but the two had a very amicable divorce. 
His Second Marriage To Carey Lowell Ended In A 3-Year Long Divorce Proceeding
Full Name: Carey Lowell.
Date of Birth: February 11, 1961.
Place of Birth: Huntington, New York, United States of America.
Occupation: Acting and Modeling.
Years Active: 1986 to date.
Marital Status: Was married to John Stember from 1984 to 1988, later to Griffin Dunne from 1989 to 1995, and lastly Richard Gere from November 2002 to September 2013.
Number of Children: 1 – Hannah Dunne (an actress and model born April 12, 1990) who she had with Griffin Dunne.
Seven years would pass before Richard Gere's next marriage and this time it was to American actress, model, and former Bond girl Carey Lowell. Their relationship started in 1997 but they did not get married until 2002. Unlike his last relationship, they were married for over a decade but in September 2013 they got separated and then proceeded to have a three-year-long divorce. 
The cause of their split is said to have been founded on them growing apart. As they got older, Gere decided that he wanted less to do with the parties and events that come with being a celebrity while Lowell was more comfortable with socializing.
Their divorce was finally settled in 2016. The details of their settlement have not been made public as the New York court where it was finalized ruled against making it public. 
Gere's Next Relationship With His Third Wife – Alejandra Silva – Began During His Second Divorce 
Full Name: Alejandra María Silva García-Baquero
Date of Birth: February 16, 1983
Place of Birth: La Coruña, Spain
Occupation: Publicist
Years Active: Unknown
Marital Status: Was married to Govind Friedland from 2012 to 2015 but currently married to Richard Gere since 2018
Number of Children: 3
In 2018, Gere got married again for the third time. Like his past two relationships, his wife is significantly younger than him. Alejandra Silvia, his third wife, is a Spanish publicist and activist. He met her when he was in the first year of his divorce process with Carey Lowell. She had been introduced to him by a friend while he had stayed at a hotel owned by her family.
The two had a strong connection the first time they met and it was from this connection they were able to build their friendship and imminent romance. The actor proposed to Silvia on her birthday, in a hotel in France to which she said yes. Their wedding ceremony later held in April of 2018.
Richard Gere Has Three Children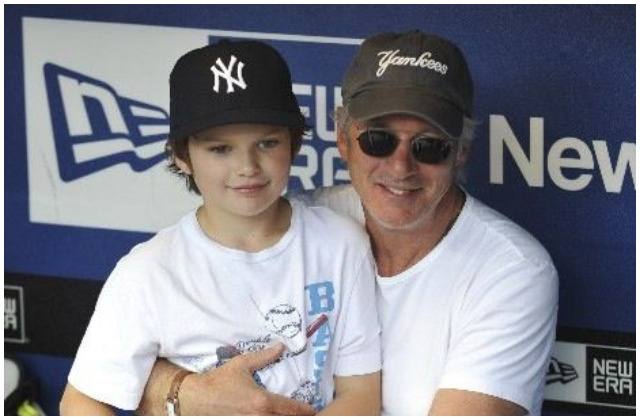 Richard Gere did not start to have children until his second marriage, he didn't even have his first child while married.
The actor's first child Homer James Jigme Gere was born in February of 2000 while he was still dating his second wife Carey Lowell; He was named after his grandfathers. Homer leads a private life and nothing much is known about him. 
In the same month 19 years after – 2019, Richard had his second child – a second son. He had this child with Alejandra Silva, his third wife. By April of the following year (2020), the two announced the birth of their second child, another son. 
The Actor Has Lent His Voice To The Marginalised People of Tibet
In his twenties, Richard Gere developed an interest in Buddhism, abandoning his Methodist upbringing to wear the robes of Zen Buddhism which was what he studied first. He studied this for 5 years with Kyozan Joshu Sasaki. His interest in the religion intensified after a 1978 trip to Nepal where he met with monks and lamas. The actor is notably friends with the 14th Dalai Lama and is known for the relationship he has fostered with the Tibetan government-in-exile who lives in Dharamshala. 
These have influenced his activism and he has used his voice to speak out on the mistreatment of the Tibetians by the Chinese government. Richard Gere is the co-founder of Tibet House US and is a member of the board of directors for the International Campaign for Tibet. His support for Tibet has caused enmity between him and the Chinese government, because of this he is banned entry into China. 
The actor has also contributed to the causes for the protection of the rights and lands of tribal people in the world. This has also been featured in his book We Are One: A Celebration of Tribal Peoples. The actor's activism also includes ecological causes and AIDS awareness. He contributed to the creation of the AIDS Care Home, a facility for women and children in India who have contracted AIDS. The work he does in AIDS is focused on India. 
His Activism For Tibetians Has Marred His Career
Richard Gere's activism is an important part of his life; so much that in 1993 when he was announcing an Academy Award for Best Art Director, he criticized China on the human rights violation they are notoriously known for. This led to the Academy banning him from ever presenting an award again. 
Although this was just an award show, his open affront on the Chinese government started to affect his ability to get movie roles. This has led to him having fewer and fewer movie appearances in recent times.