Jamaal Williams is an American professional football player who was drafted into the National Football League (NFL) in 2017. He was selected by the Green Bay Packers in the fourth round of the year's draft and currently plays for the team as a running back. Read on for all the interesting facts about the football pundit.
Who Is Jamaal Williams? 
Born Jamaal Malik Williams on April 3, 1995, in Rialto, California, the running back acquired his high school education at Summit High School in Fontana, California before moving on to Brigham Young University (BYU) for his college football career. He played for the BYU Cougars football team from 2012 to 2016.
Jamaal made his college debut on August 30, 2012, in the game against Washington State, recording 15 rushing yards. The following month, he made his first collegiate rushing touchdown against Utah and also made 155 rushing yards and two rushing touchdowns against Hawaii. With an ever-increasing intensity on the gridiron, Jamaal Williams was able to record a total of 775 rushing yards, 12 rushing touchdowns, 27 receptions, 315 receiving yards, and one receiving touchdown in the 2012 season.
During the 2013 season, he ended with 1,233 rushing yards, 7 rushing touchdowns, 18 receptions, and 125 receiving yards overall. Beginning the next season with the game against Texas, Williams made 89 rushing yards and 12 receiving yards which led to the game ending in favor of the Cougars. The season, however, came to an early end for the footballer following a knee injury that restrained him to the bench for the remaining part of the season. In the three games he played in 2014, Jamaal Williams recorded an overall of 8 receptions, 4 rushing touchdowns, 518 rushing yards, and 47 receiving yards.
See Also: Tarik Cohen Bio, Parents, Height, Weight, Measurements, NFL Career
Jamaal withdrew from the school and red-shirted just after the Cougars started fall camp in August 2015— facing a one-game suspension for his second violation of team rules. Consequently, he did not play in 2015 but eventually returned in 2016 for his final collegiate season. He kicked off the season with a record of 162 rushing yards against Arizona and subsequently, he set a school record with 286 yards and 5 touchdowns on 29 carries in the game which ended in a win over Toledo. The running back continued his strong play until his final college game in which he made 210 rushing yards and one touchdown, earning the MVP of the 2016 Poinsettia Bowl.
At the end of his college career, the talented player set a school record with his 3,901 yards on 726 carries with 35 touchdowns.
During the 2017 NFL Draft, Jamaal Williams was drafted by the Green Bay Packers in the 4th round, becoming the fourth running back from Brigham Young to be picked in the first four rounds of the draft. He was the 13th running back selected in the draft and the 134th overall pick. His rookie contract was sealed on June 1, 2017.
The player made his professional debut on September 10, 2017, against the Seattle Seahawks and put up a very good show in the subsequent games. In Week 12 at Pittsburgh and Week 14 at Cleveland, he made a rushing touchdown/receiving touchdown, becoming the first rookie in the history of the team to record such in two games.
Jamaal concluded his rookie season with 556 rushing yards, 4 rushing touchdowns, 25 receptions, 262 receiving yards, and 2 receiving touchdowns.
Family Details
Jamaal Williams was born to Nicolle and, Larry Williams. His mother studied Economics at UCLA and was initially a school teacher but left the job to become a law enforcement agent, working as a sheriff with the Riverside County Sheriff's Department. His father's occupation is not known.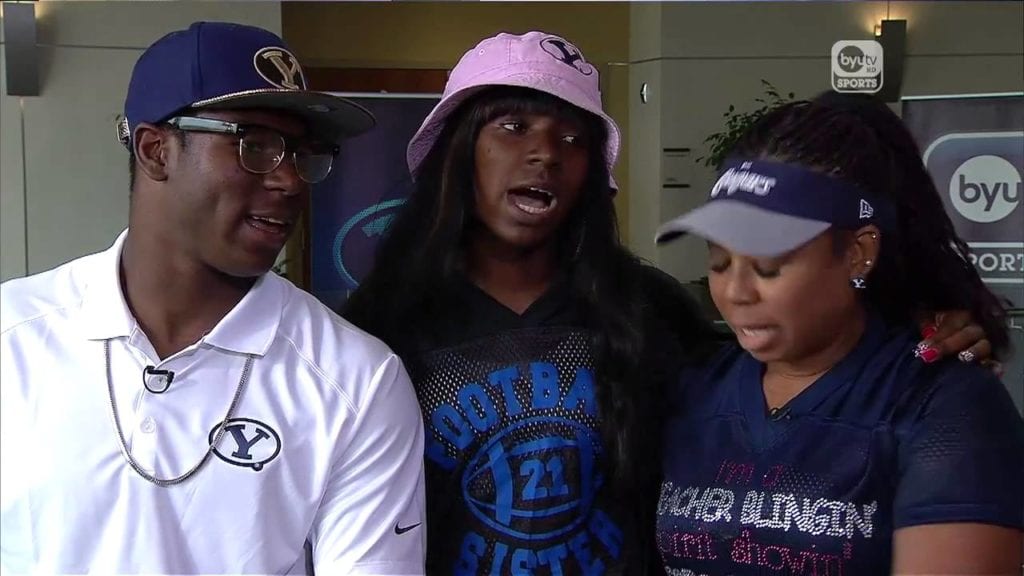 The running back has a younger sister, Jaela, who is also involved in sports. She ran hurdles for the University of Nevada, Las Vegas track team.
Body Measurement – Height & Weight
The California native possesses the perfect NFL size with a muscular build and good height. He stands at a height of 6 feet 0 inches (1.83) and weighs 96kg (212 lb). Jamaal's arm length is 31 1⁄4 inches (0.79 m) while his hand size measures 10 inches (0.25 m).
Other Interesting Facts
Jamaal stood out in college and even though his school, Brigham Young University, was completely owned by The Church of Jesus Christ of Latter-day Saints, he was not a member of the church. However, he has unwavering faith in God and attributes his success to his Christian beliefs.
His mother has attended almost every game he has ever played except for about three or four which she missed either because she was sick or on duty.
Jamaal Williams was the second running back from BYU to be drafted since Harvey Unga in 2010.
The player does not drink much of alcohol. According to him, it doesn't taste good. He also prefers playing video games to drinking and going after girls.