Jazz Jennings is an unusual personality who became famous as a transgender activist and was recorded as the youngest documented public figure to be seen as transgender. She is also a YouTube personality and spokesmodel for brands, her fans, and other transgenders. She fought for acceptance in her high school with her super supportive family for over two years before she was finally recognized. In June 2018, she completed her transition (as a transgender) with her gender confirmation surgery. Here's everything there is to know about her.
Jazz Jennings' Real Name, Age And Ethnicity
The American native, from Southern Florida precisely, was born male on the 6th of October in the year 2000 as Jared Jennings but later took up the name Jazz as suggested by her elder sister, Ari. Although the high school she attended is not known, it is stated to be in Florida. She is of Jewish descent as both of her parents are of Jewish origin.
When she was five years old, Jazz was diagnosed with gender disorder identity because even though she was said to be male, she looked like a female and exhibited feminine characteristics. Moreso, she preferred to be dressed as female rather than male. She was the youngest person to be diagnosed with such but as soon as she could talk, she made it clear she is a girl and had to be addressed as such.
Jazz Jennings' media tours as a transgender started at age six when she would appear on television programs with her parents as they addressed the challenges she is facing growing up and those of other transgenders in general.
Her story was covered by national TV shows such as 20/20 and The Rosie Show. Shortly after, in 2007, she and her parents established the TransKids Purple Rainbow Foundation to seek help for transgender youths. Having garnered a wealth of experience over the years, she wrote and released a biography about her life and family in 2011. It was tagged I am Jazz. A documentary soon followed where Jazz talked about her family and the things she went through while she transitioned. It went viral and was so popular that it was featured on the Oprah Winfrey Network (OWN).
Later as a teenager in 2013, she formed the Purple Rainbow Tails, a company were she styles rubber mermaid tails to raise money for others like her. In that same year, she battled with the United States Soccer Federation (USSF) to allow transgender girls to play on the girl's team. The lawsuit went on for about Two and a half years. She received support from the National Center for Lesbian Rights and later succeeded in changing the USSF's policies to allow trans students to play.
It was not long before she shared the stage with Zach Wahls and Lauren Foster in the GLAAD Media Awards where she was invited as a guest in 2014. In that same year, she was named among The 25 Most Influential Teens of 2014, recognized as the youngest person ever featured on the Out 100 list and Advocate's 40 Under 40 lists and was named a Human Rights Campaign Youth Ambassador. She received an award as LogoTV's 2014 Youth Trailblazer.
Jazz Jennings became a spokesmodel for Clean & Clear's digital campaign tagged See The Real Me in 2015. She also modeled for the NOH8 Campaign and authored a piece for Time magazine's 100 Most Influential People. She and her family were also featured in the critically acclaimed reality series I Am Jazz.
Her career continued to grow and in 2016, she published a journal tagged Being Jazz: My Life as a Transgender Teen. In 2017, A doll company – Robert Tonner and the Tonner Doll Company – marketed their first transgenders' dolls in her honor.
Net Worth
With the many things that Jazz Jennings has dabbled into and the many brands she has worked with, her net worth is pegged to be between $300,000 and $450,000 and is still on the rise. Her salary per episode of her show is between $10,000 and $15,000. She is certainly doing well for her age.
Who Are Her Parents, Brothers and Grandparents?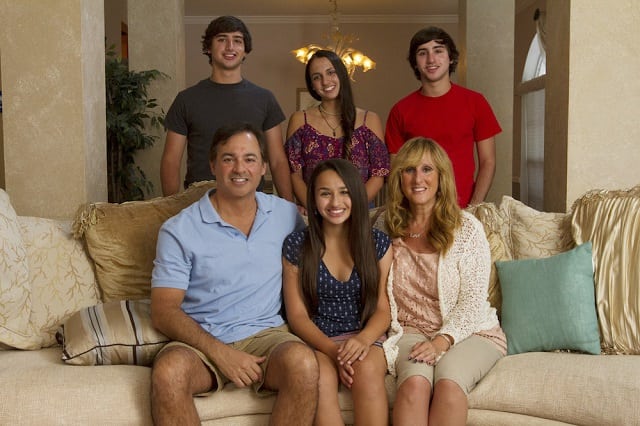 The names of Jazz parents are Jeanette and Greg. Jennings is not their original surname, it is an alias they adopted because their Jewish name was too long. They have been very understanding and supportive of Jazz's life and the struggles she faces, and as such, they have virtually follow her to most of her media interviews and shows.
Jazz Jennings has an older sister Arial popularly known as Ari, and two older Twin Brothers called Sander and Griffen.
Her grandparents are Jack and Jacky. She is especially close to her grandma, whom she confides in with her love interests, romance, and relationship. However, earlier this year her Grandpa told her she is still not complete until she undergoes a surgery which was successfully completed in June 2018.
Read Also: Is Jaden Smith Transgender or Gay? Here are All The Facts You Need To Know
Boyfriend
During one of Jazz Jennings interview in 2012 with Barbara Walters, she said that she had a thing for guys. Then later in 2014, she said she was attracted to both sexes and did not have any issues having both kinds of relationships thus stating that she is pansexual. She has also publicly stated that she would like to be a mother in the nearest future though she has not revealed if she has any special man in her life at the moment and there are no rumors to the effect, so we can safely assume she is still single.
 Height, weight and Other Facts
As a model and YouTube personality Jazz Jennings is 5 feet 2 inches tall with a weight of about 58 kg.
On YouTube, her subscribers are over 380k, while on Instagram she has about 570k followers.
She has her own subtitled YouTube Channel where she posts frequently on make-ups, swimming in mermaid outfits, DIYs and sometimes referred to as the mergirl.