Ever since Jon Rahm took the world by storm, he has never slowed down in his career. As someone who is currently enjoying a productive time on the golf course, there were days Rahm struggled to make it to the top. Coinciding with Jon Rahm's meteoric rise in the sport is his earnings, which grow with each new successful outing as a pro golfer.
Beyond his successes on golf courses, Jon Rahm is also a fulfilled man romantically. He is married to his longterm girlfriend, Kelley Cahill, with whom, alongside forging a magnificent career, is also helping him create a storied love life.
How Jon Rahm Began His Life in Golf
The professional golfer was born to Spanish parents on November 10, 1994, in Barrika, Basque Country, Spain. Born as Jon Rahm Rodríguez, he grew up in Spain. He has a brother called Eriz Rahm, a Bilbao-resident and his big fan.
Jon Rahm is the son of Angela Rahm and Edorta Rahm. According to him, his father is a significant influence on his career and the one responsible for his life as a golfer. Like their son, Angela and Edorta are also good at golf. They developed a strong passion for sports after watching the 1997 Ryder Cup and passed the passion to their son.
Jon attended Arizona State University, a Public University in Tempe, Arizona, in the United States of America. Before his relocation to the U.S, the golfer didn't know how to speak a word in English, and this impacted his studies during the first few months. What it didn't affect were his golfing skills. He played collegiate golf for Arizona State Sun Devils and was a huge success.
He won eleven college tournaments, setting a new record as the second-highest in school history. The first? Phil Mickelson. He also won the Ben Hogan Award in 2015 and 2016, becoming the first player to win it twice. Other college/amateur achievements include ranking #1 in the World Amateur Golf Ranking for 60 weeks, setting a record.
Eventually, after years of a dominating amateur and college career, Jon Rahm transitioned to professional golfing and has continued his excellent performances.
Jon Rahm's Meteoric Rise in Professional Golf
While all his accomplishments at amateur did give Jon Rahm some modest earnings, none of it compares to his career earnings as a pro-golfer. Aside from the difference in prize money, it is a result of his rapid rise in the industry, reaching the top ten players in the world within the first four years of his professional career. His first pro competition was the Quicken Loans National. Although he started the competition leading the first two rounds, he finished in third place, earning himself a place in The Open.
His first victory as a professional came in 2017 when he won the Farmers Insurance Open. For winning, he earned $1.2 million and rose from 137th to 46th in the global rankings. The victory also secured his place in the major tournaments, like the PGA Championship, Masters and The Players Championship.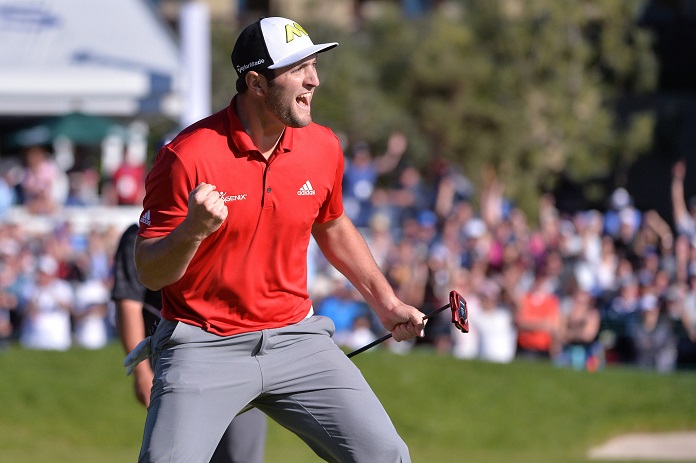 Jon Rahm did not win ant another tournament in the year, but his performances in other competitions helped him finish the year in the top ten of the world rankings. It also helped him win the European Tour Rookie of the Year.
In 2018, he won the CareerBuilder Challenge, winning $1.06 million as prize money. In the European Tour, he won the Open de Espana, with €250,00 in prize money. He repeated the feat the following year. He was also part of the European team in the 2018 Ryder Cup, and he won the Hero World Challenge, increasing his earnings by $1 million.
At the end of 2019, Jon Rahm had added four more tournaments, including his second consecutive Open de Espana. The victories also added $3.58 million to his total prize money.
His Earnings Have Given Him A Comfortable Life
In four years since he became a professional player, Jon Rahm has earned a total of $16.1 million from winning ten events – six European Tour, three PGA Tour, and one other event. His best earning year came in 2018. When he won total prize money of $4.9 million, and an additional $682,500 in 2019, bringing his 2018/2019 earnings to $5.67 million, his highest two-year period.
With more than $16 million in earnings since turning pro, Jon Rahm's net worth has reached $5 million, all bills considered. Thanks to his net worth, he has built a comfortable life in a mansion in Phoenix, Arizona, where he lives with his wife, Kelley Cahill.
John Rahm Found Ever After in an American Woman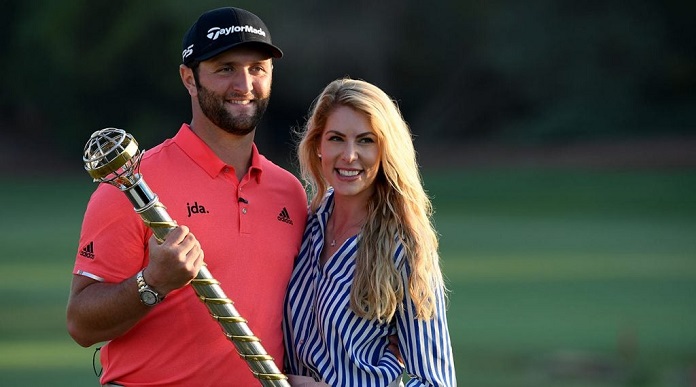 If you agree that Jon Rahm is super-hot and hunky, you are not alone. He's in a very flourishing relationship with a fellow athlete, Kelley Cahill.
Cahill and Jon first met at Arizona State University while the former was competing in a javelin throw as a member of the University's track and field team. From living an incredible college life together, the two deemed it fit to continue their happy relationship outside the walls of the university. They've been together since December 2015 and are showing no sign of leaving each other's side.
Now married, Kelley Cahill is from Portland, Oregon. She came from a sporty background and is also an Instagram queen, known for flaunting her seductive figure online. As the golfer would have us believe, Cahill has been of great help to him and his career. He once admitted that she is the one who makes sure he gets his diet in the right order.
Though Kelly's comprehensive details remain out of reach, she is young, charming, and amazing. She looks happy each time they are together, and it's so lovely to behold. Thanks to her allure and Jon's reputation, they are developing a reputation as one of golf's power couples.
See Also: How Tiger Woods Achieved a Net Worth of $800 Million
They Have Been Married Since 2019
Things took a significant step in 2018 when Kelley Cahill and Jon Rahm got engaged. Rahm proposed to Cahill in the summer of 2018, shortly before he competed at the PGA Championship at Bellerive. About one year after, the two of them got married on December 13, 2019, in Spain at Basilica of Begona in Bilbao, Jon's childhood church.
The wedding was a lavish affair, with Cahill wearing a gorgeous looking white lace gown and Rahm in a fitted blue tuxedo. Since they got married, the couple lives in Phoenix, Arizona, and is yet to have a child.