Hard work they say, pays off. This phrase is absolutely correct in the case of Kenya Duke who is a vibrant and very hard working American businesswoman. She is renowned for being the Chief Executive Officer (CEO) of a palmy traveling agency called Premier Sports and Corporate Travel Company. Her company helps in managing traveling plans for musical tours, professional and college sports teams, independent film and TV production, etc.
In addition, Kenya Duke has also gained popularity from her marriage to an actor, screenwriter, and comedian, Gary Owen. Her husband is best known for being the host of the reality television show, The Gary Owen Show. Kenya has also made appearances both on the show and many television shows including Aries Spears: Hollywood Look I'm Smiling. To know more interesting facts about Gary Owen's wife, continue reading.
Kenya Duke Biography (Age and Ethnicity)
Kenya Duke was born in Cincinnati, Ohio, USA on 26th July 1974. She is quite secretive when it comes to disclosing information about her personal life, hence nothing much is known about her early life, parents, and family. However, she did mention that her mother's name is Barbara Jean. She possesses American nationality while her ethnicity is African-American. As per her religion, the elegant looking businesswoman is a Christian.
Kenya Duke has not revealed any information pertaining to her educational background. As an entrepreneur and businesswoman who has the zeal to improvise easier ways of reducing stress for professional and college athletes along with people in the entertainment industry concerning their traveling plans, Gary Owen's wife launched a traveling agency called Premier Sports and Corporate Travel Company, where she is the Chief Executive Officer (CEO). The agency manages the traveling plans for independent film and TV production, musical tours, professional and college sports. Her hard work really paid off as the company has made a huge success and has fetched her fame and fortune.
Her Father
Even though Kenya Duke has not disclosed much information about her family, siblings and the name of her father, the renowned businesswoman made it known that she was very much attached to her father who passed away some years back. Although she was able to disclose her mother's name as Barbara Jean, nothing much is known about her mother.
Interesting Facts About Gary Owen's Wife
1. How She Met Her Husband – Gary Owen
The successful businesswoman met her husband, Gary Owen for the first time at the Cubby store where he performed as a comedian. Coincidentally, Duke met Owen again at a warm-up at the same store the second time and from there, they kick-started a love affair that ended in marriage. Gary Owen is an eminent actor who has starred in several American comedy films including Daddy Day Care, Little Man, Ride Along, Think Like a Man and its sequel, Think Like a Man Too, among others. In addition, he is also well known for his stand-up comedy shows which have earned him many titles such as Funniest Serviceman in America, Funniest Black Comedian in San Diego, Black America's Favorite White Comic and many others.
2. Kenya Duke's Wedding Ceremony
Duke's wedding ceremony was indeed a nightmare as everything went awry. Starting from the officiating priest who left early because Gary Owen was 30 minutes late, to the baker who dropped the wedding cake coupled with the brawl at the wedding. Thank goodness that at the end, the couple later solemnized the union in front of their friends and family on 19th July 2003. However, they later had a renewal of marital vows in 2006 which was secretly orchestrated by Owen and the children at the final season of The Gary Owen Show and it was nothing like the first wedding ceremony.
3. She is a Mother of Three Children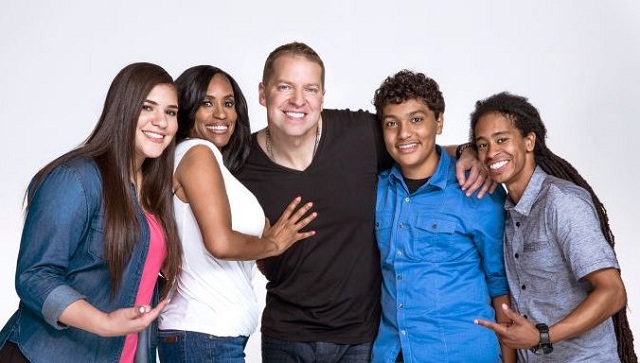 Gary Owen's wife is the mother of three kids. She first had a son named Emily Owen from her first marriage and the remaining two came from her marriage with Owen. They include a son named Austin and daughter, whose name is given as Kennedy Owen.
See Also: Sheryl Berkoff – Biography, Age, Wiki, Facts About Rob Lowe's Wife
4. Her Appearance on Several Reality TV Shows
Kenya Duke has appeared along with her family in the reality TV show named The Gary Owen Show which is hosted by her husband and aired on BET. The show delineates the normal life of the interracial family. Asides the show, she has gone on to make appearances in several other TV shows including DeRay Davis: Power Play, Aries Spears: Hollywood Look I'm Smiling and others.
5. Her Net Worth
It is obvious that Gary Owen's wife has earned a pretty good sum of money from her traveling management company. Hence, her net worth is estimated to be about $8.5 million as of February 2019.