Kyrie Irving joined the NBA in 2011 as the first overall pick by the Cleveland Cavaliers and then he went on to win the Rookie of the Year award. Since then, there has been a heightened interest in him as one of the league's superstars. That attention has touched everything from his on-court performances to his life off of it.
Off the court, Kyrie Irving has developed a reputation as a ladies' man, with a few notable names in his dating history. In recent years, however, he has reined it in and has been with one woman. Here is a look at Kyrie's long-term girlfriend, who, like the women in his past, is a prominent Instagrammer.
Kyrie Irving is Dating Marlene Wilkerson, an Instagram Influencer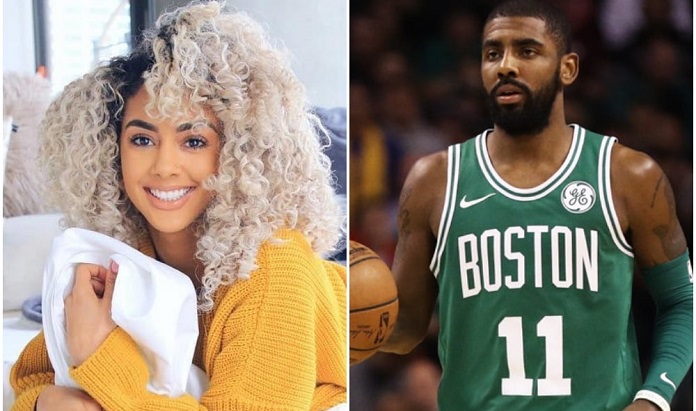 Except for the singer, Kehlani, there has been a couple of Instagram influencer ex-girlfriends and flings in Kyrie's past relationships. However, none of them, including the singer, appears to have touched his heart as much as Marlene Wilkerson has.
Marlene Wilkerson is an Instagram and YouTube influencer, more commonly known as Golden. She is quite popular on both platforms, with more than 705,000 subscribers on YouTube and over 437,000 followers on Instagram. Marlene is a hair, beauty, and fitness influencer, and has worked with brands like Lash Effects, RPG Show Wigs, and Good American.
It is not known when their relationship began, and to date, neither of them has publicly confirmed their relationship. So far, the closest the couple has come to addressing the rumor is a question mark by Golden in response to a fan question.
The rumors suggest they began their relationship in late 2018. They were first spotted at the Kyrie Invitational back in December. Since then, she has made a few appearances in the basketball superstar's Instagram short videos.
The closest to a suggestive appearance together was in November 2019 when she appeared in a short video biography about the Brooklyn Nets point guard.
Kyrie and Marlene Might Be Engaged
With no official confirmation, the fans and observers only have clues and IG stalking. So far, the closest we may have gotten was in September 2019. Paparazzi spotted Kyrie and Marlene out on the night with a massive diamond ring on the influencer's wedding finger.
Despite practically confirming their relationship, and possible engagement, neither Kyrie nor Marlene has confirmed the implications of the sightings.
Kyrie Irving's Girlfriend Flaunts Massive Diamond Ring Amid Engagement Buzz https://t.co/6CUqDC3gZQ

— TMZ Sports (@TMZ_Sports) September 16, 2019
In fact, even though Marlene posts a lot of pictures on her Instagram page, Kyrie has never featured on any of them. All of it, however, suggests a strong commitment to keeping things lowkey, rather than a denial of their relationship.
The Brooklyn Net's Star Has a Daughter from a Previous Relationship
If Kyrie and Marlene are genuinely engaged and set to be married, the Instagram influencer will be becoming a stepmother. The basketball star has a lone child, Azurie, from a previous relationship with another Instagram star and former Texas beauty queen, Andrea Wilson.
On November 23, 2015, Kyrie Irving welcomed a daughter, Azurie Elizabeth. He named the little princess after his late mother, Elizabeth Irving. Like his previous relationships, his relationship with his baby mama did not survive.
.@KyrieIrving sitting courtside with his daughter in the Nike SB "Bison". pic.twitter.com/wvCYttHAQQ

— B/R Kicks (@brkicks) August 2, 2019
Kyrie and Andrea began their relationship in 2013 and were together briefly. By the time the couple broke up, Andrea was pregnant with the basketball player's child. He filed a paternity test suit later in 2015 to confirm he's the father of the baby.
Once confirmed, Irving has assumed full responsibility for Azurie. While the birth of a daughter did not bring them back together, he co-parents with Andrea and pays up to $4,500 a month in child support; a small fraction of what his humongous net worth allows him to afford.
Kyrie Irving Has Made an Astounding Amount of Money
The NBA is undoubtedly one of the most profitable leagues in the world. Its best players, like Kyrie Irving, have been at the forefront of the massive earnings it offers. Since he joined the NBA in 2011, he has made over $126.9 million in cash earnings, playing for three teams in the league.
His first contract was a two-year $11 million deal with the Cleveland Cavaliers. He signed two extensions in 2012 and 2013, worth $5.6 million and $7 million respectively. In 2014, Kyrie signed his first mega-deal, worth $94.3 million across five years, all with the Cavaliers.
He won the Championship with the Cleveland franchise before getting traded to the Boston Celtics. Kyrie played for two seasons with the Celtics before joining the Brooklyn Nets in a four-year worth $136.5 million as a free agent. According to Forbes, the deal makes him the highest-paid athlete in the team and one of the world's highest-paid athletes.
With his cash earnings, Kyrie Irving has amassed a net worth of $90 million, earning an average of $30 million per year based on the terms of his latest contract. But while his massive NBA salary makes up a large fraction of his overall net worth, it is not the business-minded Kyrie's only source of income.
He Makes a Lot of Money from Endorsement and Other Business Ventures
Kyrie Irving has a shoe deal with Nike, worth $11 million per year. His signature shoe, Kyrie 3, has been one of Nike's best-sellers since he signed with the brand in 2014. He also has a deal with PepsiCo. Irving has starred in several TV commercials about its signature product, Pepsi, and has written/directed episodes of the show, Uncle Drew. He also starred in the feature film version of the project, playing the titular character.
Other deals with other brands include Activision, for the Call of Duty series, Apollo Jets, and Cocoa Pebbles.
The basketball player is a stakeholder in the American company, Skullcandy, a headphone brand expected to be worth up to $17.5 billion in 2022. Other income sources from acting include an episode of a TV series, Kickin' It, aired on Disney XD and a guest-starring role in an episode of Family Guy.
With a net worth of $90 million, Kyrie has donated to a few charities and causes, including The Robin Hood Project, UNICEF, Steve Nash Foundation, Best Buddies International, and Boys & Girls Clubs of America.