Lauren Bohlander is not one of those women who are renowned only as a result of their partner's fame. Though best recognized as a celebrity spouse, Bohlander has an impressive résumé and is quite accomplished in her own right. Having been together for a long time, Lauren and her award-winning Brazilian beau have become perennial favourites. Join us in exploring some of the facts that have made the TV personality and actress appear increasingly endearing to fans.
Lauren Bohlander – Bio
Lauren Bohlander from Lincoln, Nebraska was born on January 11, 1982. There is a scarcity of information regarding her parents, siblings and family background. If Lauren's academic records are anything to go by, then it is safe to say she was an active and athletic child. While studying at Lincoln High School, she played various sports including basketball and volleyball. Bohlander continued with her stellar performance on the court to DePauw University where she played volleyball with the school's team while studying for a degree in Communication Arts & Sciences. Though she had impressive sports records, Lauren decided to pursue other interests professionally.
Career
During her undergraduate days, Lauren Bohlander was actively involved in various co-curricular activities. In addition to sports, Lauren who was honing her skills as a media person also interned with the campus TV station D3TV. She has since followed up with other experiences as a TV personality. In front of the camera, Lauren has worked in various capacities as a host/compère, news anchor/reporter, sideline reporter, and many more. More so, she boasts of vast experiences from popular media outlets such as Pacers Sports & Entertainment, Big Ten Network, Fox Sports Florida, and ABC WXYZ Detroit, among others. But professionally, she is best recognized for her stint as the co-host of the reality TV show Garage Squad in 2014. Some of her credits as a media personality before and after Garage Squad include hosting duties for Chevy Florida Insider Fishing Report, (2013-2014), Born Racer (2018) and the Verizon Indy Car Series.
See Also: Leanne Goggins – Bio, Life and Death of Walton Goggins' Former Wife
Besides her job as a TV personality, Lauren Bohlander has added acting to her profile. An actress who shines more on the small screen, Lauren Bohlander did a voiceover in the first season of Home Team and has appeared in TV shows like Freedom in America and Vincent's Hospital. She has also featured in John McLaughlin's From Me, For You music video and narrated for EFT: The Digital Horizon. However, Lauren has since continued with her job as a broadcaster.
Marriage, Kids
Lauren Bohlander is happily married to her heartthrob Tony Kanaan. Though she has an enviable profile as a media personality, Lauren is better known as the significant other to the 2004 IndyCar Series champion. Details are a little sketchy about the outset of the couple's romance but their love journey dates back to 2010 when Kanaan popped the big question after they had dated for a while. Bohlander and Kanaan were engaged for three long years before finally walking down the aisle together on March 8, 2013, in Miami, Florida. The family-oriented couple has since expanded their small circle. They are proud parents to three children, their first son Deco was welcomed in December 2014, the second son Max joined the family in 2017 and a daughter Nina Bohlander welcomed in 2018.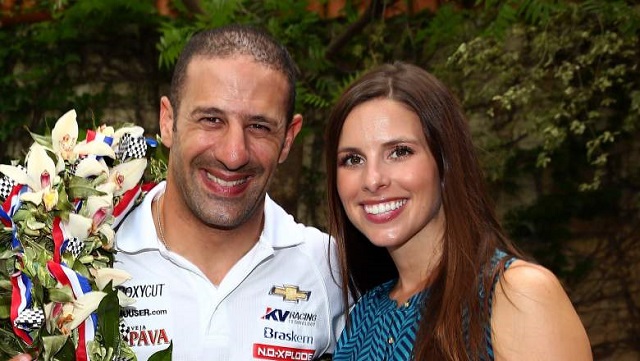 While their union is the first for Lauren, it is the second for Tony who was formerly married to a Brazilian woman identified as Daniele Muniz Loiola. There is a dearth of information regarding Kanaan and Loiola's marriage and the circumstances that led to their separation but it is known that together, they had a son Leo. Tony's ex-wife and his first son reportedly remained in their home country after the divorce.
Tony Kanaan
Lauren Bohlander's beau is a multi-award winning car racer. The Brazilian-Lebanese athlete whose full name is Antoine Rizkallah Kanaan Filho began his career in the 1990s and has accomplished enviable feats over the years. A respected figure in the car-racing game, Kanaan has a decorated career.
A fierce competitor, he has won a plethora of titles from various contests. Notably are the 1994 Formula Europa Boxer and Indy Lights Series both in 1994, 1997's U.S. 500, 1999's IndyCar Series, the 2004 Indianapolis 500, and the Rolex 24 in 2013. Kanaan is also a recipient of several awards including the 1998 CART Championship Series rookie of the year award, the 2007 Scott Brayton Award as well as the 2013 recognition as the IndyCar Series Most Popular Driver.
Facts About Tony Kanaan's Wife From Garage Squad
Besides their love life, it is uncommon knowledge that Bohlander and Kanaan share many things in common. Lauren is a seasoned TV personality and sideline reporter. In her career, she has gained a lot of experience and knowledge in various sports including racing, fishing, and basketball.
The Garage Squad star is no stranger to the media and her numerous endeavours in the industry have undoubtedly brought financial rewards. While Lauren's exact salary and net worth have not been disclosed, she is believed to also enjoy from her husbands net worth which is currently pegged at $20 million.
Lauren Bohlander is active on social media. While the media girl may not be present on all popular social networking sites, she has amassed a sizeable fanbase on Twitter and Facebook.