Lauryn Hill is a legendary female entertainer whose fans have defined from different perspectives. She is a singer, a songwriter, a rapper, a music producer and an actress. She had a successful stint with a hip-hop group called the Fugees before establishing herself as a solo act with a successful one and only studio album titled The Miseducation of Lauryn which announced her to the world in the late 80s. She may have isolated herself from the limelight; yet, her short but impactful career keeps her name afloat day in day out.
Lauryn Hill's Biography
Born as Lauryn Noelle Hill on May 26, 1975, in East Orange, New Jersey, she spent her childhood in South Orange with her family. She has an older brother named Malaney Hill who was born in 1972. She is an African – American by ethnicity and nationality. The parents belonged to the Baptist denomination.
She developed a passion for music at a tender age, motivated by her parents' musical endeavors and listening to Curtis Mayfield, Stevie Wonder, Aretha Franklin, Gladys Knight, among others.
She schooled at Columbia High School where she became popular for her versatility in singing, dancing, and sports. She later formed a group with Wyclef Jean and his cousin. They were initially known as the Tranzlator Crew but they later changed to Fugees. They performed school talent shows and in local events. Though Lauryn began her career as a singer, she later learned how to rap when she started listening to rappers like Ice Cube.
She took acting lessons to develop her acting talent and landed herself a recurring role on the television soap opera As the World Turns in 1991; that role became her springboard to other major works like Sisters Acts 2, etc.
Lauryn graduated from Colombia High School in 1993, and her group released their first album titled Blunted on Reality in 1994; the album made it to number 64 on the Billboard Top R&B/Hip-Hop Albums chart.
1996 was a remarkable year for the group as they released their second album titled The Score which was peaked at number one on the U.S. Billboard 200 and maintained the top 10 for six months, selling 17 million copies. It came second in the list of best albums by Pazz & Jop Critics Poll, it also won the Grammy Award Best Rap Album.
The same year, Lauryn Hill launched the "Refugee Project", a non-profit organization aimed at changing the attitude and lifestyle of troubled urban youth. She raised funds for the Haitian refugees and water well building projects in Kenya and Uganda. The following year, the likes of Sean Combs, Mariah Carey, Busta Rhymes, and Spike Lee were introduced as the board of Trustees members of the Refugee Project.
With the success of the two studio albums and irreconcilable differences among the Fugees, the group separated in 2007 and so did the relationship between Wyclef Jean and Lauryn Hill as both launched their solo careers. She released her first and last studio album titled The Miseducation of Lauryn on August 25, 1998. The album was widely received; it sold 19 million copies and earned Lauryn five Grammy awards, three American Music Awards, a Billboard award, a soul train award, and MTV Music Award. Hill indirectly addressed the course of their split in one of the tracks to be money. She also addressed her feud with Wyclef Jean.
She wrote scripts about the life of Bob Marley while also producing a romantic comedy about soul food and got an offer for a movie role but all those were disrupted by pregnancy. Becoming famous with the success of her album and not being able to manage her fame, she decided to stay away from the industry for a while and while away, she worked on her spirituality emphasizing more on her bible studies.
She made a return in 2002 with MTV Unplugged No. 2.0, which saw her only singing and playing an acoustic guitar. It was not widely received like her first album. The same year, she closed her Refugee Project for "obligatory reasons". She spoke about the molestation that boys go through in the hands of Catholic priests and got a lot of vituperations especially from the Catholic League who called her "pathologically miserable". In 2004, she produced a song with John Legend titled The Passion and So High.
In 2005, the Fugees reunited to embark on a European tour bt the bad blood between Lauryn and Wyclef could not allow them to record an album. 2007 saw Lauryn release a solo title Ms. Hill, three years later, precisely in 2010, she came back with an unofficial compilation album titled Khulami Phase. The same year, her unreleased single leaked on the internet, the single later debuted at number 94 on Billboard's Hot R&B/Hip-Hop Song.
Lauryn Hill spent 3 months in prison following her tax evasion in 2013. Upon her release on October 4, 2013, she released a single titled Consumerism, and she was allowed to tour but not without strict conditions. She has featured in about 8 movies; the last one titled Concerning Violence was released in 2014.
Net Worth
She became famous in the music industry but her fame was surrounded by lots of controversies. even though she made some fortune before being greeted by those controversies. She earned $25 million from record sales and tour between 1998 and 1999 and also made a huge amount of money from the pay per view music video she sold online for $15. She sold autographed posters and Polaroids through her website with some items for $500. However, Lauryn Hill has also expended a huge amount of money in court cases and charity along the line. The mother of six is currently believed to worth $9.5 million.
Family
Lauryn Hill was born into a family that was musically inclined and endowed. Her African-American mother, Valerie Hill her mother was a teacher and played the piano while father Mal Hill, sang at local clubs and weddings and he was also a computer management consultant. The family moved to New York and Newark where they stayed briefly before moving to South Orange, New Jersey where they finally settled.
She does not have a husband but has a partner
The singer never really had a husband and even though she had five children with Rohan Marley, they were never married. Lauryn had on some occasions addressed Rohan as her husband but the latter never saw her as his wife. It was said that Rohan had married at his early age before meeting Lauryn.
She had her 6th child around 2011 after she parted ways with Rohan. She made it clear that Rohan was not the father of her newborn child; although she did not divulge the identity of the baby's father.
Before her long relationship with Rohan, Lauryn had dated her bandmate, Wyclef Jean, their relationship did not work out and Wyclef, in turn, introduced her to Rohan Marley with whom she shared 5 kids.
Children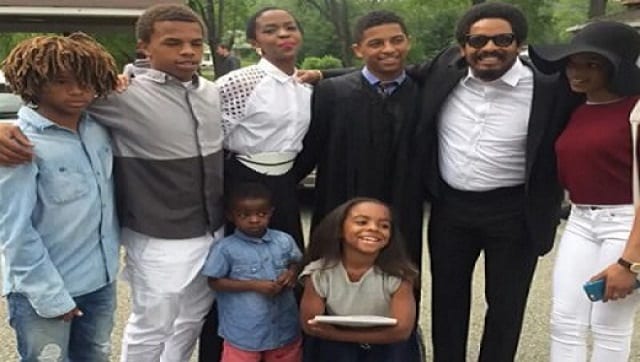 Lauryn Hill gave birth to six children, at the prime of her music career, around 1996, she started dating Rohan Marley, the son of Bob Marley. They had five children together and their names are Zion David (August 1997), Selah Louise (November 12, 1998), Joshua Omaru ( January 26, 2002), John Nesta (2003), and Sarah (January 2008).
Lauryn Hill and Rohan ended their long relationship around 2009 and she later gave birth to her 6th Child, a son, on July 23, 2011. Though she is yet to reveal his paternity of her child, she has insisted that Rohan is not responsible.