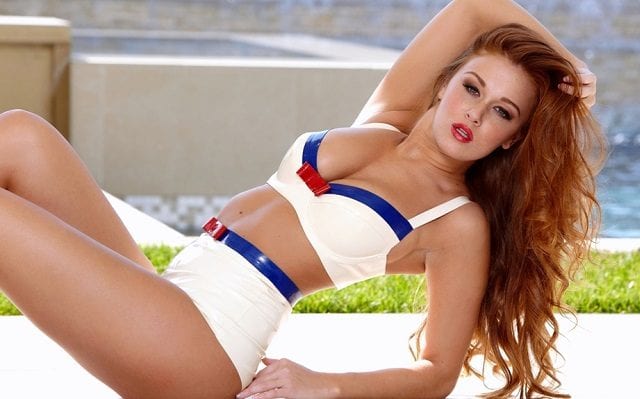 Leanna Decker has been described as the hottest redhead alive and the reason is not farfetched. The American glamour model boasts of a scarlet mane, captivating green eyes and a body that just won't quit. Decker has been featured in over 50 magazine publications worldwide. She has also appeared in lucrative campaigns for several companies and has been named Playboy's Cyber Girl on many occasions. Want to know more about the glamour model? We have got six captivating facts about her.
Leanna Decker is a Southern Belle
Leanna Decker was born on the 31st of August 1991 in Ashland, Kentucky. Her nationality is American while her ethnicity is Caucasian. The model has not disclosed specific details about her family background or educational history. It is however obvious that she is well-educated. Decker spent her formative years in Greenville, a fairly small city in South Carolina. While growing up, she was a typical tomboy and loved roller skating as well as playing outside.
She also loved playing with her brother as well as her numerous pets. Despite all these, Decker retained her girly sensibilities and aspired to become a model. The redhead decided to pursue this passion of hers once she finished school. She hired a photographer and was able to put together a gorgeous portfolio. She thereafter posted the pictures on her Model Mayhem account and the rest, as they say, is history.
 She was Named Playboy Cyber Girl of 2012
Since becoming a professional model, Decker has modeled for clothing lines such as TeenyB Couture, RSVLTS, and Guess Jeans. The South Carolina native has also been involved in multimillion-dollar campaigns for Apple and Stubhub – a leading online platform for buying and exchanging tickets for sports, music concerts, theatre, and other live entertainment events. Decker's career as a swimwear and lingerie model has also seen her appear on the pages of over 50 magazines worldwide including Kandy and Playboy.
The model was named Playboy Cyber Girl of the week on the 4th of July 2011, she went one step better and was named Playboy Cyber Girl of the month in November 2011. Decker was eventually named Playboy Cyber Girl of the year in 2012 and this helped to boost her career. Asides the traditional media, Leanna Decker has also extended her horizons to social media. The model has an Instagram account which boasts of more than 650,000 followers. Her account often features scantily-clad, but tastefully-done pictures, of herself.
She is a Bigtime Animal Lover
Leanna Decker is a bigtime animal lover and supports animal rights passionately. The model first fell in love with animals during her childhood and had several pets. These days, Decker has a beloved red-nosed Pitbull named Chino. According to her, Chino is her life and she loves him to death. She has also revealed that she would do anything to protect him.
In keeping with her love for animals, Decker opposes the use of fur and cosmetics that were tested on tortured animals. She also refuses to wear unethical products but rather restricts herself to ethical fabrics such as wool. The glamour model has a soft spot for giant panda bears and has disclosed that she would do anything, including giving up her precious jewelry, to save them from extinction.
Leanna Decker is Possibly Single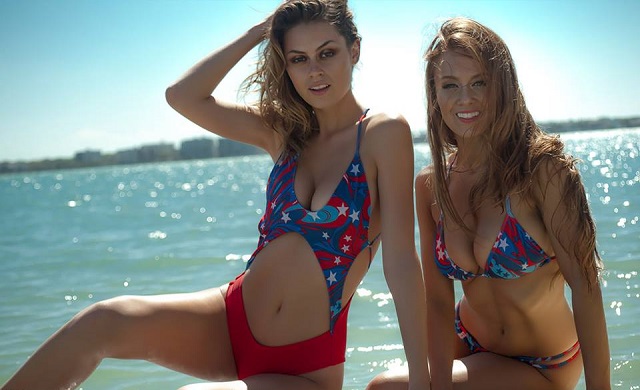 There has not been any reports of Decker being involved in any romantic relationship. It is very much possible that she is single. It is also possible that the glamour model has a beau but has chosen to keep him all to herself. Whichever it is, Decker has revealed that she prefers good men and does not indulge in bad guys. The model has also stated that she prefers chivalrous men with social charm and manners, much like a typical southern gentleman. Decker has further revealed that shoes are a deal-breaker for her. According to her, a man who cannot take care of his shoes will also not take care of his home
She is 5 Feet 5 Inches Tall 
Leanna Decker boasts of an enviable physique. She is 5 feet 5 inches (1.65m) tall and her weight is given as 120lbs or 54kg. Her hair color is red while her eye color is green. Other additional measurements are chest – 39 inches (96cm), waist – 26 inches (64cm) and hips – 37 inches (94cm). The South Carolina native also boasts of a great rack which she has described as her best asset. Her bust size is 34DD and this is all-natural, no implants.
See Also:  Laci Kay Somers – Bio, Facts About The Playboy Model Linked To Tiger Woods
She is a Budding Vegan
Decker is slowly but steadily turning vegan. She is progressively eliminating dairy products such as meat, cheese, milk, and eggs from her diet and hopes to become a full-blown vegan someday soon. Decker was inspired to go vegan due to her guilt over consuming animals. This vegan lifestyle will surely benefit her in the long run as it has several advantages. They include lowering blood sugar levels, weight loss, improving kidney function, lowering risk of heart disease, as well as protection against certain cancers.