Child stardom is nothing new in the entertainment world. With the advent of social media, we have seen more stars made from the internet than ever before, and Lil Tay is one of them. Her uploaded rap videos trademark is cursing, swearing, cash-throwing, and use of obscene languages. Her fame went wild after she dropped a video to diss Rice Gum, whom she alleged was bullying her online. She also appeared in the brawl viral video of Woah Vicky against Bhad Bhabie aka Daniella Bregeoli.
Besides these, Lil Tay has made headlines for controversial reasons, most of which have put her in the spotlight while attracting slingshots from critics and industry gatekeepers. But to think that Lil Tay is the only one hurt by the backlash will be a perfect one-sided story. Sadly, many people do not see the larger audience around the life of the child star. Let's tell her story.
This is How It All Began
Born on July 29, 2007, the fast-rising Instagram child celebrity, Lil Taylor Cosgrove, is the daughter of Tian and Christopher John Hope. Though she goes by several Instagram names, most fans know her as Lil Tay. Since her emergence, Tay has stirred some heavy storms through her use of profane words and behaviors most netizens have termed as inappropriate. The complaints grew so much that Twitter had her account suspended.
Lil Tay holds Canadian citizenship while her ethnicity is Asian – Philippine (Filipina). The rapper spent her early childhood in Canada before moving from Vancouver to Los Angeles in 2018 with her mother and brother. When her family arrived in the United States, Lil Tay wasn't put into a public school like every regular kid but was homeschooled. Despite the controversies that she has stirred on social media, it remains a surprise that she is a straight-A student.
Her Sudden Rise on Social Media
It was in early 2018 that Lil Tay rose from obscurity to become a viral sensation almost overnight when she began posting pictures and videos of herself on Instagram. Her video content mainly consisted of cursing and money-throwing at a camera for her about two million Instagram followers. While many Instagram users simply saw it as a child's comedy skit, others saw it differently.
What followed was a heavy backlash from concerned parents, writers, and a raging sea of bloggers. They accused her of everything from phoney flexing to misleading young people on the internet. Coming under such intense fire, it didn't take long for Lil Tay to take down all of her Instagram content and restart with something close to a rebrand.
When she returned, she became more cool-headed and less prone to use cuss words and profane language in her content. However, around July of 2018, the child star went mute but nit after leaving a simple message on her Instastory "help me." While fans and followers were wrapping their minds around her prolonged silence on Instagram, news broke about the heated legal battle between her parents about custody issues. More about that when we tell you about her parents.
A Bit About Lil Tay's Showbiz Career
Professionally, the young rapper looks up to Lil Pump, whom she got the privilege to meet in April 2018 and aspires to have an opportunity to collaborate with him. She has been seen with Georgia born social media star, Woah Vicky, who is also known as Victoria Waldrip. The latter helped the child star gain more popularity after their brawl video, with Daniella Bregoli a.k.a Bhad Bhabie at the Coachella shopping center went viral.
In her short time on social media, Lil Tay has met and featured several social media influencers/stars, such as Jake Paul who appeared in one of her Instagram videos, stacking and spreading cash. She also dropped her first single in March 2018, and it has generated a lot of views on YouTube.
How Much Has She Made So Far?
Records show that the child rapper is worth about $500,000 as of 2020, which is quite a lot for someone of her status. Some sources also believe that her annual ѕаlаrу rаngеѕ between $13,000 and $110,000. The young rapper calls herself "the internet's youngest flexer." According to her, she was living in poverty while staying in her birth town of Atlanta, Georgia, and today, she is the owner of five exotic houses and drives around town without a license. Since the release of her first song, Money Way, in march 2018, Lil Tay has garnered over 2 million followers on Instagram. As of this writing, however, that figure stands at 1.9 million.
Today, her Instagram account seems sort of silent. The last content on it was a string of photos showing her conversations with the late rapper XXXtentacion and paying tribute to him when news of his death broke.
What We Know About Her Parents
Lil Tay's mom is Angela Tian, a real estate agent who relocated from Canada with Little Tay and her brother to the United States. She is largely fingered as the brain behind the scripted acts of Lil Tay. Angela is a realtor and a huge supporter of her daughter's career, which has led to suggestions that she is using her daughter for financial gains. Angela Tian resigned from her job to help manage her daughter's budding career.
After months of silence on her Instagram handle, an anonymous poster broke the silence and began sharing news about backroom details of the whole controversy around the rapper's life. As per the source, it turns out that, Lil Tay's abusive absentee dad, Christopher John Hope, who hasn't been in her life for years, released a court order ordering her to relocate to their home in Canada, where she was constantly being abused by Hope and his lover.
The anonymous poster also added that Lil Tay's father has banned her from social media from fear that she will spill the TRUTH to the rest of the world. Hope also threatened to have Tian arrested and sued, and that Tay will be placed in foster care. There are, however, speculations that Hope simply wants to reap off his daughter's newfound wealth and fame. But he has rebuffed those claims, stating that he only wants to stop his child from her profane and foul-mouthed use of obscene words, while rebranding her online personality, as well as channel all funds generated into a trust fund for her.
Does She Have Siblings?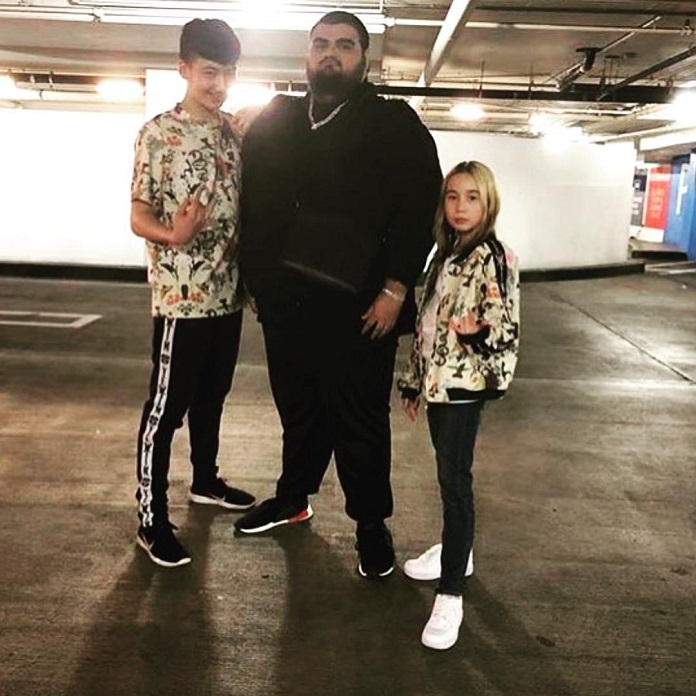 She has one known elder brother called, Jason Tian. Jason is ten years older than Tay. She has no sister, although many people speculated that Miranda Cosgrove could be her elder sister.
There were reports that her brother Jason Tian was the brains behind her rap lyrics and lines. More so, he is believed to be the finger running Lil Tay's Instagram page. An accusation made by Woah Vicky in a YouTube video, where she called out Jason Tian.