A true genius and multi-talented star, Lin-Manuel Miranda has warmed his way into millions of hearts with his lyrics and composition. The internationally renowned thespian is the mastermind behind the Broadway smash Hamilton, which is one of the most successful musicals of all time.
The award-winning composer, actor, performer and writer who so easily commands the spotlight has achieved ground-breaking feats with his phenomenal projects. Though a self-described nerd, Miranda is also considered to be one of Hollywood's most hardworking and most sought-after talents, given the staggering array of projects currently in the pipeline. Be inspired to success with interesting facts about the music personified Miranda and his wildly decorated career.
Lin-Manuel Miranda Ethnicity and Bio
The Manhattan native was born on January 16, 1980, to Puerto Rican parents. His mother Luz Towns-Miranda is a psychologist and his father, Luis A. Miranda, Jr., is a community activist turned political consultant. Given their Puerto-Rican descent, Miranda's family lived mostly in the Inwood's Latino neighborhood.
Miranda and his sister, Luz, were raised in a musically-oriented family. They were exposed to a wide range of musical genres and enrolled for piano lessons at the instance of their parents. Lin-Manuel Miranda began exhibiting his theatrical skills even before his teen years. As an elementary and high school student, he participated in stage productions. He proceeded to Wesleyan University where he majored in theatre studies. He was also quite active as an undergraduate as he created a hip-hop comedy group, Freestyle Love Supreme.
Career
Prior to his Broadway fame, Miranda had shortly after college worked first as a high school English teacher. He debuted his theatrical career in the year 2002 with the musical hit In the Heights which was a huge Broadway success. In the Heights not only won the 2009 Grammy Award for Best Musical Theater Album but also earned Miranda four Tony Awards and many others.
Some of his other works include the remake of the 1978 musical Working in 2008, the Spanish translation of the Broadway revival West Side Story (2009), singing the theme song in Murray has a Little Lamb, writing political jingles for Eliot Spitzer's 2006 gubernatorial campaign, penning the music and lyrics for 2011's Bring It On, a special composer for Star Wars: The Force Awakens and composing the song Bigger which earned him the 2014 Emmy Award. More so, Miranda composed the lyrics and music for Moana's How Far I'll Go. The animated movie production earned him an Oscar nomination in 2017.
Inspired by the historical biography of Alexander Hamilton, America's first secretary of the treasury, Lin-Manuel Miranda began working on the musical Hamilton in 2008. After seven long years, Miranda brought magic to the theatre with Hamilton which debuted at the Public Theater in 2015. The musical was so phenomenal that it sold out advance tickets, was critically acclaimed and bagged numerous awards.
The next year brought even bigger fame and recognition for Miranda. Not only did he bag two Tony Awards in the Original Score and Book categories, Hamilton also won the Pulitzer Prize for Drama, and broke Broadway records as it won 11 Tony Awards out of 16 nominations.
Though Hamilton was no overnight success, Miranda was quite overwhelmed and humbled by the production's success which awakened the younger generation with a part of U.S history. Nonetheless, Miranda has refused to rest on his laurels and continues to work on several other future projects such as the sequel of Mary Poppins, Mary Poppins Returns, The Kingkiller Chronicle, and many others.
Miranda's creativity is not restricted to just songs and Broadway as he has also shown his versatility on both the big and small screens. He has made guest appearances on episodes of several TV series such as The Sopranos, How I Met Your Mother, Modern Family, House and more. He also starred in the 2012 film The Odd Life of Timothy Green. Also included in Miranda's impressive resume is film directing. He is making his directional debut with the autobiographical musical Tick, Tick … Boom!
Awards and Achievements
Lin-Manuel Miranda has an exhaustive list of achievements in the creative industry and has consequently been honored with several awards for his contributions. In the year 2009, Miranda made history as he became the youngest recipient of an honorary degree from Yeshiva University, Washington Heights, Manhattan. In 2015, Miranda received a MacArthur Foundation Award and his alma mater Wesleyan University also honored him with a Doctor of Humane Letters.
The musical Hamilton was such a hit that it has so far received a Grammy award, a Pulitzer Prize, and numerous Tony Awards. Cumulatively, Miranda is a recipient of two Grammy Awards, a Pulitzer Prize, a MacArthur Fellowship, an Emmy Award, and three Tony Awards. Given his success history and other lucrative ventures at hand, it will only be a matter of time before an Oscar is added to his impressive list of accolades.
Net Worth
A force to be reckoned with in the entertainment industry, the theatrical genius has his tentacles impressively spread across stage, television. Being Hamilton's creator and star, Miranda sure made millions off Broadway's hottest show. He is expected to pocket more revenue as the multi-million-dollar enterprise expands beyond Broadway.
Besides his multiple award winnings, Miranda also owns an entertainment company 5000 Broadway Productions. The entertainment company is the foundation for most of his work,
Though his total salary is not publicly known, Lin Manuel Miranda's net worth is estimated at $10 million, a value that is sure to appreciate with time.
Lin-Manuel Miranda Family: Wife and Son
The reason why the Broadway genius ever gets anything done is because he has a perfect symphony in his wife and kids. Lin-Manuel Miranda is married to Vanessa Nadal, a scientist and lawyer.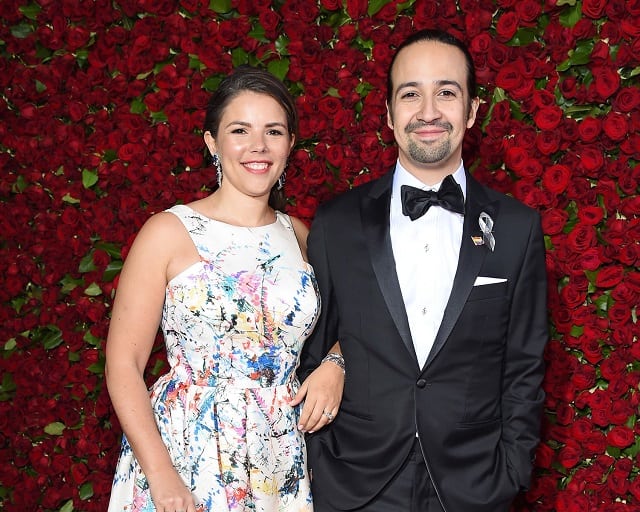 The couple attended the same high school where Miranda began crushing on Vanessa but held back his feelings at the time. Miranda and Vanessa got married in 2010 and began expanding their family in November 2014 when they welcomed their son Sebastian, whom they named after the singing crab from Disney's The Little Mermaid. Their second son Francisco was born in February 2018.
Height
The Broadway star stands at a height of 5 feet 9 inches and weighs 73 kg. His body measurements are biceps – 15.5 inches, waist – 35 inches, and chest – 41 inches.