Popularly known as an American film critic, YouTube sensation, and filmmaker, Lindsay Ellis is also known for her involvement with Channel Awesome Productions. This sheila has been quite secretive with many details of her life, however, after thorough searches, we have succeeded in gathering the most relevant facts about her personal life and career. kindly read on…
Lindsay Ellis' Bio
Born on the 24th day in the month of November 1984 as Lindsay Carole Ellis, the pretty talented lady was raised in Johnson City, Tennessee, the United States of America. Apart from the details of her birthdate and where she was raised, Lindsay Ellis has been quite reserved with other relevant pieces of information about her such as the identity of her parents as well as siblings; that's if she has any.
Lindsay Ellis is quite educated. She bagged her first degree in 2007 from the New York University, Tisch School of Arts majoring in Film studies. Later in 2011, she acquired a master's degree from the University of Southern California, School of Cinematics.
Career
Lindsay Ellis' career began fully as a writer. She has penned down several writings as well as written a few film scripts. Her first known work, Awoken was a joint work between her and two other friends, Nella and Ellisa. Awoken was based on a romance parody of Twilight.
Then, she wrote and directed the fascinating but brief drama, The-A-Word; a drama based on women and their plight with abortion. In synergy with Angelina Meehan, she completed the three-part documentary, The Hobbit Duology, which in the subsequent years, gained her a Hugo Award nomination.
Lindsay Ellis took her talents to social media, launching a YouTube Channel on the 10th of October, 2013. On the channel, she basically creates various video essays as well as nondescript content. Also, she made several video critics on most Disney films as well as running a long series; The Whole Plate on the movie, Transformers. She has amassed over 715,000 loyal subscribers with much more views.
In addition, Lindsay also serves perfectly as a host. She exudes a lot of elegance and is well comported during her duties as a host for the miniseries, It's Lit at PBS.org.
Who's Her Husband If She's Married?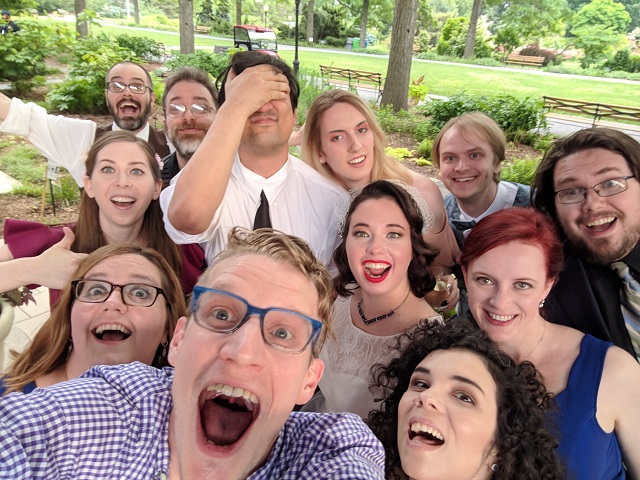 Lindsay has been married for a long period but has been quite reserved with the details of her marital life. Information about her love life has managed to escape the grasps of both the media and the general public at large. Nevertheless, sometime in 2018, news got out that she tied the knots with her partner in the month of June that year. As reported, the ceremony was quite private. In fact, to date, no one has been able to accurately get the details of the event.
Moreso, Lindsay Ellis once uploaded the pictures of her wedding day but ensured that she edited the pictures in order to conceal the identity of her husband. The couple has been married for a while yet no one has been successful enough to unravel the identity of her husband.
Despite keeping details about her husband away from the public, Ellis has always rained praises on him with many of her tweets. On the platform, she has amassed over a hundred and forty thousand followers. As of when this article was written, the couple is yet to have kids of their own.
Prior to when she became a wife, Lindsay Ellis had a few publicized relationships. Among them, her relationship with Todd Nathanson was very popular. They did a lot of things and oftentimes worked together. Sadly, their relationship never made it to the next level.
Other Facts About Lindsay Ellis
She was once arrested
On the 8th day in the month of December 2017, Ellis was arrested and charged for public intoxication. Her case was taken to the Johnson City Department where she was held for a period of time.
See Also: Erika Eleniak – Bio, Facts and The Truth Behind Her Baywatch Departure
Body Measurements
Lindsay Ellis is quite a good looking lady. She stands at 5 feet 2 inches, possessing a pair of hazel eyes and long flowing brown hairs. Unfortunately, she is yet to reveal the details of her other body measurements.