Many have crawled into oblivion in their bid to achieve relevance in the entertainment industry. But this is not the case for the Texas-born actress Lindsey Morgan, who came to limelight after she played the role of Raven Reyes on the sci-fi drama series, The 100. Since she made her debut with Detention, the talented actress has persevered, appearing in quite a good number of productions and projecting herself for better things to come.
Given her fame and the relevance she continues to pull in the competitive industry, it is not out of place that many have come to wonder who she is and if her background has contributed to her success story.
The Actress Is Half-Mexican and Half-Irish
Lindsey Morgan was born as Lindsey Marie Morgan on the 27th of February 1990. She was born in Houston, Texas and as such, a citizen of the United States of America.
Nonetheless, it is known that the actress is of mixed heritage: Irish and Mexican. She once gave credit to her family for helping her stay in touch with her Latino culture. The daughter of Kelly Morgan and Alice Burciaga has quite a good number of siblings. She has an older brother, a half-sister, and five step-siblings.
Growing up in a Mexican-Irish household, Lindsey didn't realize she has two very distinct ethnic backgrounds. The actress was unaware that her parents were interracial until when she got older; this is because none of the varied cultural heritage dominated the other.
Lindsey's Cultural Sentiment As a Latino In Hollywood
Though she is hobnobbing with the crème de la crème of Hollywood, Lindsey Morgan's favorite Hollywood stars are Latin Americans like Rosario Dawson, Salma Hayek, Eva Longoria, Andy Garcia, Edward James Olmos, and Robert Rodriguez.
The actress described the present Hollywood scene as an exciting one for the Latinos and feels there is a silent movement for many things Latino: a push for the creation of more Latino stories, and a craving from viewers to see more Latinos grace their screens!
She Began Her Acting Career In College
From all her exploits, one would find it difficult to believe that Lindsey Morgan was once a shy girl. She was able to face and defeat her social anxiety issues when she was exposed to her school's theatrical productions.
Lindsay was a tomboy during her formative years but she had always wanted to be an actress. She exhibited artistic talents early in life and always felt a sense of fulfillment whenever she was being creative. However, her acting career was shelved until she was about 18 years old.
She attended the University of Texas at Austin to study fine arts with theater arts as her specialty; her reasons for opting for the course was a simple one – to hone her skills in acting. As a first-year student in college, Morgan kept herself busy by booking commercials and print adverts, she even started working as a model.
Lindsey Morgan spent her first year in the university going for auditions that were largely not successful. However, she was able to earn a few projects like appearing as an extra on the series Friday Night Lights. With the roles not coming as expected and consumed by the desire to chase her dreams of becoming an actress, Lindsey decided to leave school and move to Los Angeles to intensify her pursuit of a career in acting.
Chronicling Her Journey Towards Becoming a Mainstream Actress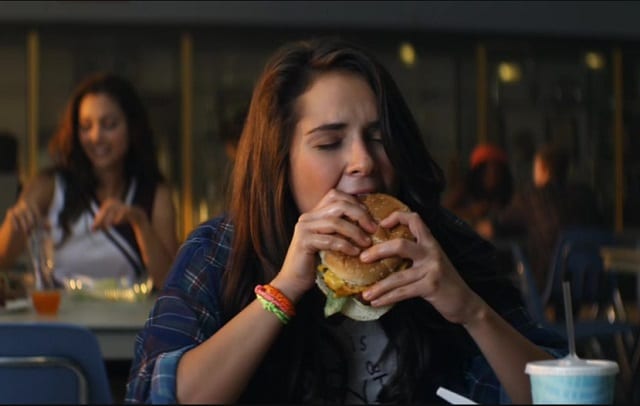 In 2011, Lindsey earned her first significant role in the satirical horror movie, Detention, where she portrayed Alexis Spencer, a mean cheerleader. In the same year, she landed a lead role on MTV's DisCONNECTED, playing Maria, a social media-obsessed teenager.
Sometime in April 2012, it was revealed that the actress landed a contract role as Kristina Davis on the American ABC Daytime soap opera, General Hospital. This earned her some attention that gave credence to her relevance in the industry.
Immediately after she left General Hospital, the young star shot a web series titled Destroy the Alpha Gammas. Also in 2013, she bagged a supporting role in the indie movie, Chastity Bites. August 2013 came and it was revealed that Lindsey Morgan had landed a role in the CW sci-fi drama series, The 100. After the first season, she was upgraded to series regular.
Playing Ariana In Casa Vita Was Her First Lead Role
The star played her first lead role in the 2015 TV movie, portraying a Mexican-American cook who works at her father's restaurant, Casa Vita, and nurses a dream of opening her fusion cuisine restaurant to her father's dismay.
The following year, Lindsey Morgan got another lead role in the independent thriller, Lasso, and followed it up with roles in Summertime as Debbie Espinoza and Inside Game as Stephanie.
Between 2011 to 2016, she acted in TV series like B-Sides, Supah Ninjas, The Night Shift, How I Met Your Mother, Happy Endings, Franklin & Bash, The Flip Side, and Shark Bites.
A Look at Her Most Notable Projects
Though she started acting since her university days, Lindsey Morgan earned her major career breakthrough in 2012 when she landed the role of Kristina Davis in the daytime medical drama, General Hospital.
At the audition, she had no idea what kind of role she was auditioning for, however, her joy knew no bounds when she discovered that she had been cast in one of the major roles. Her debut in the series was in May 2012 and she appeared in 67 episodes, quitting early in 2013. Her contributions to the series earned her a nomination for the 2013 Daytime Emmy award for Outstanding Younger Actress in a Drama Series.
The actress is best recognized for her role as Raven Reyes in the post-apocalyptic science-fiction drama, The 100. It was initially a supporting role but it later became a major as her performance was well-received.
The series has been a commercial and critical success with its ratings improving with each season.
What We Know About Lindsey Morgan's Love Life
Even though everything about most Hollywood actors is usually known by the public, some of them still make a conscious effort to keep their private lives as inaccessible as possible and Lindsey Morgan seems to be in this category.
At the moment, there is no information about the young lady being in a relationship with anyone. However, we can tell she was an item with Krypton actor Shaun Sipos in 2019. They arrived together for the 2019 Monte Carlo TV Festival Party on the 15th of June where they walked the red carpet as a couple and stole a kiss.
However, there seem to be no clues as to whether the duo is still together or have gone their separate ways.