Mahira Khan is one of the most celebrated actresses in the Pakistani movie industry (Lollywood). Since her debut in 2006, she has appeared in so many films and dramas and garnered several accolades and awards in the process. Her role as Aur Khirad Ahsaan in the television series Humsafar earned her a Lux Style Award for Satellite Best TV Actress and a Hum Award for Best Onscreen Couple alongside Fawad Khan (Ashar Hussain) who played her husband on the show.
There are many interesting facts to know about Mahira asides her award-winning performances on the screens. her personal life has evolved since she made it to the spotlight with more exciting news coming from her side.
Growing Up In The Largest City In Pakistan
The beautiful actress was born and brought up in the largest city in Pakistan, Karachi. Her birthdate is registered as 21st December 1984. Her full name is Mahira Hafeez Khan and her father Hafeez Khan was born in Dehli but had to move to Pakistan after India was partitioned in 1947.
Khan is not the only child of her parents as she has a younger brother named Hassaan Khan who is a trained journalist. She graduated from the Foundation Public School, Karachi in 2000 at the age of sixteen.
Mahira Khan's Journey Into The Pakistani Media Industry
In the year 2001, the svelte-looking actress moved over to the U.S to further her studies. She first enrolled in the Santa Monica College, Los Angeles and then the University of Southern California. Unfortunately, she didn't complete her degree program before returning to her home country in 2008. While studying in the U.S, she worked at a Rite Aid store in Los Angeles, part-time as a cashier.
Although Mahira Khan's passion has always been to act, she began her career in 2006 as a video jockey (VJ) on MTV Pakistan, hosting a live show – Most Wanted. By 2008, she began hosting Weekends with Mahira on Aag TV. She interviewed celebrity guests on the show, played music videos and took calls from viewers.
Humsafar Announced Her To A Wider Audience
In 2011, an opportunity came knocking at Mirah's door to do what she has always dreamt of and had a passion for – acting. She, of course, grabbed it with both hands. Her debut film role was as Ayesha in BoI, directed by Shoaib Mansoor. Her fantastic performance in the movie announced her to the Pakistani audience, earning her a Lux Style Award nomination for Best Actress (film).
Later that year, she made her first TV drama appearance as Ayla in Mehreen Jabbar's Neeyat. Her biggest break came with her role as Aur Khirad Ahsaan in Humsafar. The TV series didn't only make her a household name in Pakistan alone but also in India. It equally earned her a Lux Style Award for Satellite Best TV Actress and a Hum Award for Best Onscreen Couple.
She starred in Shehr-e-Zaat in 2013 and again bagged a Hum award and the Pakistan Media Awards for Best Actress. Later that year, until the next year, Mahira Khan became the host of a talk show UC The Lighter Side of Life. In 2014, she played Shano in Sadqay Tumhare. Her role in the drama earned her two Hum Awards and a Lux Style Award for Best TV Actress.
Her Multi Award-winning Role In Bin Roye Brought More Popularity
Mahira Khan starred in Bin Roye in 2015, which was her next film after 2011's BoI. The movie earned her not less than five awards – three Hum Awards, one Lux Style Award, and a Masala Award. Later that year, she appeared as Madaran in Sarmad Khoosat's biographical film Manto. Her popularity grew by leaps and bounds in early 2017, when she debuted in the Hindi Film Industry by starring as Aasiya in Rahul Dholakia's action-drama film, Raees, alongside notable Bollywood stars, Shah Rukh Khan, Sunny Leone, and Raj Arjun.
The ban of all Pakistani actors, actresses and technicians by the Film Producers Guild of India and the Indian Motion Picture Producers Association (IMPPA) prevented Khan from featuring in the movie's promotion. The ban which was caused by the unrest created after the 2016 Uri attack stirred up rumours that Mahira Khan's scenes in the movie would be deleted and replaced by another actress. The film, however, was released in January 2017 and the controversies surrounding it didn't affect its commercial success, as it raked in over US$39 million at the box office worldwide. The commercial success of the movie made Mahira the first Pakistani actress to join Bollywood's 100 Crore Club.
Other movies that have been credited to her name include Ho Mann Jahaan (2016), Verna (2017), 7 Din Mohabbat In (2018), Superstar (2019), The Legend of Maula Jatt (2019), and Quaid-e-Azam Zindabad (2020).
Other Outstanding Career Feats Achieved By Mahira Khan
The actress serves as brand ambassador for a number of notable brands like L'Oreal, Lux, Q Mobile, Sunsilk, Gai Power Wash, and Huawei. She is also the first Pakistani brand ambassador for Veet, a Canadian brand of chemical depilatory. The former VJ also served as a co-host to the following ceremonies: the 2010 10th Lux Style Awards, 2013 1st Hum Awards, and the 2015 14th Lux Style Awards.
With a net worth of $6 million, Khan is considered one of the highest-paid actresses in Pakistan. She is also one of the most popular actresses in the country and was named the most beautiful woman in Pakistan in 2012. To many, she's equally Pakistan's sexiest woman. She has appeared on Eastern Eye's (British Weekly Newspaper) list of 'Sexiest Asian Women' for three years on a row (2015, 2016, and 2017).
Also, Read About: Is Margot Robbie Married, Who Is Her Husband Or Boyfriend, Mom?
Inside Mahira's Failed Marriage to Ali Askari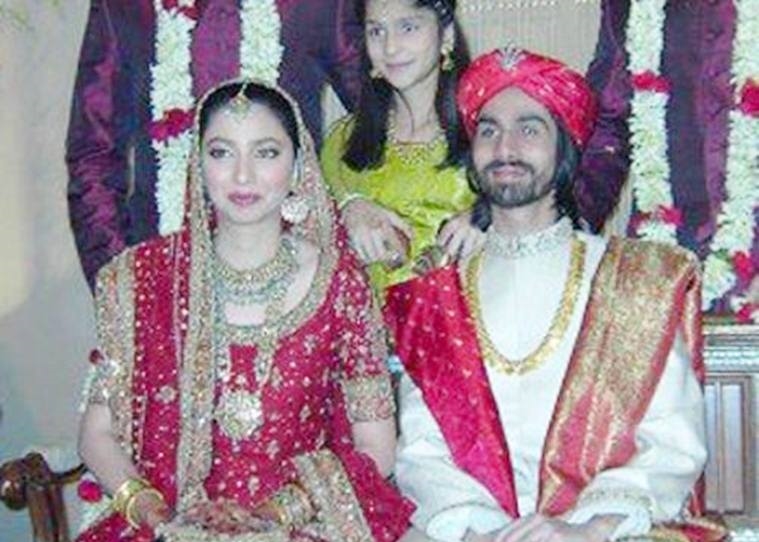 The Gorgeous actress was previously married to Ali Askari, a Film and TV Production graduate of the University of Southern California (USC) who works in the entertainment industry. There are different accounts of how the couple met. Some reports say they met in Los Angeles in 2006, while others claim they met at Indus TV studios in Pakistan.
After dating for a while and despite Khan's father disapproving of the relationship, the lovebirds went ahead to make their union official on 13th July 2007 in a traditional Islamic wedding ceremony. The marriage ended eight years later. They share a son, Azlan Askari who was born in 2009.
Reasons Behind Their Split
After tying the knot in 2007, Mahira and Ali enjoyed marital bliss for a few years, he helped her to kickstart her career in the Pakistani entertainment industry. Their blissful marriage, however, began to splinter when Mahira Khan's busy acting career started taking a toll on their marriage. The more roles she scored, the more her marriage was breaking as she was always on the road, shooting films, and TV series.
At the height of it, she barely stayed at home. As a result, her husband asked her to quit her acting career in order to save their marriage, but the actress refused. Following many considerations from both parties, Mahira and Ali decided to end their marriage amicably. They officially separated in 2015 but still remain close friends, as she sometimes leaves her son in the custody of his father whenever she comes to shoot films in India. Her ex-husband later remarried in 2017 to Zara Dadabhoy.
Her Relationships Since The Divorce
After her split from Ali, Mahira Khan was rumoured to be dating fellow actor Ranbir Kapoor. The rumour began circulating after a picture of them smoking in New York surfaced online. However, Ranbir debunked the claims by stating that Mahira Khan is just a great friend whom he admires and respects so much for her accomplishments. Soon after that, he started to date Alia Bhatt.
At the moment, the comely actress is reportedly dating Salim Karim, the Chief Executive Officer of Simpaisa (a Pakistani startup). Rumours of their engagement made the rounds in 2019 after Mahira uploaded photos where she was romantically dancing with Salim at a wedding party they attended together in Turkey. The duo, however, is yet to confirm or refute the rumours.