Margaret Cho is best described as a comic star who knows how to maneuver everything related to life into a rib-cracking joke. She is also known to criticize every social and political problem especially those involving race and sexuality. Apart from her talents as a comic actress, she does amazingly well as a singer and a fashion designer too. She is a huge supporter of the LGBT community and for her plenty of service to humanity, she has won several awards.
Margaret Cho's Biography
From when she was born on December 5, 1968, Margaret's life was never a bed of roses. There is nothing more heartbreaking than passing through the same ill fate continuously. For the comic actress, she had a very troubled childhood and never prays to have a repeated childhood experience. First, it started from a family friend who raped her, then, it moved on to hoodlums, friends and the very people she trusted, forcing their ways on her. Every time she had a chance of talking about it, it resulted in naught as the people she spoke to believed she was not beautiful enough to be raped, how hysterical!
Her environment was one factor that contributed to all her troubles, she and her parents lived in a community filled with drug addicts, hippies, drag queens and very bad people. Only a few who lived there had a conscience. So, with all these issues, she couldn't just keep up to her grades at the high school, leading to her expulsion. However, the comic queen knew that she had more in her depths and decided to apply for a spot at the San Francisco School of Arts. Being determined to be one of the important stars in history, she made it through the school's entrance exam and got a spot at the school. That move changed her whole life and it also became the very foundation she laid her career on.
Career
Margaret Cho started out her career at the club opposite her parent's bookshop, she later moved on to performing at other clubs, at worked at improving her talents personally. Soon, she began taking interest in going global, it was at that time her desire was birthed, she got a small role to play in the movie, Golden Girls Spin-Off The Golden Place (1992). Two years after, the comic actress bagged the award for the Best Female Comedian in American Comedy.
From the year 1995, Margaret spiced up her comedy acts, moved into acting and writing. As time went on, she started working with top stars, like Steve Harvey who she worked with for the New Year's Rocking Eve 95 and Nicolas Cage in the movie, Face Off (1997). Two years down the lane, she decided to write about her experiences as a woman in the show, I'm the One I Want. That same period, she also wrote her autobiography. Next, she appeared in the movie, Sex, and the City; an HBO comedy.
Come 2005, Margaret Cho released her second book titled I Have Chosen to Stay and Fight. That same year, she engaged in performing at comedy tours; her first comedy tour was titled Assasin, it was aired live on the LGBT community cable. While that was ongoing, she launched her second comedy tour, The Sensuous Woman. Later on, she appeared in the music video, The Dresden Dolls (2000) and was the voice behind the movie, Rick & Steve: The Happiest Gay Couple In all the World (2007). While she was working on that, she launched her next comedy tour, Beautiful.
NBC later invited Margaret Cho's Families and friends on an episode of Celebrity Family Feud. In that same period, she featured in the VH1 sitcom, The Cho show (2008). Subsequently, Margaret Cho appeared as a guest in Tina Fey's show, 30 Rock in the year 2011. The comic actress has been noted for her excellence in all her endeavors from the very first time she launched into the world of entertainment.
Net Worth
Margaret Cho has not only made wealth from being a comic actress but has also made a few pennies for her singing act. In addition, she makes excellent patterns as a fashion designer. It is no surprise that her hard work has really paid off. She is estimated to be worth $3 million.
Weight Loss
Margaret Cho faced a lot of criticism in the entertainment industry because of her size. Right from when she was a kid, she was bullied because she was fat, round and big. Her size also affected her career; during her early days in the industry, sources have it that her then executive producer, Gail Berman criticized her physic and the shape of her face. For this reason, the comic actress faced low self-esteem and starved herself in order to lose some pounds. She was later diagnosed with kidney failure.
Currently, the comic actress does not have a very slim figure but she sure would not be described as having a thick body build. She apparently works hard, doing every necessary exercise routines and dieting to maintain her current looks.
 Is She Gay? (Husband)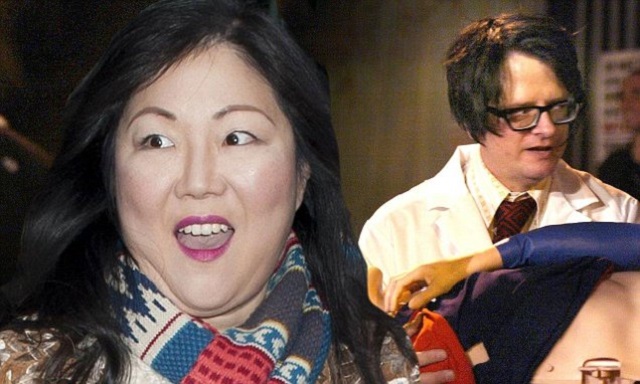 The comic actress has been actively involved in a lot of LGBT community activities. Her involvement and her support since the beginning of her career have made a lot wonder if her husband, Al Ridenour was just a camouflage. While many kept wondering if their thoughts were real, the two decided to call it quits, they separated in September 2014 and finalized their divorce in April 2015.
Margaret had always referred her then marriage to as one of the weirdest relationships she has been involved in. Consequently, after her divorce, she publicly announced that she was bisexual- she has a hunch for both the male and female folks.