Margaret Cho is best described as a comic star who knows how to maneuver everything related to life into a rib-cracking joke. She is also known to criticize every social and political problem, especially those involving race and sexuality. Apart from her talents as a comic actress, she does amazingly well as a singer and a fashion designer too. More so, Cho is a huge supporter of the LGBT community, and for her services to humanity, she has won several awards.
Margaret Cho Suffered Sexual Abuse In Her Early Years
From when she was born on December 5th, 1968, Margaret's life was never a bed of roses. There is nothing more heartbreaking than passing through the same ill fate continuously. For the comic actress, she had a very troubled childhood and never prays to have a repeated childhood experience. First, it started with a family friend who raped her, then, it moved on to a close friend she trusted who raped her on several occasions.  Every time she had a chance of talking about it, it resulted in naught as the people she spoke to believed she was not beautiful enough to be raped, how hysterical!
Her environment was one factor that contributed to all her troubles as she and her parents lived in a community in San Francisco that was notorious as the home of drug addicts, hippies, drag queens, and all sorts of people. Her family also ran a gay restaurant in the town, and Cho spent most of her days there.
To further complicate issues, she was taunted throughout her high school days for being a lesbian. The kids in her school would always treat her with suspicion as they rumored that she was dating girls instead of boys. Cho also revealed that she was treated differently because of her race. She practically had no friends, and according to the comic actress, she had no choice but to hang out with those tagged as 'freaks.' By the time she was approaching the 10th grade, she started skipping classes, and her grades became so bad to the extent that she was expelled from Lowell High.
Her Battle With Obesity
Apart from her sexuality struggles and being treated differently because of her race, Margaret Cho faced a lot of criticism because of her weight. As a kid, she was bullied by her peers who call her fat, round, and big. She was also referred to as a glutton and a dirty because of her physique. More so, her size also affected her career as reports have it that during her early days in the entertainment industry, her then executive producer, Gail Berman criticized her physic and the shape of her face. For this reason, the comic actress faced low self-esteem and starved herself to lose some pounds. She was later diagnosed with kidney failure.
Currently, although the comic actress does not have a very slim figure, she sure would not be described as having a thick body build. She has been working out over the years, and the results have been flattering! Cho also maintains good nutrition, which has contributed to her fabulous looks these recent years.
How Comedy Became Her Lifeline
Upon her expulsion from Lowell High, Margaret Chow decided to apply for a spot at the San Francisco School of Arts when she was 16. Determined to be one of the important stars in history, she made it through the school's entrance exam and got enrolled at the school. That move changed her whole life, and it also became the very foundation she laid her career on. However, before that, she was already plying the path to becoming a stand-up comedian and started performing at her parents' restaurant at age 14. Her inspiration was derived from her dad, who had a good sense of humor and had penned down a couple of Korean joke books. She also used her stage performances as an avenue to cope with the bullying that rocked her high school days.
Margaret Cho eventually started her professional career at the club opposite her parent's bookshop and later moved on to performing at other clubs, whilst working on improving her talents personally. Soon, she began taking interest in going global, it was at that time her desire for better opportunities was birthed, and it influenced her decision to move to Los Angeles.
However, finding her feet as a stand-up comedian in Hollywood also came with its challenges. Sometime in 1995, her show was canceled, and one of the reasons sited was her inappropriate presentation of the Asian community, which caused an uproar. This took a toll on the budding comedian, and she resorted to taking drugs and alcohol to drown her disappointment. She became courageous shortly after her relapse and went ahead to organize the 'New Year's Rockin' Eve 95′ alongside Steve Harvey, which turned out to be quite a success, launching her fully into Hollywood. In subsequent years, Cho embarked on several national tours across the United States.
Margaret Cho Has Made A Fortune Over The Years
Apart from being a stand-up comedian, Cho has also tried her hands on a vast number of things as an entertainer. She is notable as an actress, and during the '90s, she appeared in a lot of popular films and TV series. A notable '90s film she was seen in was the 1997 film Face Off, which featured Hollywood stars like Nicolas Cage and John Travolta. The movie was a huge success, grossing more than $200 million in the box office on a budget of $80million. She also made an appearance in the popular 90s series, Sex and the City, which landed about 50 Emmy nominations before it finally wrapped off in 2004. The following years leading up to 2020 have also seen Cho portraying diverse roles that have earned her fame, as well as enriching her pocket.
More so, Margaret Cho has also made a few pennies from her singing stint. She released her first song, 'I Cho Am A Woman' in September 2008. She then dropped her debut album,' Cho Dependent' in 2010, which was nominated for the Grammys, under the category of Best Comedy Album. A couple of years later, in 2016, she released a second album titled, 'American Myth.' That same year, she collaborated with rapper Awkwafina in his song, 'Green Tea.'
The American stand-up comedian is also a prolific writer who is credited for writing, "I'm the One That I Want." She also runs her fashion brand, High-Class Cho, which produces various types of clothes that are sold via her website. It, therefore, comes as no surprise that her hard work has paid off as she is estimated to be worth $5 million as of 2020.
Margaret Cho Was Married To An Artist, Al Ridenour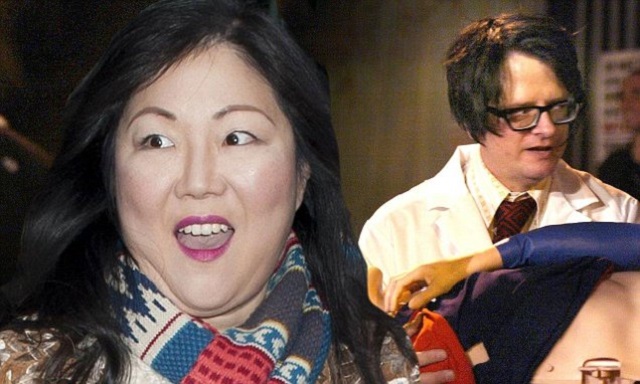 The comic actress has been actively supporting a lot of LGBT community activities. Her involvement and support since the beginning of her career have made a lot wonder if her husband, Al Ridenour, was just a camouflage. While many kept wondering if their thoughts were real, the two decided to call it quits. They separated in September 2014 and finalized their divorce in April 2015.
Margaret had always referred her marriage to the artist as one of the weirdest relationships she has been involved in. Consequently, after her divorce, she publicly announced that she was bisexual; she has a hunch for both the male and female folks. However, the comedian has revealed that many find it hard to accept her stance as a bisexual; even the gay and lesbian partners she has been with over the years do not understand her sexuality.