Melissa Lee is a TV journalist who attained global recognition for anchoring the famous CNBC financial news show from Wall Street titled, Fast Money. She has also anchored many financial news documentaries including Money in Motion: Currency Trading, Made in China: The People's Republic of Profit and many others. Her immense contribution to business news is highly recognized as it has earned her many awards and nominations which includes the 2010 Gracie Award for Outstanding Host-News and two Primetime Emmy nominations. Read on as we bring to you more details about her bio, personal relationships, and career achievements.
Melissa Lee's Biography
The media personality was born on 4th of November 1974 in Great Neck, New York, United States. The identities of her parents are not known to the public but she did mention that her mother was a fashionista and her father is a degree holder from Columbia University. It's also worthy to note that her grandfather emigrated from China to Buffalo, New York. Lee is the type to keep her personal details to herself as she has not disclosed any information regarding her siblings, if any, to the media.
She is of Asian ethnicity and her place of birth is an indication of her American nationality. The amazing reporter has cited the Chinese-born American broadcast journalist, Kaity Tong as her influence. She stated that watching the TV news anchor while growing up ignited the ardor for journalism in her and she eventually went on to fulfill that dream.
Following her graduation from high school, Melissa Lee enrolled at Harvard College, Cambridge, Massachusetts and obtained her Bachelors of Arts degree in Government upon graduation in 1995. While studying at Harvard, she assisted in carrying out editorial works in the college's publication, Harvard Crimson. Before then, she has worked as a consigliere at Mercer Management Consulting where she specialized on credit cards and banking sectors.
It's interesting to note that even before graduating from college, Melissa Lee had already established herself as a highly competitive journalist as her past work experiences had already solidified her resume when she entered the journalism job market. It was not difficult for her to land a job as she kick-started her career in journalism by working with a local newspaper outlet, Great Neck Record in her hometown. The talented journalist followed it up by working as a television show host and reporter with Bloomberg Network while also serving as a reporter for CNN Financial News.
Looking for a more challenging environment, Melissa Lee joined CNBC in 2004 and has thrived in the arena of business news coverage since then. She became famous as the host of the popular CNBC financial news show, Fast Money. However, her popularity reached new heights when her report on the show, The $50M Con, uncovered a university student that operated a sham hedge fund and was later nabbed by the FBI. She assumed many responsibilities in the cable news agency including being the host of Closing Bell, Options Action, Porn: Business of Pleasure, Code Wars: America's Cyber Threat, Bitcoin: Boom or Bust as well as a co-host of Power Lunch, among many others.
Her Career Achievements
Following her extraordinary reporting skills and in-depth knowledge in financial news, Melissa Lee has gone ahead to clinch several accolades throughout her career as a professional journalist including 2010 Gracie Award for Outstanding Host-News as well as earning numerous nominations like 2009 Gerald Loeb award nomination and Primetime Emmy nominations.
Melissa Lee's Personal Details – Her Affairs and Husband
Melissa Lee has managed to keep her personal life away from the snoopy eyes of the media. Along with a flourishing career, she has achieved a blissful life too as she is happily married to Benjamin Kallo, who has been a research analyst and director in Robert W. Baird since 2009. After dating for a while, the duo sealed their love with a nuptial bond on 18th August 2017 in a private wedding held in New York City. The lovely couple spent their honeymoon on an exotic jungle Safari. The couple who are still enjoying their married life are yet to welcome any child.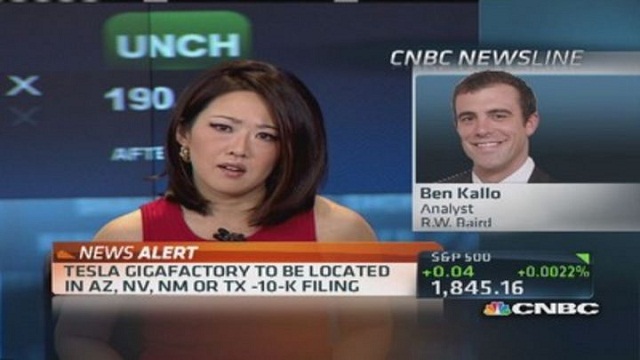 Before Melissa Lee's husband began working with Robert W. Baird, he has worked as a research associate in Pacific Growth Equities and also as a vice president in Stanford Group Company.
Melissa Lee's Net Worth
Through her excellent reporting skills and passion for success, Melissa Lee has earned enormous wealth for herself as her salary per annum is reportedly estimated at $500,000. No doubt, the beauteous journalist has made the bank with her career that has spanned almost two decades as her financial value is estimated at $5 million.