With his unique blend of magic and bizarre antics, Michael Carbonaro works his mind-boggling art to make people believe the impossible. The acclaimed magician, actor, and improv artist is truly a trickster at heart who has built a prosperous career by being himself, putting his unique skills to the test and doing what he knows how to do best.
Besides being a skilled magician and engaging entertainer, Michael Carbonaro is also an excellent liar who performs inventive tricks on unsuspecting members of the public who are unaware that he is a magician.
Carbonaro has been a performing magician since his teenage years. From many years of performing in comedy clubs and school gymnasiums to paying his way through school by performing hundreds of magic shows, the prankster launched himself into stardom.
The trickster is also an actor who has had recurring roles in TV shows and movies such as Happily Divorced, The Newsroom, 30 Rock, How to Make it in America, The Wizards of Waverly Place, Grey's Anatomy, CSI Miami, Another Gay Movie, and many more. His starring roles as an actor on both the small and big screen led to regular series of magical appearances on The Tonight Show with Jay Leno.
However, Michael's mastery of illusion is his true claim to fame. He is best known for his hit comedic series on truTV, The Carbonaro Effect, where he plays tricks on an unsuspecting public, all caught on his own hidden camera. On the TV series which began airing since 2014, the magician has performed over five hundred comically perplexing and mind-blowing feats of magic, spiced with his signature blend of bizarre antics, audience interaction, and hilarious video clips.
Carbonaro's unique brand of magic and elaborate illusions hoodwinking an unsuspecting public quickly made him a viral sensation and earned him quite a following. The magician's creative skills have also earned him some accolades. In 2006, he won the Outfest's Best Actor Award for his role in Another Gay Movie, as well as the Magician of the Year award by the Academy of Magical Arts.
See Also: Bo Burnham Bio, Wife, Net Worth, Age, Height, Girlfriend, Married, Is He Gay?
More so, the prankster regularly showcases his comedy, magic and other bizarre acts at corporate events, various clubs around the US including Hollywood's Magic Castle and Joe's Pub, among others, through his highly-acclaimed national theatre tour, 'Michael Carbonaro Live!'. Here are lesser known facts about the prankster's personal life and career.
Husband/Spouse; Is Michael Carbonaro Gay?
The Long Island-born trickster is openly gay and a dedicated advocate of the LGBTQ community. According to Michael who claims to be born a homosexual, growing up gay affected the way he saw the world and his role as an artist.
Though the magician initially had to keep his sexuality a secret in his early years because the society wasn't as liberal as it is today, he eventually identified with his lifestyle following the advent of gay rights. The trickster who prefers not to disclose much about his personal life in public believes he is not necessarily out or in the closet. For Michael, his TV show and live performances have nothing to do with his sexuality which is why he never professionally came out as gay.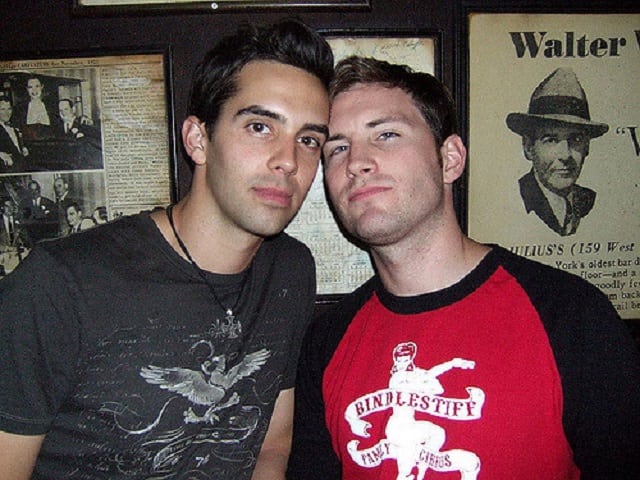 Since 2014, Michael has been happily married to actor Peter Stickles. When he won the Academy of Magical Arts Magician of the Year Award, the proudly gay magician thanked his husband from the stage.
His Twin
Given that most magical stunts are done with twins, there have been arguments that some of Michael's tricks can only be done with the aid of an identical twin. But then, Michael is the younger of two sons born to his parents. More so, he doesn't share a striking resemblance with his older brother Charles. Being an exceptionally skilled magician, we are sure that Michael has no twin brother. Since it is called magic, it has been confirmed that his tricks can be done without the use of a secret twin. He continues to awe his audience with his unique and inventive tricks.
Carbonaro's Net Worth
Apart from being a skilled magician, Michael is a multi-talented entertainer who has won many hearts as an actor in several television shows and movies. This bloke has been making money off his magical skills since his teenage years and his creative endeavors have earned him a decent fortune. He has a net worth currently estimated at $500,000.