She may not be as famous as her better half, but Mirka Federer has achieved some very commendable feats in the tennis world. She is a tennis star whose most remarkably great feats in the game of tennis include her professional Grand Slam from the third round of the 2001 US Open. She was among the promising talents in tennis from Switzerland before a constant foot affliction brought her flourishing career to an early end in 2002. Aside from being a notable tennis player, Mirka Federer's biggest claim to fame is being the wife of 20-time Grand Slam champion, Roger Federer from Switzerland. For more details on Roger Federer's wife, read on.
Mirka Federer's Biography (Age)
The tennis superstar was born as Miroslava Vavrincova in Bojnice, Czechoslovakia on 1st April 1978 to her parents who trade jewelry in Schaffhausen, Germany. Her parents relocated from Czechoslovakia to Switzerland when she was only two years old. Despite being born in Czechoslovakia, Mirka Federer is a holder of Switzerland nationality and belongs to the Caucasian white ethnic background. Regarding her faith, she is a Christian. The tennis star has succeeded in maintaining a low profile over the years as she has not disclosed any information regarding her educational endeavors.
At the age of 8, Mirka Federer accompanied her father to watch the tennis superstar, Martina Navratilova play in the tennis championship held in Germany. After the match, they met with Martina who encouraged her to pursue a career in tennis. Martina Navratilova later went on to give Mirka a racket as a gift and made out time to train her in the basics.
Drawing inspiration from her encounter with Navratilova, Mirka moved on to announce herself in the world of tennis by clinching the Swiss Junior title despite playing against the best promising young Swiss tennis players in the process. From there, she became a household name among tennis lovers across the country as she went ahead to win the 1997 Tel Aviv Tennis Championship. Her scintillating performances earned her a slot in Switzerland's Olympics team in 2000.
Interestingly, the pretty tennis player met her now husband, Roger Federer who was just beginning his professional career, there at the 2000 Olympics. The duo fell in love with each other and kick-started a relationship after the tournament. Before a constant foot affliction subjected Mirka Federer to early retirement, she had participated as a professional player in several championships including reaching the third round of the 2001 US Open and playing with Roger Federer in mixed doubles at the 2002 Hopman Cup tennis championship.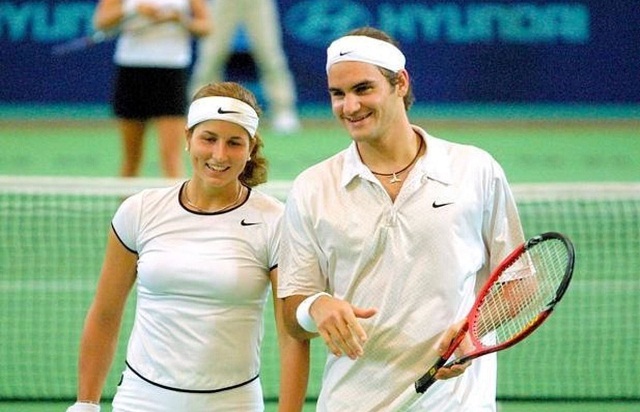 In the course of her career, she managed a 55% win ratio as she achieved her highest singles ranking at No. 76 in the world on September 10, 2001, as well as her highest doubles ranking at No. 215 in the world on August 24, 1998.
See Also: Novak Djokovic Wife, Kids, Height, Weight, Age, Net Worth, Affair
Parents and Sisters
Mirka Federer has remained tight-lipped concerning her parents and siblings. So far, the names of her parents and siblings are not available on the media. She has only revealed that her parents trade on jewelry in Schaffhausen, Germany and that her father is an ardent tennis lover.
Facts You Need to Know About Roger Federer's Wife
1. The hourglass-shaped athlete once clinched the ITF Tournament title along with the $25,000 prize money at Clearwater, USA.
2. Among her many career wins, Mirka Federer has recorded vital wins over some notable tennis champions including Henin and Grzybowska during her active years.
3. After being in a relationship with Roger Federer for over eight years, the couple exchanged marital vows in front of their close friends and family at Wenkenhof Villa, Riehen close to Basel on April 11, 2009. The couple shares two sets of twins, two girls and two boys namely; Charlene Riva, Myla Rose, Leo, and Lenny Federer.
4. Her husband Roger Federer is one of the greatest tennis players of all time who has an astonishing record of 101 ATP singles titles including the 20 Grand Slam titles.
5. She is a fellow of her husband's Charity organization called the Roger Federer Foundation.
6. Mirka Federer is three years older than her husband.
7. She stands at a magnificent height of 5 feet 9 inches (1.74m) and her athletic body weighs 59 kg (130 lbs). More so, she has light brown eyes with light blonde hair.