Most people around the world, including the most devout of tennis fans, only know Mirka Federer as the wife of Roger Federer. She is that devoted wife who has stood by him over the years and cheered him on at several nerve-wracking finals. The lady who has given him four children and provides the love and support which has enabled him to reach unmatchable strides in his career.
However, Mirka is so much more than all the above. What many people do not know about her is that she also played tennis professionally for several years. She, however, had to quit against her will after a foot affliction brought her flourishing career to an early end in 2002. Since then, the Swiss lady has focused largely on her family. She has also made great strides as a humanitarian and philanthropist.
The Chance Meeting Which Inspired Her To Play Tennis
Mirka Federer was born as Miroslava Vavrincova in Bojnice, Czechoslovakia, on the 1st of April in 1978. Her parents relocated from Czechoslovakia to Switzerland when she was only two years old and she thus grew up there. She also acquired Switzerland nationality along the way.
At the age of nine, Mirka Federer accompanied her father to watch the Czech-born tennis star, Martina Navratilova, in a tennis championship held in Germany. After the match, they met with Martina who encouraged her to pursue a career in tennis. Martina Navratilova later went on to give Mirka a racket as a gift and made out time to train her in the basics.
Drawing inspiration from her encounter with Navratilova, Mirka moved on to announce herself in the world of tennis by beating several promising young tennis players to clinch the Swiss Junior title. From there, she became a household name among tennis lovers across her adopted country as she went ahead to win the  1997 Tel Aviv Tennis Championship.
The year 1998 saw Mirka Federer turn professional. She would go on to accumulate four years as a pro during which she participated in several singles ITF tournaments and Grand Slams. She also featured in several doubles competition, including the doubles event at the 2000 Summer Olympic Games in Sydney. Mirka would go on to win a few titles as a pro and achieved her highest singles ranking of world No. 76 on September 10, 2001.
How Mirka Federer's Achievements Stack Up Against That Of Her Great Husband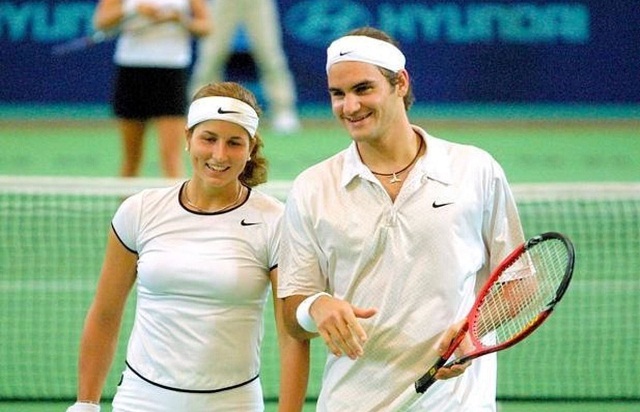 Mirka Federer and her husband turned pro the same year, 1998, but that is where the similarity between their respective careers ends. While Mirka's career would taper off after just four years, Roger would go on to enjoy an unmatchable 20 years+ career which surpasses that of his wife in every aspect. This has seen him emerge as the GOAT of the modern tennis game.
For instance, Mirka only won four ITF titles during her career. They came at the 1993 doubles tournament in Langenthal, the 1997 Tel Aviv Championship, the 1997 tournament in Klosters-Serneus, and the 1999 hardcourt tournament in Clearwater, United States. On the other hand, her husband has won over 100 career singles titles, making him just the second man to achieve such a feat in the open era.
The great Roger Federer also surpasses his wife with regard to the Grand Slam tournaments. During her playing days, Mirka made it to the first round of the French Open (thrice), as well as Wimbledon (twice). She also reached the Australian Open second round on two occasions. Her best Grand Slam outing, however, came at the 2001 US Open tournament where she made it to the third round. In stark contrast, her husband has won a staggering 20 Grand Slams, the most by any tennis player. Roger's Grand Slam wins came at the Australian open (6x), the US Open (5x), Wimbledon (8x) and French open (1x)
As a singles player, Mirka Federer won 202 out of 361 matches (55.96% win rate) while her husband has won a whopping 1242 matches out of 1513 singles matches (82.1% win rate). These disparities in wins and titles have reflected in the couple's respective earnings. While Mirka has won about $260,832 in prize monies, her husband has won about $129.964 million in prize monies, the 2nd most by any tennis player. This staggering, amount combined with the juicy endorsement deals he enjoys, has helped him achieve a net worth of about $450 million. She, on the other hand, is only worth about $1-$5 million.
Their Love Story Began At The 2000 Summer Olympics
Mirka Federer first ran into Roger at the 2000 Summer Olympics in Sydney. At that time, he was just beginning his career and they were both involved in the Swiss contingent to the games. In the course of the Olympics, Roger found himself getting attracted to Mirka. He was however too scared to approach her as she was four years older.
The young Roger eventually worked up the courage to confess his feelings and he and Mirka shared their first kiss during the closing ceremony. From thereon, they fell in love with each other and kick-started a relationship after the tournament. The early days of their romance were not easy as they were often travelling on tour and away from each other. They, however, managed to sustain their relationship for several years.
During this period, Mirka and Roger lived together in Switzerland. They also partnered up for the mixed doubles tournament at the 2002 Hopman Cup tennis championship. The couple later formalized their union on the 11th day of April 2009. The intimate ceremony featured a small number of family and friends and was held at Wenkenhof Villa, Riehen. The location was close to Roger's hometown of Basel.
They Have Two Adorable Sets Of Twins
Mirka Federer and her husband have been together for about two decades now, out of which they have been married for about 10 years, and have welcomed two sets of twins. Their first, identical twin girls, Charlene Riva and Myla Rose were born in July 2009 while their second set of twins, boys – Leo and Lenny Federer, followed in May 2014.
The kids are growing up so fast and their mom is constantly available to take care of them while their dad is away on tour. She makes sure that they have a happy childhood. The entire family also travels most times to support daddy at major events such as the Grand Slam finals. The Federer twins stole the show during their father's victorious match at the 2017 Wimbledon finals. They wore matching outfits and their adorableness made them a viral sensation.
Their father has meanwhile revealed that he hopes to leave a legacy that is beyond tennis for them. According to Federer, he loves his kids so much and wants them to remember him as a good person first and foremost.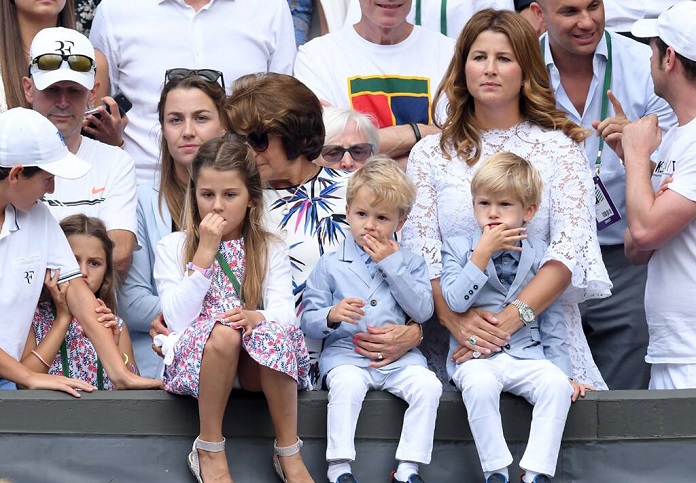 What Mirka Federer Has Been Up To Since Retirement
Mirka was forced to call time on her budding career in 2001 following a constant foot affliction that won't just heal. Another reason that motivated her to step away from the sport that she cherished was her love for Roger. She realized early on that one of them would have to make sacrifices for them to be together and she decided that it would be her. In her own words, it was better for her to help Roger have an amazing career than she having some form of career and they being unhappy and breaking up.
Such selfless sacrifice has paid off as her husband is now one of the greatest sportsmen ever. They also have a cute and loving family filled with four adorable kids. Mirka is however not all about husband and family. In the years following her retirement, she applied her managerial acumen to effectively conduct several aspects of her husband's career, including public relations and media affairs.
She subsequently stepped away from these down the line and is now focused on charity. Mirka is a trustee of her husband's charitable organization called the Roger Federer Foundation. The foundation aims to provide a better future for less-privileged kids through educational opportunities, as well as extracurricular activities. The foundation has been able to help about one million children in various parts of the world since its inception in 2004.