Moon Bloodgood jumped from No. 99 spot on Maxim's magazine's Hot 100 list in 2005 to No. 53 in 2006, then made it to No. 40 spot in 2007 and finally was No. 20 in 2009. In these periods she was leading a career as a model and dancer but would later dabble in acting. Though beginning her career in her late 20s, Bloodgood would immediately establish herself in Holywood. She is mostly known for her portrayal of Lt. Blair Williams in the 2009 film Terminator Salvation, and as Anne Glass in the science fiction series Falling Skies. Below is an overview of her career as well as a ranking of her movies and TV shows from best to worst.
Moon Bloodgood Biography
Korinna Moon Bloodgood was born on the 20th of September 1975 in Alliance, Nebraska, in the United States of America to a train engineer American father, Shell Bloodgood and a Korean mother, Sang Cha. She spent her early life in Southern California alongside her sister and half brother and members of their extended family. Her father helped to groom as well as secure employment for them.
Armed with the beauty and attributes of a model and dancer, Moon Bloodgood wasted no time in embracing the art at a young age. By the time she was 17, she was among the Laker Girls – the all-female National Basketball Association Cheerleading dance squad that performs/supports the Los Angeles Lakers basketball, during home matches.
As a model, she graced the pages of Maxim magazine, taking different spots at the brand's 100 Hotlist at different times. In the early 2000s, she ventured into acting and has so far achieved great feats but like every other actress, she has had her lows, here is a look at a list of her movies and TV shows ranked from best to worst.
List of Movies and TV Shows Ranked From Best To Worst
1. The Sessions
This movie originally titled The Surrogate is a 2012 independent erotic comedy-drama as written and directed by Ben Lewin. It is based on the article "On Seeing a Sex Surrogate" by Mark O'Brien, a poet paralyzed from the neck down due to polio, who hired a sex surrogate to lose his virginity. Moon assumed the character of Vera in the film which is rated 91% on Rotten Tomatoes and grossed $6 million in the Box office.
2. Monk
This is a 2005 American comedy-drama detective mystery TV series created by Andy Breckman. The series which is about a police procedural exhibition with comic and dramatic tones debuted on July 12, 2002, on USA Network and ran from 2002 to 2009 when the eighth and final season was aired. Moon starred in the Mr Monk Gets Cabin Fever episode and played the role of Haley. It held the record for the most-watched scripted drama episode in cable TV history from 2009 through 2012 before it was overtaken by The Walking Dead. The series has been met largely with positive reviews receiving 90% on Rotten Tomatoes.
3. Burn Notice
This seven-season series was created by Matt Nix and aired on the USA Network from June 28, 2007, and ended on September 12, 2013. It centres on a Spy who attempts to uncover why he was kicked out of the business while helping Miami locals who can't rely on the police for justice to fund his investigation into the causes of his termination. The series which Moon played the role of Detective Michele Paxson in three episodes is rated 88%.
4. Falling Skies
Moon starred in this American post-apocalyptic science fiction series from the 1st to the 5th season. The series which was created by Robert Rodat and produced by Steven Spielberg stars the likes of Noah Wyle who played the role of Tom Mason while Moon assumed the character of Anne Glass – de facto female lead. It tells the story of Ragtag survivors and resistance fighters struggle to endure following a catastrophic alien attack. The series is rated 79% on RT.
5. Human Target
Moon Bloodgood portrayed the character of Doctor Jessica Shaw in the "Tanarak" episode of the American action drama TV series titled Human Target. The two-season series created by Len Wein is rated 75% on RT.
6. Eight Below
The 2006 American survival drama film based on the journey of three members of the scientific expedition to the wilderness of Antarctica was directed by Frank Marshall and produced by Patrick Crowley and David Hoberman. In the film, Moon Bloodgood played the role of Katie. It received positive reviews from critics and earned $120.4 million on a $40 million budget. It was nominated for Satellite Award Best Youth DVD 2006 and won the ASCAP Film and Television Music Awards.
7. Beautiful Boy
This film which had Moon play the role of Trish was directed by Shawn Ku and produced by Lee Clay and Eric Gozlan in 2011. It revolves around a couple who had to deal with their embattled son that committed a mass shooting at his University days before he took his life. The film though was a box office flop was hailed by critics earning 70% on RT.
8. The Power of Few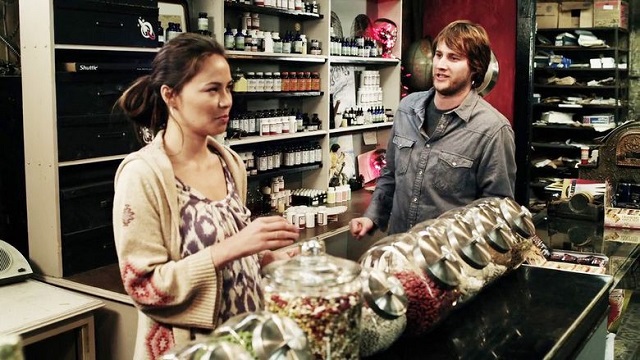 The crime drama film was directed by Leone Marucci and produced in 2012 with Moon Bloodgood playing the role of Vera. The film which earned him the Sundance Film Festival's Special Jury Prize for Ensemble Acting was averagely rated at 50% on RT but was a box office hit making $3.5 million from a mere $25K budget
See Also: Quentin Tarantino's Movies And TV Shows Ranked In Order Of Release
9. Pathfinder
This is one of her lowest-rated films since her movie career began. The 2007 movie where Moon portrayed the character of Starfire is poorly rated 10%. The film also struggled at the box office making a few millions higher than its production budget of $31 million.
10. Street Fighter: The Legend of Chun-Li
Moon Bloodgood played the role of Detective Maya Sunee in the 2009 film which was a huge failure both critically and commercially. Critics rated it at 5% and on the box office, it grossed barely $13 million from a $50 million budget.