For more than two decades now, the 1994 murder of O.J Simpson's ex-wife Nicole has remained a subject of continuing interest just as its criminal trial. This is so because of the tremendous dramas and notoriety, that surrounded the litigation. So much has been said, written and insinuated about the murder that gripped America. While it is still a puzzle how the brutal knifing of Nicole happened, Nicole Brown Simpson condo where the murder took place still stands. Check out the condo which has survived the crime.
Nicole Brown Simpson Bio
Nicole Brown was born in Frankfurt West Germany on May 19, 1959. Her parents, Juditha Anna Brown and Louis Hezekiel Brown were of German and American descent respectively. Nicole had her education at Rancho Alamitos High School in Garden Grove, California. She later joined Dana Hills High School in Dana Point, California.
She died in 1994 in a brutal murder that captivated the nation. She was married to a professional football player and actor O.J Simpson but was divorced from the NFL star at the time of her murder. They were blessed with two children Sydney and Justin.
Her Death
On June 13, 1994, Nicole and her close friend, a 25-year old American restaurant waiter, Ron Goldman were both killed at her home in Brentwood, Los Angeles, California. Ron was also a part-time model and aspiring actor who craved to live a celebrity lifestyle.
The then 35-year-old mother was found lying in a heavy pool of blood. A post-mortem report concluded that Brown was stabbed several times in the neck and scalp. She also had a 140mm deep cut across her throat which caused damage both on her right and left Carotid arteries. As a result, her right and left Jugular veins got ruptured, preventing proper blood circulation. As a matter of fact, the wound on her neck was so deep that it went about 19mm deep into her cervical vertebrae and almost took off her head. Nicole also had some wounds in her hands that suggested she may have made major attempts to defend herself. Proofs that the former football player himself committed the homicide appeared more plausible.
Consequently, Simpson was charged with the two murders. Nonetheless, in 1995, he was exonerated but was deemed liable for the killings in a civil suit in 1997. In correctional damage to the family, he was ordered to pay a fine of $33.5 million to the Brown and Goldman families. Sometime in 2007 exactly 13 years to the day Simpson was acquitted for the murder, what seems like karma swung in on the ex-sports champion. He got caught and was sentenced to 33 years imprisonment for stealing sports memorabilia in a Las Vegas hotel.
Till date, the killing remains a mystery. While this so, the former sports star once described hypothetically how he may have committed the murder during an interview with FOX. He suggested that an accomplice may have been involved. In the same hypothetical account, Simpson agreed that he at some point took a knife from his mystery friend, Charlie, to confront a man that stood outside Nicole Brown Simpson's home.
He also claimed that he and his then-estranged wife Nicole had met on their daughter's recital before the incident. During the event, the former NFL running back felt Nicole had been trying to be a teenager again, dressing and acting in a way he thought was inappropriate. She was also mingling with younger men. So he got fed up because he considered the influence it would have on his kids. He and Charlie went were pushed to confront Nicole at her home after the event.
Read Also: Where Are O. J. Simpson's Kids (Sons and Daughters), What Are They Up To?
Nicole who was bent on getting them out her house fell and hurt herself during the argument. This caused Ronald Lyle Goldman who according to Simpson had said he came to drop the glasses Nicole forgot during the recital dinner to try to defend her. As things heated up, Simpson claimed he was not in conscious memory of other things that followed.
How Their Love Started
Nicole and her ex-husband bonded in 1977. At that time, Nicole was working as a waitress in a private club named, Daisy. The club was located in Beverly Hills. She was only eighteen years old while Simpson who was still married to his first wife, Marguerite was 30. Their relationship kicked off even while Simpson was married. In March 1979, Simpson divorced his first wife and nine years later, he tied the knots with Brown. This was five years after Simpson retired from professional football.
They stayed married for seven years and had Sydney and Justin. However, Brown filed for divorce on February 25, 1992, citing irreconcilable differences. The ex-lovers tried to get back together in 1993 but it probably didn't work out.
Her Children And Sisters
Simpson was granted full custody of Syndey and Justin. Nicole's parents tried all they could to contest this but all to no avail. Meanwhile, a foundation was opened in loving memory of Nicole in 1994 named Nicole Brown Foundation. It was later renamed to The Nicole Brown Charitable Foundation. One of her sisters, Denis Brown has tried to protect its purpose which is to bring awareness, inspiration, and education to American communities. Her other sisters include Tanya Brown and Dominique Brown.
Nicole Brown Simpson's Condo – Then And Now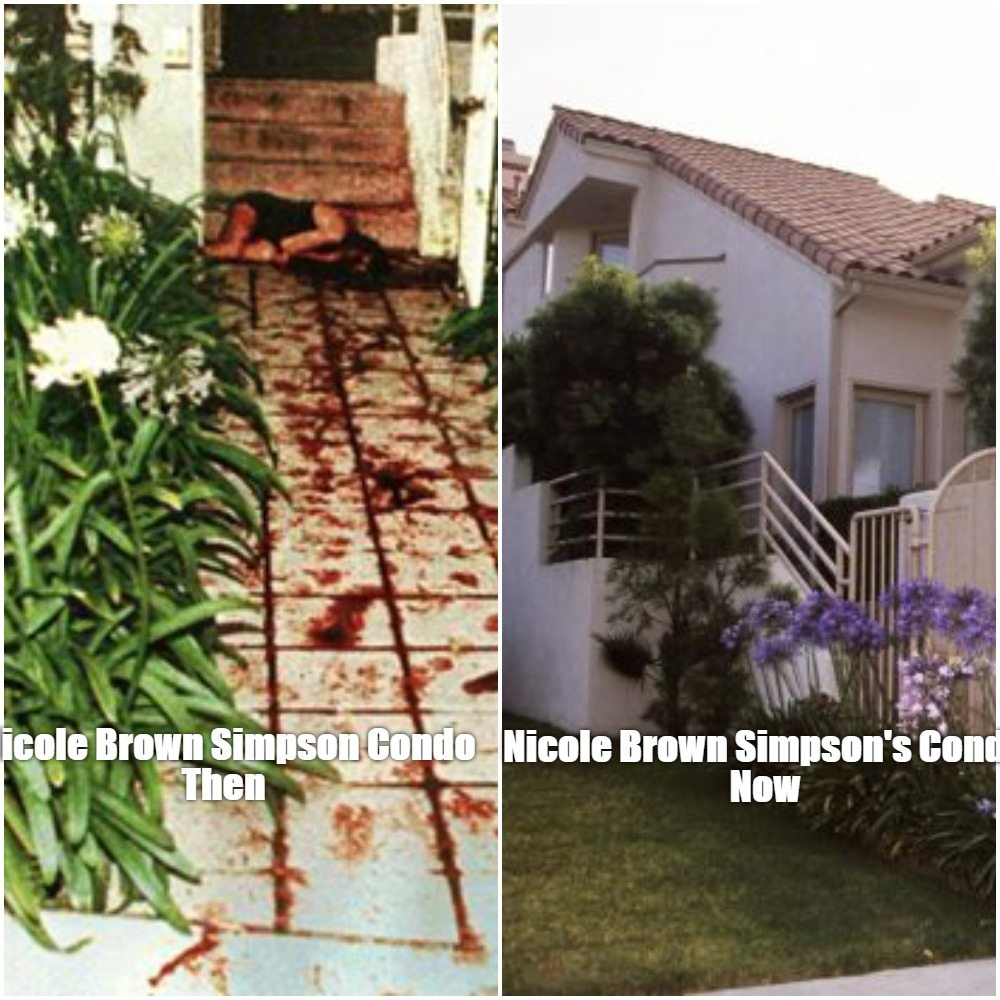 The Nicole Brown Simpson condo automatically became a tourist attraction since it was where Nicole Brown and her friend Ron were murdered. The dwelling boasted 4 bedrooms, 4 bathrooms, different patios, 3 fireplaces, and a rooftop sundeck. It was reported that before Nicole's death, she had put up the place for a lease. After her death, the three-story house stayed empty for years but fortunately it was later sold in 1997 for around $590,000 ($200,000 less than the asking price). The new owner remodeled to a detailed degree and had the address changed from 875 South Bundy Drive to 879. Sometime in 2006, the 3,400-square foot condo was once again resold for $1.7 million.