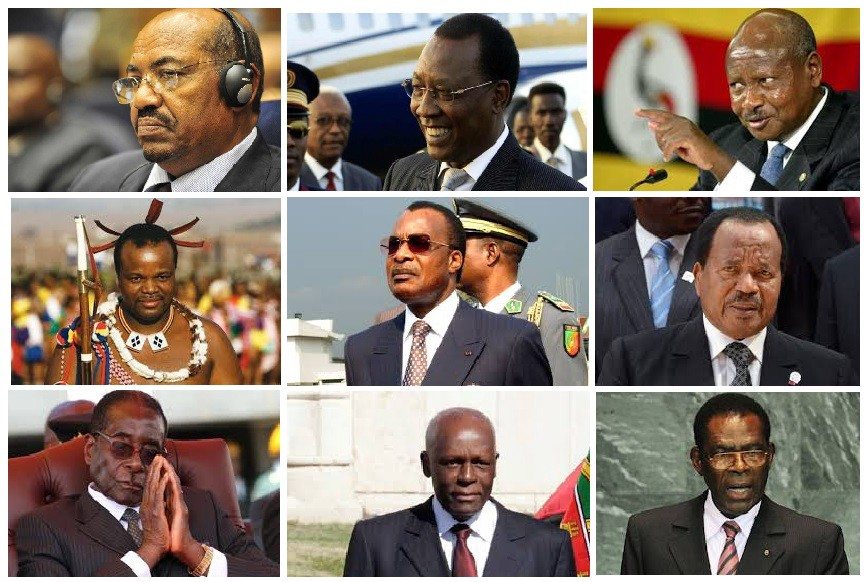 Political term limits have caused quite a number of problems in various African countries. Those we have come to know as sit-tight leaders have changed the constitution's of their countries to allow them to rule for longer.
See Also: Kenya's Rerun Elections: All The Winners And Losers
Some other leaders have tried and failed to subvert the political term limits in their countries so they can rule for longer. Political term limits can be a serious powder keg issue in African politics and it is good for citizens to know where they stand.
The Political Term Limits For African Countries
| | | |
| --- | --- | --- |
| Country | Head of state/government | Political Term Limits |
| Algeria | President | Two 5-year terms, since 2016 Constitutional Reform |
| Angola | President | Two 5-year terms, since 2010 Constitutional Reform |
| Benin | President | Two 5-year terms, since 1990 Constitution |
| Botswana | President | Two 5-year terms, since 1966 Constitution |
| Burkina Faso | President | Two 5-year terms, since 2002 Constitutional Reform |
| Burundi | President | Two 5-year terms, since 2005 Constitutional Reform |
| Chad | President | Unlimited 5-year terms, since 2005 Constitutional Reform |
| Cameroon | President | Unlimited 7-year terms, from 2008 Constitutional Reform |
| Cape Verde | President | Two 5-year terms, the third term only after 5 years |
| Central African Republic | President | Two 5-year terms, since 2015 Constitutional Reform |
| Comoros | President | Unlimited 5-year non-consecutive terms, since 2009 Constitutional Reform |
| Côte d'Ivoire | President | Two 5-year terms, since 2000 Constitutional Referendum |
| Democratic Republic of the Congo | President | Two 5-year terms, since 2005 Constitutional Referendum |
| Republic of the Congo | President | Three 5-year terms, since 2015 Constitutional Referendum |
| Djibouti | President | Unlimited 5-year terms, since 2010 Constitutional Reform |
| Egypt | President | Two 4-year terms, since 2011 Constitutional Referendum |
| Equatorial Guinea | President | Two 7-year terms, starting from 2011 Constitutional Reform |
| Ethiopia | President | Two 6-year terms, since 1987 Constitutional Reform |
| Eritrea | President | Two 5-Year terms, since 1993 Constitutional Reform |
| Gabon | President | Unlimited 7-year terms, since 1991 Constitutional Reform |
| Ghana | President | Two 4-year terms, since 1992 Constitutional Referendum |
| Gambia | President | Unlimited 5-year terms, since 1996 Constitutional Reform |
| Guinea | President | Two 5-year terms, since 1996 Constitutional Reform |
| Guinea-Bissau | President | Two 5-year terms, since 1991 Constitutional Reform |
| Kenya | President |  Two 5-year terms, since 1991 Constitutional Reform |
| Liberia | President | Two 6-year terms, since 1986 Constitutional Referendum |
| Lesotho | King | No set terms (Hereditary succession) |
| Libya | Presidential Council | No set terms (Transitional) |
| Madagascar | President | Two 5-year terms, since 1992 Constitutional Referendum |
| Malawi | President | Two 5-year terms, since 1995 Constitutional Referendum |
| Mali | President | Two 5-year terms, since 1992 Constitutional Referendum |
| Mauritania | President | Two 5-year terms, since 1991 Constitutional Referendum |
| Mauritius | President | Unlimited 5-year terms, since 1991 Constitutional Reform |
| Morocco | King | No set terms (Hereditary succession) |
| Mozambique | President | Two 5-year terms, since 2004 Constitutional Reforms |
| Namibia | President | Two 5-year terms, since 1999 Constitutional Reforms |
| Niger | President | Two 5-year terms, since 2010 Constitutional Referendum |
| Nigeria | President | Two 4-year terms, since 1999 Constitutional Reforms |
| Rwanda | President | Two 5-year terms, since 2015 Constitutional Reform (from 2024) |
| São Tomé and Príncipe | President | Two 5-year terms, since 2003 Constitution Reforms |
| Senegal | President | Two 5-year terms, since 2016 Constitutional Reform |
| Seychelles | President | Two 5-year terms, since 2016 Constitutional Reforms |
| Sierra Leone | President | Two 5-year terms, since 1991 Constitutional Referendum |
| Somalia | President | Two 5-year terms, since 1991 Constitutional Referendum |
| South Africa | President | Two 5-year terms, since 1996 Constitutional Referendum |
| South Sudan | President | Two 5-year terms, proposed |
| Sudan | President | Unlimited 5-year terms, since 2015 Constitutional Reform |
| Swaziland | King | No set terms (Hereditary succession) |
| Tanzania | President | Two 5-year terms, since 1977 Constitutional Reform |
| Togo | President | Unlimited 5-year terms, since 2002 Constitutional Reform |
| Tunisia | President | Two 5-year terms, since 2014 Constitutional Referendum |
| Uganda | President | Unlimited 5-year terms, since 2005 Constitutional Reform |
| Zambia | President | Two 5-year terms, since 2006 Constitutional Reform |
| Zimbabwe | President | Two 5-year terms, since 2013 Constitutional Referendum |