The Duke of Edinburgh and the General of the Royal Marines, Prince Phillip has been Queen Consort to the monarch of the United Kingdom since 20th November 1947. The Earl of Merioneth and Baron Greenwich was born on a kitchen table in Corfu at Villa Mon Repos (the Greek royals' summer home) on June 10, 1921. He belongs to the Danish Royal house of Glücksburg.
With interests in the environment, industry, sports, and education, he is patron, president, or member of over 780 organizations. He is also chairman of The Duke of Edinburgh's Award. Due to his longevity, he has recorded many firsts. Prince Philip became the first Royal Family member to do a TV interview in 1961.
A keen pilot, he had his first flying lesson in 1952, was presented with his Royal Air Force wings the following year, and by his 70th birthday, had accrued over 5,000 pilot hours. He is the longest-serving consort of a reigning British monarch, Philip is also the oldest-ever male member of the British royal family.
Prince Philip Met Queen Elizabeth As A Teenager
Prince Philip first met Queen Elizabeth when he was 14 – six years older than she is – at the wedding of his cousin, Princess Marina of Greece to the Duke of Kent, in 1934.
They met in 1939 when King George VI and Queen Elizabeth toured the Royal Naval College, Dartmouth. Phillip was asked to escort his distant cousins – Elizabeth and Margaret by his uncle Louis who many argue was actively interested in seeing the young royals get into a relationship. From there, the couple fell in love and started exchanging letters.
During World War II, Elizabeth and Philip kept in touch via letters (Philip served in the British Royal Navy at the time). They met at Windsor Castle for Christmas in 1943 during which it was clear a romance was blossoming, in peacetime, they had visits to the theatre. They kept their relationship private until 1946 when Philip asked Elizabeth to marry him; she agreed without even seeking her parents' permission. Her father, understanding his daughter's feelings, asked that he wait until Elizabeth was 21 before publicly announcing the engagement.
How Are They Related?
Philip's father was Prince Andrew of Greece and Denmark and his mother, Princess Alice of Battenburg. He is multi-racial, he has English, Russian, German/Prussian and Danish descent.
Prince Philip has four older sisters: Princess Cecilie of Greece and Denmark, Princess Sophie of Greece and Denmark, Princess Margarita of Greece and Denmark, as well as Princess Theodora of Greece and Denmark.
His sister Cecilie was heavily pregnant when she died in a plane crash with her husband on November 16, 1937. The couple was on their way to London to attend a family wedding when their plane crash-landed and none of the people on board survived.
Philip was the only son and the youngest of 5 children. As a child, his family was exiled from Greece after the overthrow of his Uncle King Constantine I of Greece.
After the exile, the family moved to Paris and in time, his parents separated. Prince Philip then moved to Britain to stay with his maternal Uncle Louis Mountbatten. Prince Philip is the oldest living great-great-grandchild of Queen Victoria, which means he is Queen Elizabeth's third cousin. The Queen's great grandfather King Edward VII is a sibling of Prince Philip's great grandmother Princess Alice of the United Kingdom.
See Also: Queen Elizabeth II: Everything You Must Know About The Longest-Reigning British Monarch
There Was Initial Skeptsim About Their Proposed Union
By all accounts, Philip was a royal in his own right. However, many in the English courts thought he wasn't "royal" enough for the young Elizabeth. He was a baby when his family was banished from their home country Greece, hence, he was seen in some quarters as a prince without a palace.
Most British aristocrats would have preferred a Brit from a royal house for her. Another factor that played against Philip was his German roots, his maternal grandfather, Prince Louis of Battenberg, was German. In the heat of the post-war anti-German sentiment in the UK, Philip was an awkward pick. He had to abandon his German-sounding surname, adopting his maternal grandparents' surname Mountbatten.
They Have Been Married For More Than 7 Decades With Children, Grand and Great-grand Offsprings
Before his marriage to the Queen, he was made Baron Greenwich, Earl of Merioneth, and Duke of Edinburgh. In 1957, he became a British prince. Under the counsel of Queen Elizabeth's grandmother and Winston Churchill, the then prime minister, Prince Phillip's matrimonial family would take up the surname of the British royal family, House of Windsor.
He later renounced his royal title as a Prince of Greece and Denmark, making him a British subject. He adopted the surname of his uncle Louis Mountbatten. A few years later, the Queen amended the family name to Mountbatten-Windsor.
As the Queen's consort, Prince Phillip has been very supportive. His marriage to the Queen is the longest of any British sovereign and he is the oldest-ever male member of the British royal family. Many have described him as the silent powerhouse of the throne. During her Diamond Jubilee in 2012, the Queen described her spouse as her "constant strength and guide".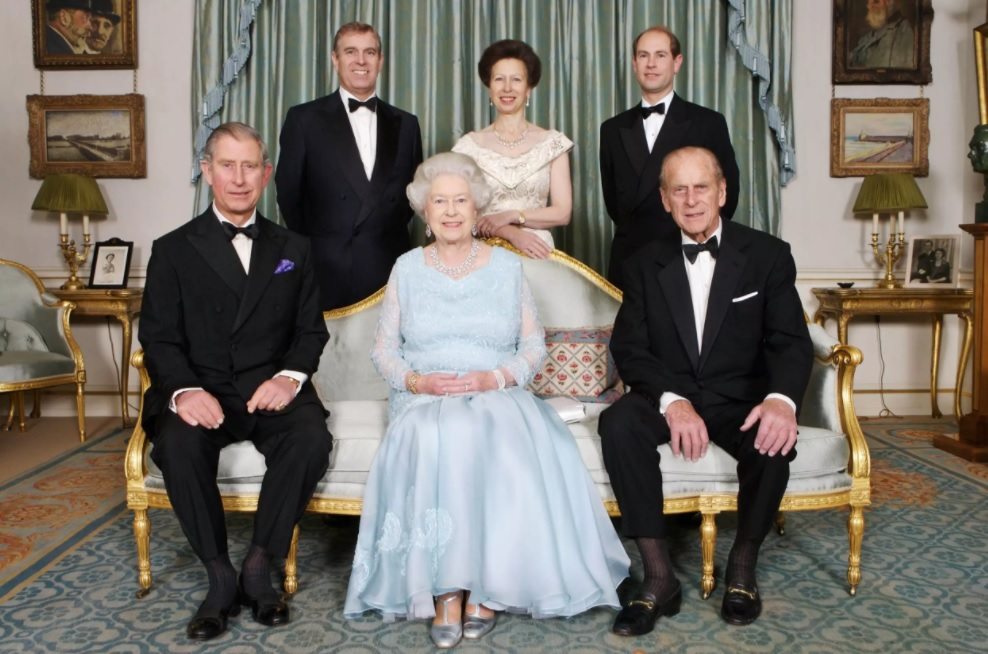 The Prince, together with his wife, Queen Elizabeth, have 4 children; Charles, Prince of Wales born on the 14 November 1948, Anne, Princess Royal born 15 August 1950, Prince Andrew, Duke of York, born 19 February 1960 and Prince Edward, Earl of Wessex who was born 10 March 1964. The royal couple has seven grandchildren and five great-grandchildren
The longevity of his marriage to the Queen has shed more light on the important role that he has played during her reign as the monarch of the United Kingdom.
During WW II, Philip dated Osla Benning for a brief period and there have been rumours of infidelity levelled against him while married to the Queen. None of these has been substantiated. A British tabloid alleged he had been romantically involved with an unnamed woman whom he met on a regular basis in his gentleman's lunch club during a tour he took in the 1950s on the royal yacht Britannia. Prince Philip has denied those claims, saying it would have been impossible seeing he had a detective night and day, since 1947.