Since they tied the knot in 2016, Ray J and Princess Love have stuck together like magnets as their marriage enters yet another year. Through thick and thin, rumors, fake news, and third party issues, the Love & Hip Hop couple have continued to egg on with the relationship. Which is quite a feat, considering their troubled pasts – especially for Ray J. Remember the guy from Kim Kardashian's viral sex tape? In the years following after the faux pas, Ray J has managed to succeed at damage control. Carving a not-so-bad identity for himself in the realms of business, music, and reality TV.
As another feather to their blossoming union, Ray J and Princess Love welcomed their first child, Melody Love Norwood, in 2018 – another blow to the naysayers. With their second child now underway, and cheating rumors flying about, let's tell you just how the celebrity couple are defying the odds to stay happily married. 
Ray J And Princess Love: When And How It All Started?
Theirs have been a bit of drama from the beginning. Ray J and Princess Love got hooked up in 2013 when the latter was still in a romantic relationship with the successful boxer, Floyd Mayweather. Princess Love, before that time, was a Las Vegas stripper and got exposed by the hip-hop singer 50 Cent for cheating on Mayweather with Ray J. Via a series of Instagram photos, 50 Cent spill the beans to his celebrity friend, warning Mayweather about Princess Love's disloyalty. He also accused her of dating the boxer simply for his money. This raised speculations about her 'gold-diggership' as evidence began to prop up about her involvement in a robbery at Floyd's house. 
Sources believe she had done the same thing to a previous boyfriend who unfortunately left large amounts of 'Benjamins' stacked in his house. With her breakup sure, Princess Love and Ray J became the next big couple. Especially as rumors had it that the duo had been filming a reality TV show. The speculation came through when Love & Hip Hop: Hollywood hit the air months later. It's safe to say that the lovebirds met on the reality Tv project.
After dating for a while, two years, sources say; The couple saw the need to make things official on August 12, 2016. After her break up with Mayweather, they got engaged in January 2015 and got married a year later in a Los Angeles ceremony that aired on Love & Hip Hop. Their first child, Melody, was born in 2018. Why wait that long for baby #1? Well, turns out that the celebrity couple also had their fair share of trials. Before welcoming Melody, the couple were open about their struggle with infertility, as Princess Love once wept over the consistent negative pregnancy tests she'd received over the months.
Ray J himself has even gone to have his sperm count tested. After the birth of their first child, the couple began rooting for baby #2 as fans continued to wish them well. Fortunately, those wishes didn't escape the universe's ears.
In August 2019, Ray J and Princess Love announced that their second child was underway and expected in January 2020. Ray J shared the news on his Instagram handle with a series of loveable family photos, showing off Princess' baby bump, and their 15-month-old daughter Melody Love. As of this writing, the sex of the baby hasn't been announced. We'll keep you updated with that too.
See also: Who is Dwayne Wade Married To? How Did They Meet And How Long Have They Been Married?
How They Are Defying The Odds To Stay Married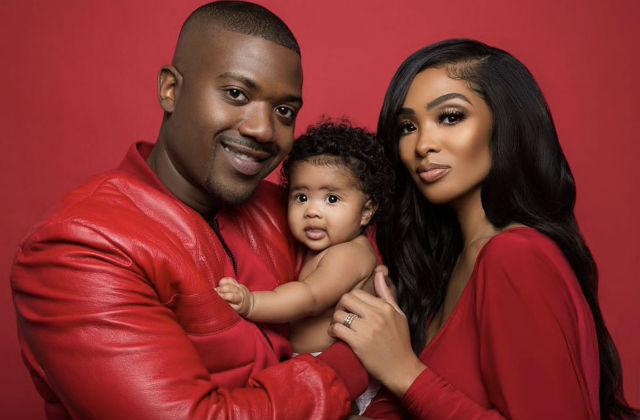 In their reality TV show, it's obvious that the couple has their share of issues; from their disagreements to third party issues. As revealed on the show, there was some tension between Princess Love and the Norwood family (especially Ray J's sister, Brandy, and their mother, Sonja). The couple, however, revealed that the arrival of their first child, Melody Love in May 2018 helped ease the tension; bringing the family back together. According to Princess Love herself, that things have since gotten better. There were also rumors about Ray J cheating on his wife during her pregnancy. But so far, those have remained unconfirmed and have in no way threatened their marriage.