The American movie star Rob Zombie has garnered fame, not just as an actor but also a musician. Although he was born as Robert Bartleh Cummings, he changed his birth name to Rob Zombie after his craft brought him a measurable success in his childhood fascination, horror films. The heavy metal musician's wild imaginative creativity stemmed from his love for the works of iconic filmmakers like Steven Spielberg, Alice Cooper, Stan Lee, and even the Hungarian American actor, Bela Lugosi. And today, Rob Zombie has created several commercially successful movies.
Before his filmmaking career, the 1965 born filmmaker, who hails from Haverhill, Massachusetts, the United States of America, started up a band called the White Zombie with his then-girlfriend Sean Yseult. The band also had other members including Ena Kostabi, Peter Landau, Jay Yuenger, John Tempesta, and Tim Jeffs, among others. Founded in 1985, the band released four studio albums before they went their separate ways thirteen years after.
Rob Zombie's stint in the movie industry has gotten him the attention of both media movie critics and moviegoers. Playing as both an actor, writer, director and producer, Rob Zombie has steadily built up a reputation for himself as a horror filmmaker. Read on as we take you through Rob Zombie's greatest movies as they are ranked from best to worst.
Rob Zombie Movies Ranked From Best To Worst
1. End Of Century: The Story Of Ramones (2004)
IMDb Rating: 8/10
This is one of Rob Zombie best movies where he featured as an actor, starring alongside the band members of Ramones and their rebellious punk ethos and minimalist approach to songwriting, and in the process becoming counterculture icons. The documentary film made quite an impression on both the movie critics and moviegoers. It was rated 8/10 on IMDb and 95% on Rotten Tomatoes.
2. Guardians of Galaxy (2014)
IMDb Rating: 8/10
One of the superhero movies in the marvel universe, Guardians of the Galaxy features Rob Zombie playing lending his voice the Ravager Navigator. The film revolves around Peter Quill (played by Chris Pratt) who was abducted at the death of his mother by Ravagers, a group of smugglers who eventually steals a mysterious orb. Directed by James Gunn, this superhero film also stars other A-list actors such as Vin Diesel, Bradley Cooper, Zoe Saldana, and many others. In addition to being a Box Office success, the movie also got an IMDb rating of 8/10, and 91% on Rotten Tomatoes.
3. The Devil's Rejects (2005)
IMDb Rating: 6.8/10
The Devil's Reject is a 2005 horror-thriller and a sequel to House of Corpses (2003) written and directed by Rob Zombie. Its plot centers on the run of three members of the psychopathic antagonist family from the previous film, now seen as protagonists. Although Rob didn't play a starring role, the film also has the likes of Sid Haig, Sheri Moon Zombie (Rob's wife) and Bill Moseley among its cast. Upon release, the film garnered positive reviews and was more successful than its prequel. It was rated 6.8/10 on IMDb.
4. Slither (2006)
IMDb Rating: 6.4/10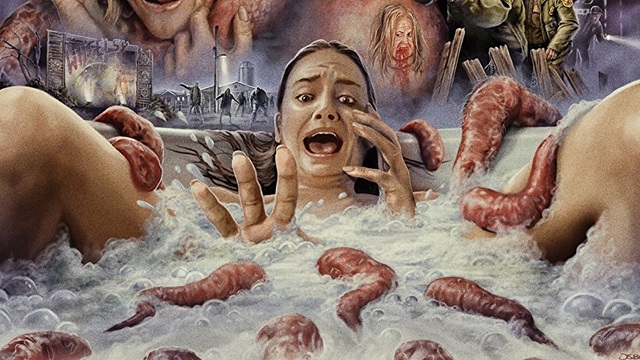 Undoubtedly, one of Rob Zombie movies out there; this 2006 science fiction horror movie directed by James Gunn, tells the story of how extraterrestrial parasites gradually turns a wealthy man called Grant in the town of Wheelsy, SC into a monster. And how its town people overcame the invasion of aliens. Upon release, this film was well-received by critics and has since become cult films. Even though it wasn't a hit at the box office, the film garnered 6.4/10 rating on IMDb and 86% on Rotten Tomatoes.
See Also: List of Robin Williams Movies and TV Shows From Best To Worst
5. House of 1000 Corpses (2003)
IMDb Rating: 6.1/10
House of 1000 Corpses is a 2003 American horror thriller and a prequel to The Devil's Reject (2005). While Rob Zombie was the screenwriter for this movie, it also served as his directorial debut. It follows a group of teenagers who are tortured by a psychotic family on Halloween, after traveling across the country to write a book. Following its storyline, the film has since garnered a cult following, even though it has negative reviews. Rated 6.1/10 on IMDb, the film also has 20% rating on Rotten Tomatoes.
6. Lords of Salem (2013)
IMDb Rating: 5.1/10
Yet another supernatural horror thriller and one of the movies produced and directed by Rob Zombie. Lords of Salem follows a troubled female disc jockey in Salem, Massachusetts, whose life becomes entangled with a coven ancient Satan-worshipping women. Upon release, the movie garnered mixed reviews from critics; thus getting an IMDb score of 5.1/10 and was also rated 46% on Rotten Tomatoes.
7. Halloween II (2009)
IMDb Rating: 4.9/10
Amongst Rob Zombie movies, Halloween II appears to be among his worst movies out there. This 2007 horror movie is a sequel to Halloween (released in 2007). Written, directed and produced by Rob Zombie, this film got a generally low rating from critics. Despite having an IMDb rating of 4.9/10 and 21% on Rotten Tomatoes, the movie also did well commercially. The story revolves around Michael Myer's (Chase Wright Vanek) return to his native home in search of his long lost sister, Laurie Strode (Scout Taylor-Compton), whom he shares a connection.