A comedian, writer, and actress, Sarah Silverman's art and craft is as unique as you would ever find. Her poignant use of comedy to discuss social issues such as race, sexism, politics, and religion has gained her an impressive following. As unorthodox as her style is, so is her life experiences.
She previously suffered from epiglottitis – a life-threatening condition that occurs when the tissue protecting the windpipe gets inflamed. She battled clinical depression as a young teenager, a situation exasperated by a bed-wetting problem that lasted into her teen years. She chronicles these struggles in her memoir The Bedwetter: Stories of Courage, Redemption, and Pee (2010). Navigating through these early challenges to steer her life in the direction she has is a testament to her mental strength and determination.
Sarah Silverman's Unique Style of Comedy Was Honed By Her Parents
For most performers who venture into the satirical realms of performance, those tendencies were honed while at a College. But in Sarah's case, her upbringing played a vital role. Her dad, an Ashkenazi Jew, who owned a clothing store, actively encouraged her use of profanity mostly for his own amusement. Her relationship with her mum armed her with the needed skepticism and sarcasm needed to become a social critique of some sort.
While other kids would have been scolded, this liberal setting in the house allowed her to hone what would become the bedrock of her professional identity.
See Also: Lewis Black Bio, Net Worth, Wife and Other Facts About The Comedian
She Dropped Out of School To Pursue A Comedy Career
With the kind of encouragement Sarah got from her family, she was eager to set off on her path as a performer. After a year at New York University, she dropped out to focus on stand up comedy. Her first public performance was in Boston when she was barely 17, a show she doesn't have fond memories of.
Subsequently, she put up shows at local clubs and gave them her best shot. As time rolled by, she endeared herself to the hearts of many with her great sense of humor.
Come 1993, she joined the NBC team as a performer and writer for the show, Saturday Night Live. Unfortunately, her stay on the show wasn't for long as she was laid off because her jokes were always criticized. That incident roused the beast in her as she decided to work harder. After so much hard work, Sarah Silverman got an offer from HBO to play a role in their comedy-drama, Mr. Show with Bob and David.
Her performance on the show got her another slot to perform in the standup comedy show Late Show with David Letterman. That same period, she played the lead role in the movie, Who's Caboose? (1997) which announced her to the acting world and she consequently got other roles in movies like Bulworth and There's Something About Mary (1998), Say It Isn't So (2001), School of Rock (2003), to mention a few.
Sarah Silverman later featured on the Late Night with Conan O'Brien and also played a role in the short-lived sitcom Greg and Bunny (2002). In 2003, she decided to run her own show titled Jesus is Magic while she also played as a television host. Four years later, the comic actress became more prominent after she launched her self-titled show; The Sarah Silverman Program. Unfortunately, the show was scrapped off by Comedy Central after three seasons of the program. It later made a come back in 2013 with a different name as Sarah Silverman: We Are Miracles, this time, on HBO. Ever since that comeback, the comic actress has gotten both big and small roles in different comedy movies.
Her Comedy Style Has Remained Unconventional
Vulgarity, profanity, taboo jokes have all become associated with the Sarah Silverman brand – not entirely in a bad way. She has employed her unique version of political satire, and dark humor to delve into topics most comedians would ordinarily shy away from. She has constantly used comedy to address social injustices and inequality. She once called out the pay inequality between men and women in the US, calling it a "vaginal tax". Though she has confessed to not being so proud of some of her previous jokes, she has remained committed to eschewing political correctness and fighting for causes she believes in.
In the 2016 and 2020 Presidential electioneering campaigns, she actively campaigned for Bernie Sanders and gave speeches at a few campaign rallies
Sarah Silverman Has Had Some Success In The Movies
Some of Silverman's earliest appearances in films include roles in such comedies as There's Something About Mary (1998), Heartbreakers (2001), and School of Rock (2003). She played a prostitute in Seth MacFarlane's comedy A Million Ways to Die in the West (2014). Her performance in Take This Waltz earned her praise. She played the role of a substance-abusing adulterous mother in I Smile Back (2015). Her more recent works include The Book of Henry (2017) and Battle of the Sexes (2017).
The comic actress has strived hard for every penny she has earned. Evidently, Sarah Silverman has also had her shortcomings but she has never let it deter her career growth. Sarah Silverman is estimated to be worth $12 million.
She Has Some Interesting Ideas About Having Kids
Sarah Silverman is one lady who shares a different perspective on marriage, commitment, and love. On countless occasions, she has aired her views on her beliefs on marriage. She once said she has no plans of settling down or having her biological children but would rather adopt a child than go through the stress of having one. Some sources have linked her perception to her fear of transferring depression to her unborn kids and also her bedwetting struggles.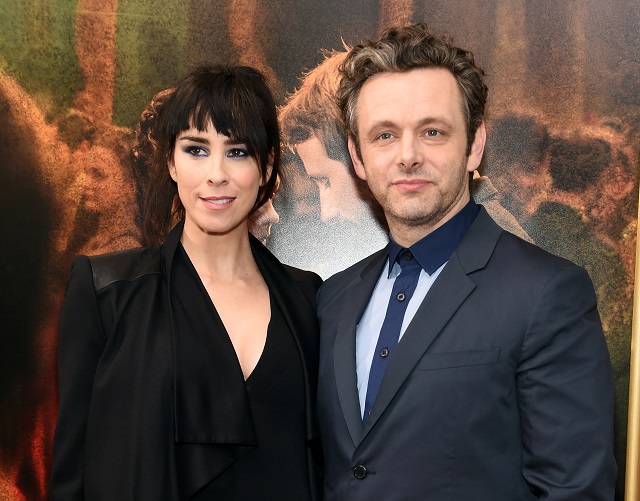 In Terms Of Relationships, The Comedienne Has Been Linked To Some Popular Names
Sarah Silverman's insistence on not habit her own kids have not stopped her from having a relationship. In fact, she has been linked to a long list of men in the past especially celebrities like Louis C.K., Kevin Brennan, Garry Shandling, Sam Seder, Colin Quinn, David Cross, Sam Seder, Kyle Dunnigan, Alec Sulkin, Tom Gianas, and more.
Of all the man she's been linked with, she's been known to have officially dated just two. She dated comedian and talk show host Jimmy Kimmel between 2002 and 2009 and after they went their separate ways, she started dating actor Michael Sheen. The relationship lasted between 2014-2018 but was called off because of distance as both parties lived on the two sides of the Atlantic. After her last boyfriend, Michael Sheen, Sarah Silverman has remained single.
Instructions: 
Trace her rise from her early struggling years until she became famous…work down to her worth and the recognitions she has received so far….ensure that the given figure for her net worth is correct. 
List the men she has dated and detail her opinions about marriage and having kids. 
Add more images where necessary. 
Add citation/links to credible sources where necessary. 
Note: Do not link to the homepage of any site.