Seeing their jersey number 50 limping off after tweaking a hamstring does not come as a news or surprise to most Dallas Cowboys fans. It's become a norm! Sean Lee, the Cowboys linebacker is presently labeled by critics and press as the most injury prone football player of all time.
This is not far from the truth seeing that the Dallas Cowboys 'Captain Marvel' has practically run the gauntlet of his career fraught with injuries ranging from broken wrist, hamstring, suffering concussion to tearing of the ACL (Anterior Cruciate Ligament); missing 42 out of 128 games so far, yet earning himself a place in the team's list of Notable Players of All Time and among NFL All-Time top 100 players.
Sean Lee is nothing short of a marvel when in the playing field with unmatched speed, strength, and insight which is a great asset and inspiration to his team. In his absence, the Cowboys have struggled against opponents only managing an average 30 points /game each week. Interesting to note is that Dallas Cowboy linebacker plays more than an on-field role in his team. He is also a player-coach leading his team both on the field and off the field.
Sean Lee's Early Life and Career Beginnings
Born as Sean Patrick Lee, on 22nd July 1986, in Pittsburg, Pennsylvania into a family of legal practitioners. Sean's parents are Craig Lee (a lawyer) and Geralyn Lee. His grandfather Donald J. Lee, was a Federal Judge in the US District Court of Pennsylvania. He has an older brother Conor and a sister Alexandra. His brother was a Football player in the University of Pittsburg while he was an athlete in Upper St. Clair High school. He wrapped the senior year in his High School with a wonderful record of 1,240 rushing yards, 95 pass receptions, 21 touchdowns, and 4 interceptions. He moved from back runnings to safety throughout his stay with his High School team
Sean attended Upper Clair High School, Pittsburg where he displayed his multi-sport abilities in basketball and football. On graduating from High School he attended Penn State College and continued as a college Football star playing the position of an outside linebacker for Niffy Lions under Coach Joe Paterno. Lee was elected captain by his teammate for two consecutive seasons 2008-2009 despite suffering injury and seeing very little field action in one of the seasons. He finally, graduated from College after bagging a degree in Finance.
His professional career began in 2010 when he was selected by the Dallas Cowboys in the second round of the 2010 NFL Draft as the 55th overall alongside Ronaldo McClain. He signed a $3.4 million 4-year contract. He was plagued with injuries as he teamed up with his teammates in their training camp which did not allow him to see lots of action. Nevertheless, the little he played was enough to see him emerge Rookie of the Week and NFC Defensive Player of the month respectively in 2011.
In 2012 He became the first Dallas Cowboy Player to win NFC Defensive Player of the Month award. His interceptions on New England Patriot's quarterback, Tom Brady, and Indianapolis Colt's Peyton Manning in the same year earned him a contract extension in 2013 where he signed a $42 million 6-year deal. Once more, Sean emerged NFC Defensive Player of the Month in the 8th week of the season.
Despite his off and on injuries on the pitch, he still manages to bounce back and work his magic, thereby, retaining his relevance in the field of play. He got nominated in 2015 for the Rooney Award honor sportsmanship in NFL and also followed his team for the first time in his career to the 2015 Pro Bowl.
Meet Sean Lee's Wife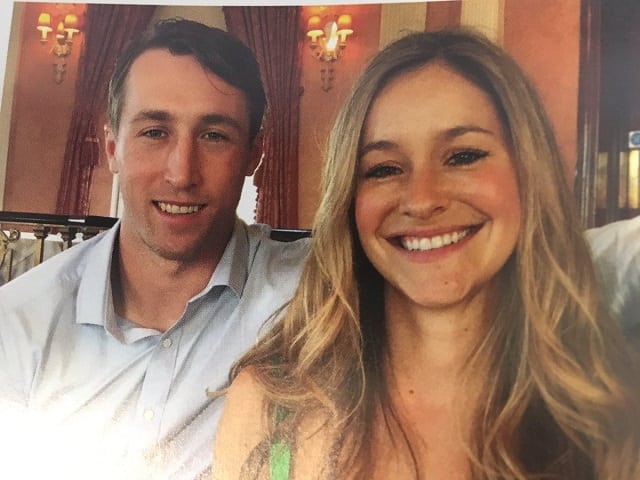 Sean Lee has had it easy with the ladies probably because of his good looks and popularity as a star. He finally settled for the beautiful Megan McShane and the duo got married on 22nd July 2014. Not much information is known about their dating life nor his lovely wife Megan. It is, also not clear if the couple have any children yet.
Read Also: Michael Crabtree Bio, Injury and Career Stats, Height, Weight, and Other Facts 
Details of His Net Worth
He has an estimated net worth of $60 million as at 2018. However, it is worthy of note, that his bonuses and cap has been on the increase since 2013 with his latest estimated increase being $7.32M to $11.02M. He also has others investment and endorsement deals that bring extra income.
Height, Weight and Body Measurements
Sean Lee is 6 feet 2 inches tall and weighs 111kg. He has brown eyes and hair, his arm is estimated to measure about 32 inches.
Most Dallas Cowboy fans and neutrals will tell you, that Sean Lee remains the best American Football Defender to walk the earth till date despite his injury travails.