Selena Gomez owes her stardom to Disney Channel, she is one of the several stars who stormed the limelight at a very tender age, working with the production. Literally, nothing could stop Gomez after she tasted fame following her role in Wizards of Waverly Place; she's been all the way up!
This Disney star's life is full of interesting facts, let's explore them all, shall we?
Selena Gomez Bio (Age)
Selena Gomez is renowned as an American singer, actress, and producer. She was born in the beautiful city of Texas, precisely in Grand Praire on July 22, 1992. Her parents named her after Tejano singer, Selena Quintanilla-Perez. Upon her parents' divorce, she relocated with her mom to Los Angeles where she was brought up. Though Selena lived with her mom, she always credited her grandparents for raising her to love the entertainment world.
She attended Danny Jones Middle School in Texas and had home classes for high school and graduated in 2010. However, she has not made it to college yet.
She worked with Barney & Friends before moving to Disney world. In the movie industry, she featured in several movies including Ramona and Beezus, Monte Carlo, Hotel Transylvania, The Big Short, The Revised Fundamentals of Caregiving, Neighbors 2 and In Dubious Battle.
The Disney champ gradually started her career as a model when she was just a teen. She took a decision to be greater than her mom Mandy and she has put her heart to it. She has been rewarded excellently by several firms and organizations, at just 22, she had acquired 58 reputable awards.
Music Career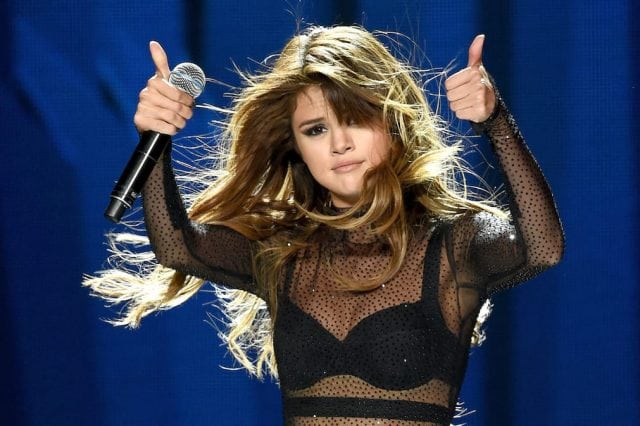 For her music career, Selena Gomez started working with Hollywood records. She has a lot of songs to her credit and featured in some including Kiss & Tell, A Year Without Rain, and When the Sun Goes Down. The singer released her solo album Stars Dance in 2013 in which her songs Come & Get It and Slow Down were on the top ten singles chart. Her other songs For you and The heart wants what it wants were released in 2014. She later released another solo album in 2015 titled Revival and Fetish in 2017. The Disney goddess also works with Interscope Records and is signed to Creative Artists Agency.
Health Issues
Selena was diagnosed with Lupus in 2015, imaginations of what she went through can't be envisaged. Her diagnosis was hidden from the public until 2017 when she needed a kidney transplant. She underwent a series of Chemotherapy and finally got a kidney from her best friend; Francia Raisa.
She acknowledges the fact that she almost had a stroke from the disease and has shown appreciation to her bestie. Nevertheless, from the best of our knowledge, Gomez is currently sound and healthy.
Charity
Over the years, Selena has shown how charitable she could be. She currently works for UNICEF as an ambassador and a volunteer. The Disney star has practically bought the hearts of her fans and admirers with her charitable acts and has also shown concern for the animal kingdom.
She gives kudos to the likes of Britney Spears, Rihanna, Beyonce, Bruno Mars, Skrillex and Taylor Swift and looks up to them for inspirations.
Family: Parents and Sister
The Disney goddess grew up in a large family. Selena's biological father is known as Ricardo Joel Gomez, a Latino. Her mother, Amanda Teefey fondly called Mandy remarried Brian Teefey and had a daughter named Gracie Elliot Teefey; Selena's half-sister. Her biological father remarried and had two children, Marcus Gomez and Victoria Gomez, nevertheless, the champ is the oldest of them all.
Is Selena Gomez Dating, Who Is Her Boyfriend?
The Disney actress had been in an on-again-off-again relationship with fellow pop star Justin Beiber for a long time. They started dating in 2010 and finally broke it off in 2017. She then dated Abel Makkonen Tesfaye popularly known as The Weeknd in March 2017. They lived together in Greenwich Village in New York and broke up sometime in October 2017. Rumors have it that Abel's song My Dear Melancholy referred to Selena. Recent info suggests that the actress is currently in a relationship with Caleb Stevens.
Selena was romantically linked to Austin Mahone, Tommaso Chiabra and Orlando Boom (in 2014), Zedd, Charlie Puth, Samuel Krost, Niall Horan (in 2015) and Maluma in 2017.
Height, Weight
Selena Gomez has a slim build, weighing 59kg and stands at a height of 5 ft 5 inches. Her body measurements include 36-28-35 for her chest waist and hips respectively.