Skip Bayless is an American sports columnist, author, and TV personality best known as a commentator on ESPN2's First Take; a show he co-anchored for over ten years with fellow columnist, Stephen A. Smith, before stepping down in June of 2016. Only three months later, Bayless kicked off his new show Skip and Shannon: Undisputed with Shannon Sharpe on Fox Sports 1. So far, Bayless's 40-plus years career has morphed into various roles that continue to sustain his relevance and popularity.
Skip Bayless' Age and Early Life
Skip Bayless was born — John Edward Bayless II in Oklahoma City, Oklahoma on December 4, 1951. Now we bet you're probably wondering where the "Skip" comes from, seeing that it doesn't even make up any part of his full name. Well, as far as we know, Bayless got his fancy first (nick) name from his own father, who also called his mom "Skip." When it became too obvious, Bayless later had his name legally changed to "Skip." His parents operated the Oklahoma-based restaurant, Hickory House.
Although Skip and his younger brother, Rick, worked in the restaurant as youths, it was Rick who later carried on the family business; becoming a restaurateur, chef and TV personality. Bayless who was interested in sports from earlier on began living out his passion; playing baseball and basketball where he averaged 1.4 ppg as a senior.
Owing to his numerous leadership roles and excellent feats back in Northwest Classen high school— including serving as the primary sports columnist for his school's newspaper throughout his junior and senior years, he was awarded the Grantland Rice Scholarship to attend Vanderbilt University. At Vanderbilt University, Bayless majored in English and history and graduated in 1974.
Career
Before launching out into as a TV personality, Skip Bayless served as the sports editor of Vanderbilt University's student newspaper, The Hustler. Plus, he interned at The Daily Oklahoman, under the sports editor Frank Boggs. Soon after, he began working as a writer in The Miami Herald where he spent two years. In August of 1976, Bayless took up a role at Los Angeles Times. While there, he notably wrote investigative stories on the Los Angeles Dodgers' clubhouse resentment of "golden boy" Steve Garvey and his celebrity wife Cyndy. He covered Seattle Slew's Triple Crown victory; for which he won the Eclipse Award for Outstanding Newspaper Writing in 1977.
In 1977, at just 26, Skip Bayless became the lead sports columnist for The Dallas Morning News and only three years later, transferred to the Dallas Times Herald. Sensing Bayless' incredible talent and work, The Wall Street Journal, decided to do a story on the development. For the years 1979, 1984 and 1986, Bayless was voted Texas' sportswriter of the year by the National Sportscasters and Sportswriters Association.
He later moved to the Los Angeles Times in Dallas Morning News. There, he became highest-paid sportswriter in the US at the time. In 1996, after 17 years at the Times Herald, Bayless moved to begin work as a lead sports columnist for the Chicago Tribune. There, Skip Bayless won the Chicago Headline Club's Lisagor Award for excellence in sports column writing. In 2000, the National Sportscasters and Sportswriters Association voted Bayless as Illinois sportswriter of the year.
Within that time, Bayless was airing sports radio talk shows. Between 1994 and 1996, he hosted The Skip Bayless Show on Fort Worth radio station KTCK. The show ran from 6–9 a.m. on weekdays. In 2001, he became the primary guest host of The Jim Rome Show and in 2004, started to co-host a weekend show on ESPN Radio with former SportsCenter anchor Larry Beil. Skip Bayless would later delve into Television. Beginning in 1989, Bayless' TV career kicked off with an appearance as a panelist on ESPN's The Sports Reporters.
Over the next three decades, Skip Bayless worked with Golf Channel, Jim Rome's show on Fox Sports Net, Sunday morning SportsCenter talk show, ESPN2's Cold Pizza, and most notably Fox's First Take; which he last appeared in on June 21, 2016. As of this writing, Skip Bayless co-hosts his own show, Skip and Shannon: Undisputed, alongside Shannon Sharpe on Fox Sports 1. Skip Bayless has also appeared in the movies, The Top 5 Reasons You Can't Blame… (1999), Rocky Balboa (2006), and the 2019 release, High Flying Bird.
Did we mention "author" in his profile? Yes! So far, Skip Bayless has published three major books. They include; God's Coach: The Hymns, Hype, and Hypocrisy of Tom Landry's Cowboys (1990) The Boys: The Untold Story of the Dallas Cowboys' Season on the Edge, Simon & Schuster (1993), Hell-Bent: The Crazy Truth About the "Win or Else" Dallas Cowboys (1996).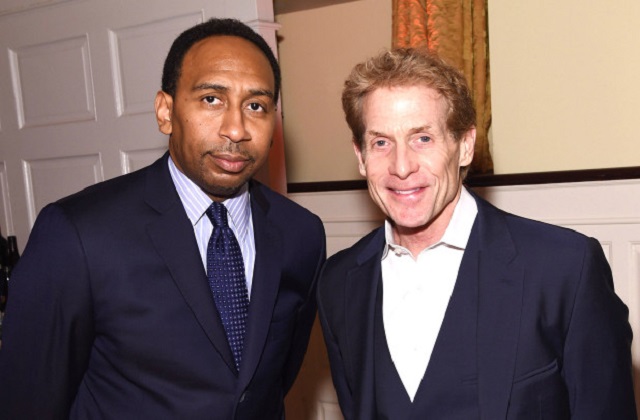 Net Worth and Salary
With over 40 years of sports journalism and several accolades to his name, Skip Bayless has indeed made so much out of his career. According to sources, after leaving Fox Sports in 2016, Bayless now earns an estimated salary of $5 million and received a signing bonus of $4 million in 2016. His estimated net worth ranges between $7 and $13 million.
How He Met and Married His Wife, Ernestine Sclafani
Following the crash of his first marriage to his high school sweetheart— a decision Bayless still calls his greatest mistake—he met and courted publicist and vice president of Shandwick Public Relations, Ernestine Sclafani. The couple met on ESPN2's show Cold Pizza. That night, the duo shared a lush dinner where Bayless technically asked her out; stating she will never be more important than his work. Their mutual love for Woody Allen and vintage music greased their connection. They were married at a private wedding attended by close friends and relatives.
His Brother Is A Restaurateur
Skip's Brother, Rick Bayless took after the family tradition and is now a restaurateur, television personality and award-winning chef. Rick was born on November 23, 1953, and is known for traditional Mexican cuisines with modern interpretations. He is famous for his PBS series Mexico: One Plate At A Time. Like his brother, Rick has also authored books mostly on traditional Mexican fare. He is married to Deann Bayless.
Height
Skip Bayless, has an average build. The Oklahoma-born actor stands 5 feet 10 inches (1.78 meters) tall. He has light-brown hair and light-brown eyes.