Steve Kerr is famously known as the head coach of the Golden State Warriors of the National Basketball Association (NBA). He has won three NBA Championships with the team since joining the franchise in May of 2014. Steve Kerr has imprinted his name in the sand of time as a phenomenon in the hooper game.
He began his exploits as a player playing for the University of Arizona basketball team before being selected by the Phoenix Suns in the second round of the 1988 NBA draft.
In his about fifteen years as a professional player, he played for seven different franchise. Kerr won five NBA Championships before his retirement. Not the type to be easily satisfied with youthful achievements, he ventured into coaching and has proven his class over and over again, becoming one of the best players-turned-coach in the history of the NBA.
Steve Kerr's Bio, Age
The basketball coach was born Steven Douglas Kerr in Beirut, Lebanon on September 27, 1965, to an academic father, Malcolm H. Kerr and Ann Zwicker (mother). He is one of the four children birthed by his parents. The young Steve Kerr grew up in Lebanon and other Middle Eastern countries, thus, he attended Cairo American College in Egypt, the American Community School in Beirut, Lebanon, as well as Palisades High School now known as Palisades Charter High School in Los Angeles.
His father was gruesomely murdered by Islamic sect known as Shia Lebanese militia on January 18, 1984, while he was rendering his services as the president of the American University of Beirut. At the time of his father's death, Steve Kerr was eighteen years and a college freshman at the University of Arizona.
He signed with his college to play for the University of Arizona team, in 1986, and interestingly, Steve Kerr was included in the basketball team that competed in the FIBA World Championship in Spain.
Despite a career-threatening injury he sustained which sidelined him for a whole season, he bounced back to the field after his rehabilitation and continued with his fine exploits. Owing to his leadership quality and long-range shooting as well as his ability to triumph in adversity, Steve Kerr became the fans' favorite.
He led the Wildcats to their Final Four of the NCAA Division I basketball tournament in 1988 along with fellow All-American teammate, Sean Elliot. He would set an NCAA record for 3-point percentage in a season (114-199, 57.3%) before he graduated in 1988 with a Degree in General Studies with emphasis on History, Sociology, and English.
How Many Rings Does Steve Kerr Have?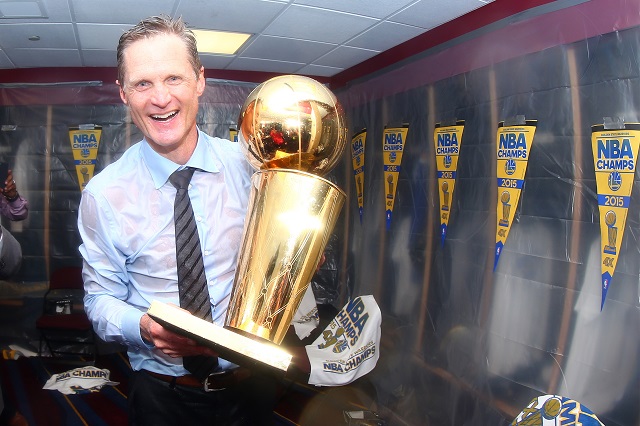 He was drafted by the Phoenix Suns in the second round of the 1988 NBA draft; he spent just a year with the team and left for the Cleveland Cavaliers the following year. After spending three years with Cleveland, Steve joined the Orlando Magic in 1992 and spent just a year with the team before leaving for Chicago Bulls in 1993.
At the Chicago Bulls, Steve played alongside the legendary Michael Jordan. He spent 7 years at Chicago Bulls and won three NBA Championships in 1996, 1997, and 1998. He would join the San Antonio Spurs in January 1999 and won yet another NBA Championship the same year making it his four straight titles.
Kerr left the Spurs and joined Portland Trail Blazers in July of 2001 where he played 65 games in 2001-2002 seasons. He made a return to the San Antonio Spurs on August 2, 2002, where he stayed till his retirement in 2003 after winning another NBA Championship in his last season with the team summing up his NBA titles to five.
Upon his retirement, he took up the microphone and served as a commentator in the game that gave him fame and wealth. Time passed by and Steve was hired as the head coach by the Golden State Warriors on May 14, 2014, he continued with his winning streaks and won 21 of his first 23 games.
Steve Kerr eventually became the first NBA rookie coach with the most regular-season wins. His continued exploits as the head coach of the Warriors have earned him three NBA Championships in 2015, 2017, and 2018. In 2016, Steve was named the NBA Coach of the year and the NBA All-Star Game head coach in 2015 and 2017. Summarily, Steve has eight NBA championship rings in his closet having won five as a player and three as a coach.
See Also: David Fizdale – Bio, Wife, Parents, Salary of the NBA Coach
What Is The Salary and Net Worth of The Coach?
Right from his days as a player, Steve Kerr has enjoyed good income from his craft. His net worth has been estimated by reliable media outfit as $18 million. While he earns a yearly income/salary of about $5 million as the head coach of the Golden State Warriors.
Steve Kerr's Height
An imposing physique is what Steve Kerr commands despite his age. The successful coach stands at an impressive height of 6 feet 3 inches (1.91 m) complemented by a weight of 82 kg.