Thomas Davis is an American football player who began his professional career after he was picked by the Carolina Panthers in the first round of the 2005 NFL Draft. Before then, he attended Randolph-Clay High School in Cuthbert, Georgia, where he played football, basketball, and baseball. As a football player in high school, he played in different positions and won several awards.
Many people described Davis as one of the best athletes ever from Georgia but his chances of being exposed were very low because his school was small. Despite his athleticism, he was only offered a scholarship by the University of Georgia. He accepted the offer and played college football for the Georgia Bulldogs and was recognized as a consensus All-American.
Davis who was born as Thomas Antonio Davis Sr. on March 22, 1983, is Carolina Panthers' longest-tenured player and one of its most respected ever. From the time he was drafted till January 12, 2018, when Thomas Davis announced that the 2018 NFL season would be his last, he never played for any other team.
Salary and Career Earnings
Carolina Panthers offensive linebacker, Thomas Davis, has made millions of dollars playing the game he loves. His career earnings of $64.95 million from more than fourteen seasons ranks 90th among active NFL players entering 2018.
On August 15, 2017, Davis signed a one-year $6.750 million contract extension with the Panthers. This covers $3 million guaranteed and an average annual salary of $6.750 million. His 2018 base salary will be $2,676,471 while he will also earn a roster bonus of $1 million and a workout bonus of $250,000.
Thomas Davis Wife
Thomas Davis is married to Kelly Davis and together they have so far, built a happy family with their four children. Kelly and Thomas have two striking things in common – they were both raised in single-parent households and have a child each from their previous relationships.
Kelly Stokes Davis was born in Greenville, South Carolina, to Terry Stokes Wolfe. She attended Winthrop University in Rock Hill from where she graduated with a major in biology. As a college student, she worked at Applebee's in order to earn money and take care of her child named Sky.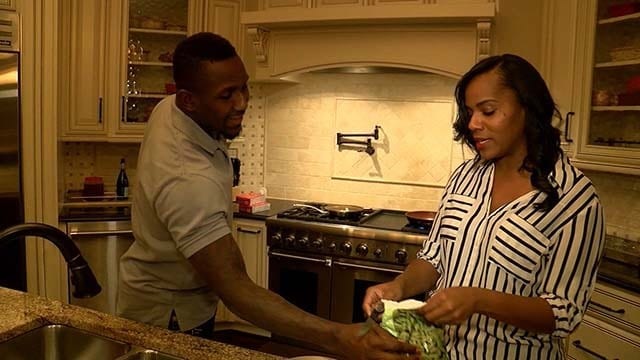 According to reports, the couple first met during Thomas rookie season, at a brewery in Charlotte, North Carolina, where Kelly who was still a university undergraduate then, was hanging out with her friends. While Kelly was with her friends and socializing with Javon Haye of the Tampa Bay Buccaneers, the footballer called Thomas over and he immediately got along with Kelly. According to the young lady, something just clicked.
On their first meeting, Kelly had no idea that Thomas was an NFL player and only found out when he told her that he had to go to practice. She eventually overcame the initial reaction as they got to know each other and later started dating. After a few months, they decided to meet with each other's kid. Thomas was the first guy of the handful of men Kelly had dated that met her daughter and they both got along. Over the next two years, the four-man team (Thomas, Kelly, Sky, and Denim) became very close.
Kelly continued with her job at Applebee's until she found out she was pregnant with their first child together. It was an exciting news for the couple because they somehow knew that they were eventually going to be husband and wife.
By the time she graduated from college, Kelly was already some months gone. Sadly, Thomas could not make it to her graduation because he had to attend a training camp. However, he gave her a video recorder to capture the ceremony for him.
Thomas made it home at night to meet the graduation party which held at his house with many people around to celebrate Kelly. When he came back, he invited everyone into the living room for a special event. Kelly had no idea what was about to happen, she only guessed he was about to play a funny prank but alas! Thomas proposed to her with a beautiful seven-carat diamond ring designed by Martin Delgado and she said 'Yes'. They eventually tied the knot on March 22, 2008, at St. Luke Missionary Baptist Church and had their wedding reception at Westin Charlotte in Charlotte, NC.
They now have a well-blended family that includes four children – two boys and two girls. Even though both of them had no real-life example of a healthy marriage relationship, they have been able to beat the odds with hard work.
Thomas who is an evangelical Christian attribute the success of their marriage to having a happy wife and praying together.
See Also: Who Is Jordan Howard, The NFL Running Back? His Height, Weight, Facts
Weight, Height, and Body Measurements
The former Bulldog player measures 6 feet 1 inch (1.85 m) in height and weighs 235 lb (107 kg). He has a powerful 10 inches (0.25 m) hands which are perfect for his football job.