Injuries are a normal facet of life for every pro athlete. They, therefore, do not pray to avoid it entirely but rather for the ability to recover and continue their career after suffering one. One individual whose prayers have certainly been answered in this regard is the veteran NFL star, Thomas Davis.
A linebacker, Davis has spent about 15 years in the NFL during which he has suffered multiple ACL injuries. Several times, many imagined his career was over but the Georgia native relied on the support of his loved ones, most notably his wife, to get back on his feet. The linebacker has now made history as the first sportsman in the world to survive three torn ACLs.
An Overview of His NFL Career Thus Far
Thomas Davis began his professional career after he was picked by the Carolina Panthers in the first round of the 2005 NFL Draft. Before then, he attended Randolph-Clay High School in Cuthbert, Georgia, where he played football, basketball, and baseball. As a football player in high school, he played in different positions and won several awards.
Many people described Davis as one of the best athletes ever from Georgia but his chances of being exposed were very low because his school was small. He, therefore, received only a few scholarship offers including one from the University of Georgia which he accepted. He thus played college football for the Georgia Bulldogs and was recognized as a consensus All-American.
Davis who was born as Thomas Antonio Davis Sr. on March 22, 1983, is Carolina Panthers' longest-tenured player and one of its most respected ever. From the time he was drafted till January 12, 2018, when he initially announced his proposed retirement, he never played for any other team.
The player accumulated 1094 combined tackles, 52 passes defended, and 13 interceptions as he helped his franchise reach the playoffs on five occasions. Following 13 dedicated years of service, Davis bade farewell to the Panthers franchise and has since gone on to share his wealth of expertise with other teams such as the L.A. Chargers and Washington Redskins.
Bouncing Back from Multiple ACL Injuries
Every sports fan would have at one time or the other heard about an athlete who had a torn ACL but what does it mean? Well, ACL stands for anterior cruciate ligament and is one of the four main ligaments in the knee. It is crucial in controlling mobility and is also one of the most frequently injured.
Thomas Davis first tore the ACL in his right knee during a week eight game against New Orleans Saints in November 2009. He had tangled with a wide receiver named Devery Henderson when he heard the pop and felt the excruciating pain. His team immediately placed him on the reserve list and he underwent surgery, during which the medics took some part of his hamstring tendon to replace his ACL. He spent the rest of the season going through a painful rehab and eventually made it back to workouts in preparation for the next season.
Davis was right on track to return for the 2010 season when he yet again tore the ACL in the same right knee during regular drills with his teammates. This second injury devastated him and he found himself sobbing his heart out to his wife. The player wondered if God was telling him to quit football but he dug in his heels. He had never been a quitter and he didn't intend to start at that point. Davis went through the cycle of surgeries and several months of agonizing rehab; this time, a piece of the patellar in his right knee was removed to replace his ACL. He, therefore, missed the entire 2010 season.
The Injury That Almost Ended His Career
Thomas Davis eventually made his comeback for the 2011 season but could only manage two games before he tore the ACL in his right knee for the third time. The injury occurred after his leg was stuck in a pile of players and the linebacker resigned himself to fate. He stated that he was done with football and would only get surgery to lead a normal life. Having made such a decision, Davis felt at peace with himself.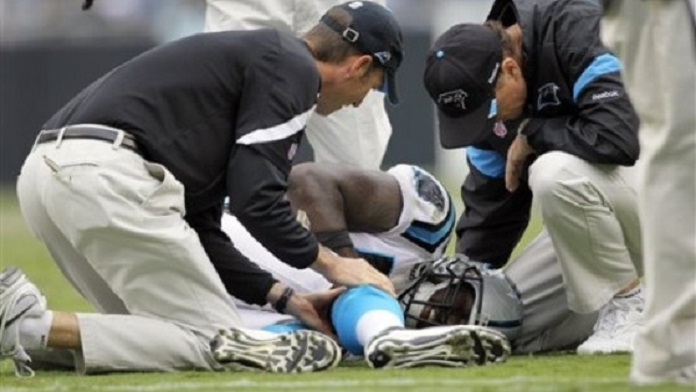 This feeling however did not last a long time and he decided to try once more. The player went through surgery where the doctors took parts from his left knee to replace what was lost in his right knee. He then embarked on the painful cycle of rehab, filled with workouts on Cybex machine and stationary bikes, and had to relearn how to run and climb the stairs. Through all the sweat and pain, some fans urged the linebacker to just give up. He however refused to do so and clung to his family as well as supportive teammates.
Davis made his comeback in the 2012 season and featured in 15 games, recording a total of 105 tackles, three pass deflections, and one interception. Such impressive performance fetched him widespread praise. He was also touted for the comeback of the year award but lost to Peyton Manning. It is however no skin off Davis' nose as he has not suffered any injury and has maintained his impressive form to date. This has seen him receive several accolades including three consecutive Pro Bowl selections from 2015 to 2017.
The Impact of The Injuries on His Career Earnings
Thomas Davis has made millions from playing the game he loves. His estimated career earnings of $70.07 million rank 440 among active NFL players entering 2020. The offensive linebacker has therefore not done badly at all but he should have made much more if not for his injury woes.
On being drafted into the NFL in 2005, Thomas initially received a five-year contract worth $10.60 million. The deal paid him about $2.1 million per annum and provided a bonus of $1.175 million. Following the expiration of this deal, which coincided with the start of Davis' injury woes, the Panthers offered him a one-year contract in 2010 worth $3.26. They subsequently upgraded it to a five-year deal worth $36.5 million the next year after seeing his impressive recovery from injury.
This particular deal was supposed to pay Davis $8 million in signing bonuses but he never got it due to the 3rd ACL injury that effectively made him miss most of the 2011 season. Things worsened as he had to take a pay cut from an initial $2.20 million per annum down to the veteran minimum wage of $700,000. Davis did not agonize over this fact too much but kept his eyes on the price. He completed his comeback and has since witnessed an upward trajectory in earnings.
In 2014, the linebacker signed a five-year deal which paid him about $3.3 million per annum. The contract however ran for just a year before the Panthers offered him a much improved two-year deal in 2015 which paid him $9 million per annum. Following the expiration of this deal, Davis signed a one-year contract extension with the Panthers worth $6.750 million in August 2017. It was his final deal with the Panthers; since then, the Georgia native has spent one year with the L.A. Chargers, during which he was paid $5.2 million in basic salary. He's now with the Washington Redskins on a one-year contract worth $3.5 million. The deal was penned in March 2020.
Giving Back To His Community
Thomas Davis does not hide the fact that he comes from a humble background. According to him, his town, Shellman, Georgia had a majority of its residents living in abject poverty and he always sought an opportunity to help.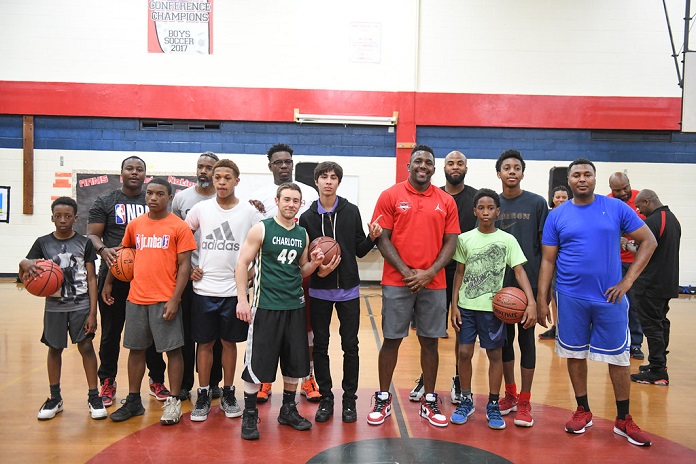 His NFL career has provided him with the finance and platform to do so and he is making the best of it. The linebacker established the Thomas Davis Defending Dreams Foundation which helps underprivileged communities in Shellman and his wife's hometown, Greenville.
The organization holds free football camps for youngsters in the summer. They also do mentorship programs, offer college scholarships and Christmas giveaways. The non-profit has thus far helped about 2000 families and Davis' effort has been acknowledged. In 2014, he received the Walter Peyton Man of the Year Award, given to a player who combines an excellent year on the field with exemplary charity service. He also scored a similar award, Bart Starr, in 2016.
Thomas Davis Has Built a Blended Family With The Love of His Life
Thomas Davis is married to Kelly Davis and together they have so far, built a happy family with four children. Kelly and Thomas have two striking things in common: they were both raised in single-parent households and have a child each from their previous relationships.
Kelly Stokes Davis was born in Greenville, South Carolina, to Terry Stokes Wolfe. She attended Winthrop University in Rock Hill from where she graduated with a major in biology. As a college student, she worked at Applebee's in order to earn money and take care of her child named Sky.
According to reports, the couple met during Thomas' rookie season, at a brewery in Charlotte, North Carolina, where Kelly who was still a university undergraduate, was hanging out with her friends. While Kelly was with her friends and socializing with Javon Haye of the Tampa Bay Buccaneers, Haye called Thomas over and he immediately got along with Kelly. According to the young lady, something just clicked.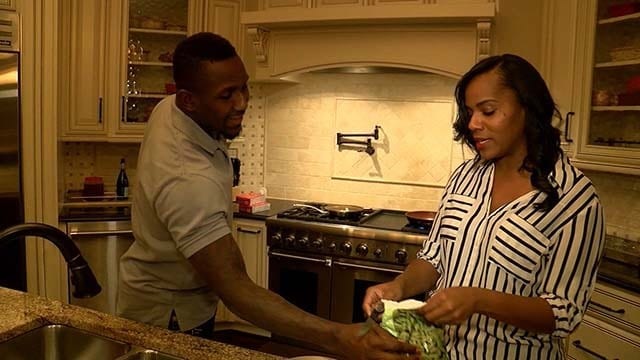 On their first meeting, Kelly had no idea that Thomas was an NFL player and only found out when he told her that he had to go to practice. They eventually started dating and after a few months, decided to meet each other's kids. Thomas was the first fellow among the handful of men Kelly had dated that met her daughter and they got along. Over the next two years, Kelly, Sky, Thomas, and Denim became very close.
Kelly continued with her job at Applebee's until she found out she was pregnant with their first child together. It was exciting news for the couple because they somehow knew that they were eventually going to be husband and wife. By the time she graduated from college, Kelly was already some months gone. Sadly, Thomas could not make it to her graduation because he had to attend a training camp. However, he gave her a video recorder to capture the ceremony for him.
The Couple Got Married In 2008
Thomas made it home at night to meet the graduation party which held at his house with many people around to celebrate Kelly. When he joined the party, he invited everyone into the living room for a special event. Kelly had no idea what was about to happen, she only guessed he was about to play a funny prank but alas! Thomas proposed to her with a beautiful seven-carat diamond ring designed by Martin Delgado.
They eventually tied the knot on March 22, 2008, at St. Luke Missionary Baptist Church and had their wedding reception at Westin Charlotte in Charlotte, NC.
The couple has since welcomed two kids together; a son named Thomas Jr and his full sister Mattison. They have been able to incorporate all of their kids into a well-blended family. Even though Davis and his wife had no real-life example of a healthy marriage relationship, they are determined to make an exemplary home for their kids. They have so far succeeded in this task and have been able to turn their palatial house into a warm and loving home. They have also been able to inculcate good values into their children through practical examples.
The couple opens up their home for extended family relatives each summer. They also do not allow their kids to live irresponsibly. The oldest daughter Skye is already a good chef. The NFL star is committed to raising sons who are good men and daughters who would lead a meaningful life and pursue healthy romantic relationships.
It is known that Thomas is an evangelical Christian; he has attributed the success of his marriage to having a happy wife and praying together.