Tomica Woods is one lady whose name often pops up in the hip-hop world. She first shot to fame as the wife of gangsta rap icon, and N.W.A founding member, Eazy-E. Woods has since taken over as the boss of her husband's record label following his demise. The media personality has also had to contend with all the conspiracies and litigations connected to her late husband's legacies. Want to know more about the indefatigable Ms. Woods. Then, here are 6 interesting tidbits about her.
6 Things You Need To Know About Tomica Woods
Tomica Woods is a native of Los Angeles
Tomica Woods Wright was born on the 7th of December 1969 in Los Angeles, California. There are not many specific details about her family background. It is however known that her parents divorced at some point and she had to split her childhood between their respective homes as well as foster care. Woods did not allow these unsavory circumstances to derail her life. She rather worked hard and completed her high school diploma at San Fernando Valley High School. The media personality thereafter obtained her degree from the West Los Angeles College. On completing her degree, Tomica Woods delved into the music industry and worked as a secretary to renowned music exec and film producer, Clarence Avant.
Her marriage lasted just 12 days
Tomica Woods was previously married to the late rapper, Eazy-E. Eazy-E (real name – Eric Lynn Wright) was born on the 7th of September 1964 in Compton, an LA suburb noted for crime and gang activity. He thus had to engage, or pretend to engage, in some of these activities so as to protect himself in his youthful days. The rapper later cleaned up his act and founded Ruthless Records at the age of 22. He also joined forces with the likes of Dr. Dre and Ice Cube, and they formed N.W.A in 1986. N.W.A were renowned for their socio/politically-charged lyrics which pushed the boundaries of mainstream music.
The group dropped four albums between 1987 and 1991 while Eazy-E also dropped two solo albums. Woods first met her future husband in 1991. They dated for four years and tied the knot on the 14th of March 1995. Her husband, unfortunately, passed away, 12 days later, on the 26th of March 1995. The couple's marriage produced two children namely son – Dominick and daughter – Daijah.
Her husband died of HIV/AIDS
Wood's husband checked into the Cedar-Sinai Medical Centre in Los Angeles due to a violent cough. It was however discovered that he was HIV positive and the rapper commenced treatment immediately. He later passed away on the 26th of March 1995, at the age of 30. While alive, Eazy-E was somewhat of a womanizer and it is believed that he caught the virus from one of his numerous lovers. His camp has however disputed this and believes that it was one of his rivals, most notably Suge knight, who masterminded his infection. One of Eazy-E's sons, Yung Eazy, point to a 2003 interview that Suge knight did on Jimmy Kimmel Live! In the interview, Knight stated that there are new technologies which you can utilize to do something to someone without ending up in jail. He also specifically talked about shooting a person with AIDS-infected blood and watching them die slowly.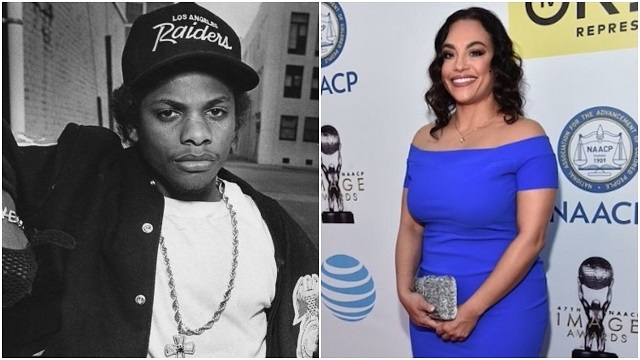 Tomica Woods is now the CEO of Ruthless Records.
Following her husband's demise in 1995, Tomica Woods assumed control of his record label. Under her direction, the label has signed new acts such as NX Nation Unknown, Stevie Stone, and Hopspin. Woods has since worked to steady the ship and keep the flag of excellence flying high. She has also served as a producer on several films related to Ruthless label acts. They include Straight Outta Compton (2015), Bone Thugs-N-harmony: Greatest Video Hits (2000) and Eazy-E: The Impact of a Legend (2002).
She sued her eldest stepson in 2017
Woods filed a trademark infringement suit against her eldest stepson, Eric Darnell Wright, in 2017. She alleged that Wright and his partner, Arnold E. White, formed a corporation known as N.W.A LLC and tried to obtain a trademark for Ruthless Records Inc online store. She also alleged that he had made use of the Ruthless Records and N.W.A name to market film, music, video games, and clothing as well as promote musical events.
Woods stated that all these activities constituted an infringement of the rights that exclusively belonged to Ruthless Records. Wright, on his own part, counter filed asking for the court to void Woods' trademark. The suit was eventually settled out of court in August 2018 with Wright agreeing to stop the infringement.  His step-mom, on her own part, agreed to allow him to keep the mark, Rich & Ruthless.
See Also:  Brittany Renner – Bio, Age, Facts about the Instagram Glamour Model 
She is accused of manipulating her late husband
In November 2017, Eric Wright Jr. filed a suit questioning the legality of his father's marriage to Woods. He alleged the marriage license was filed confidentially and did not include his father's handwritten signature. He further claimed that his father was under a heavy medication when he signed a purported last will that transferred all of his property, including Ruthless Records, to Tomica Woods. Wright also claimed that the phony will was prepared by Woods' attorney and that his father was not in a right state of mind. The particular matter is still ongoing.