Troy Aikman is a legendary American football quarterback who played the entirety of his National Football League career with the Dallas Cowboys. During his time as a player, Aikman guided his team to three Super Bowl wins and was further named MVP in one of those victories.
The 1997 Walter Payton NFL Man of the Year has since been elected into the Pro Football Hall of Fame as well as the College Football Hall of Fame for his achievements as a college athlete with both the University of California, LA and the University of Oklahoma with whom he became a national champion.
Biography
Aikman was born Troy Kenneth Aikman to Charlyn and Kenneth Aikman on November 21, 1966, in West Covina, California, United States. He spent the first twelve years of his life in California before moving to Oklahoma. His family settled in the city of Henryetta, where Troy attended high school. It was during this time that his athletic ability shorn brightest as he earned All-state honors and won the 1983 Oklahoma high school state championship.
Troy Aikman went on to attend the University of Oklahoma to play under head coach Barry Switzer. His choice of college paid off immediately as he became the first freshman to start as quarterback for the team. However, in his sophomore season, Aikman lost his starting position after he injured his ankle. This prompted him to transfer to UCLA where despite having sat out one year due to college transfer rules, he still went on to enshrine his name in the schools' sports history, winning the 1988 Davey O'Brien Award among other notable awards which prompted his No. 8 jersey to be retired in 2014.
After college, Troy Aikman went straight to the league through the 1989 NFL Draft where he was selected with the first overall pick by the Dallas Cowboys, and the rest became history.
Troy Aikman's Net Worth
The legendary Dallas Cowboys quarterback is said to have a net worth of around $25 million. It is no surprise that Troy Aikman is worth that much as at just five years into his professional career as an American footballer, he became the highest paid player in the league.
In 1993, Aikman signed an 8-year $50 million contract which came with an $11 million signing bonus. By the time he was hanging up his cleats, his salary was estimated to be around $7.5 million a year. His post-football career has seen him become a sportscaster for the Fox Network where he reportedly earns $1 million a year.
He has also made some smart investments; being a joint owner of a NASCAR Sprint Cup racing team as well as a part-owner of the baseball franchise San Diego Padres. Add that to his endorsement deals with companies like Walt Disney World and Rent-a-Center, and you will understand why he is still worth that much.
Does He Have A Wife Or Girlfriend?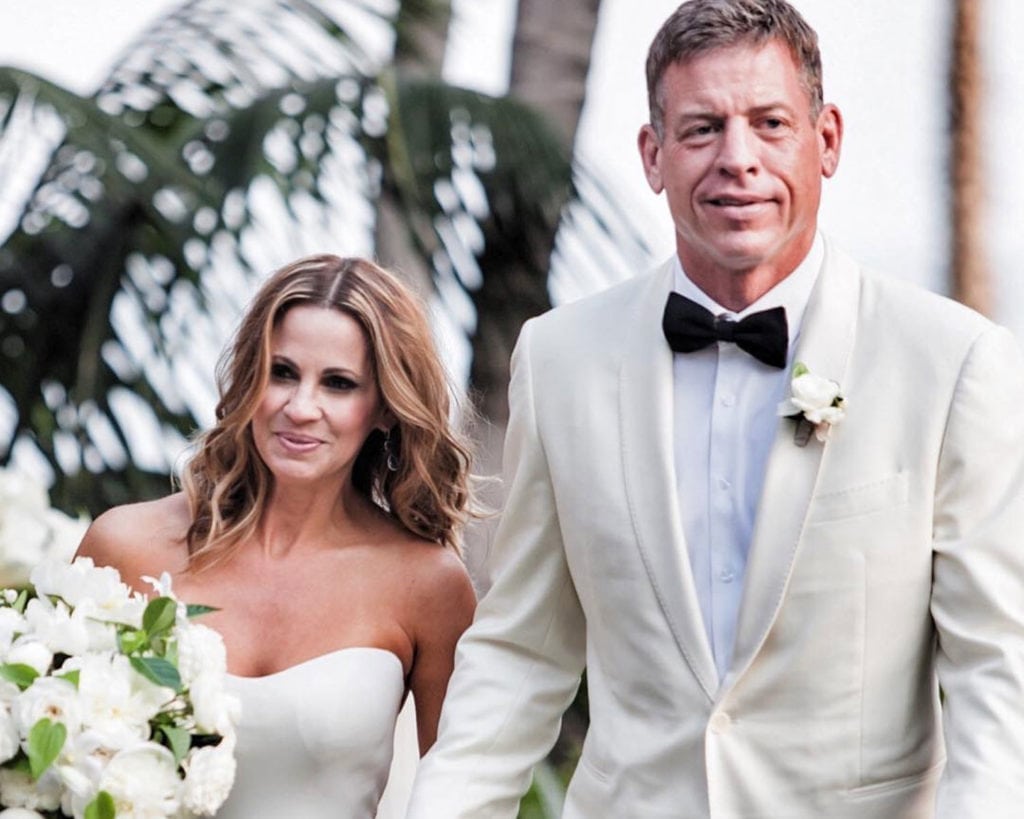 Troy Aikman was first married to Rhonda Worthey, a publicist whom he met while playing for the Cowboys as she worked for his team. Not much was known about Worthey before she began her relationship with the then most eligible bachelor in Texas apart from that she was a single mother who was born on the 2nd of May, 1970 and has a degree in Public Relations.
The pair began dating sometime in 1998 and after 18 months of getting to know each other, they got married on the 8th of April, 2000, at a ceremony held in Plano, Texas. A year into their marriage, Aikman and Worthey were blessed with their first child, a daughter named Jordan Ashley Aikman, born on the 24th of August, 2001. In 2002, they welcomed another daughter, Alexa Marie Aikman, born on the 30th of July, 2002. The couple was married for 11 years before calling it quits, announcing their separation on January 25, 2011.
After severing ties with his ex-wife, Aikman went on to date a few high-profile ladies, most notably Catherine "Capa" Mooty, a fashion retailer and ex-wife of lawyer Jerry Mooty. The couple began exclusively seeing each other in February 2016 and after a few months, while on vacation in Lake Como, Italy, Aikman reportedly proposed to her. They went on to tie the knot at the Biltmore Four Seasons Hotel in Montecito, California on the 2nd of September, 2017, in front of close family and friends.
Read Also: Aaron Rodgers Bio, Wife or Girlfriend, Brother, Net Worth, Is He Gay?
Is He Gay?
The true sexual orientation of Troy Aikman was a bone of contention between sports fans for a number of years ever since rumors that the quarterback was gay began circulating in the 90s, during his playing days. The story further got national coverage after it was discussed by sports journalist Skip Bayless in his book Hell Bent. Bayless reported that the story was created by the advisers of Cowboys Coach Barry Switzer due to the then feud between the player and coach.
However, the gay rumors have been proven to be false ever since Aikman got married and has been repeatedly linked to women without any concrete story on a relationship with another man.