Troye Sivan is an Australian singer and songwriter best known for songs like "Happy Little Pill", "Youth", "Heaven" (with Betty Who) and "The Boyfriend Tag" (with Tyler Oakley) which have all garnered him different awards and ranked on the Billboard Charts.
Sivan, who was born in South Africa but now resides in the United States, is also an actor and YouTube vlogger. He is best known for appearing as the younger version of Wolverine in X-Men Origins: Wolverine (2009).
Troye Sivan Biography
Troye Sivan was born Troye Sivan Mellet, the first child to his parents; Laurelle and Shaun Mellet, on the 5th of June, 1995, in Johannesburg, South Africa. His father, who is Jewish, works as a real estate agent while his mother, who converted to Judaism before marrying her husband, is a homemaker. He has three siblings named Steele, Tyde, and Sage.
Sivan was raised in Perth, Western Australia after his parents left the Southern African nation when he was about two years of age due to the increasing crime rate in the country. He attended a modern Orthodox Zionist Jewish school in Perth named Carmel School until 2009 when he began doing distance learning due to his music career. He had at the young age of eleven already began singing at the Channel Seven Perth Telethon where in 2006 he performed a duet with Guy Sebastian, the winner of the 2003 Australian Idol show.
In 2007, Troye Sivan released his debut EP titled Dare to Dream as he starred in a local stage production of Oliver! to kick-start his acting career. The following year, he got cast in two films, the first was in the short West Australian film called Betrand the Terrible (2010) and then to play the younger version of Wolverine in X-Men Origins: Wolverine (2009).
In 2012, he began making video blogs on YouTube which became an instant hit as his profile began to rise. By 2013, Sivan signed a record deal with a Universal Music Group Australia label called EMI Australia through which he released a five-song EP called TRXYE which debuted at No. 1 on iTunes in over 55 countries and at No. 5 on the Billboard 200 Chart and the rest became history.
Troye Sivan Is Gay And Has A Boyfriend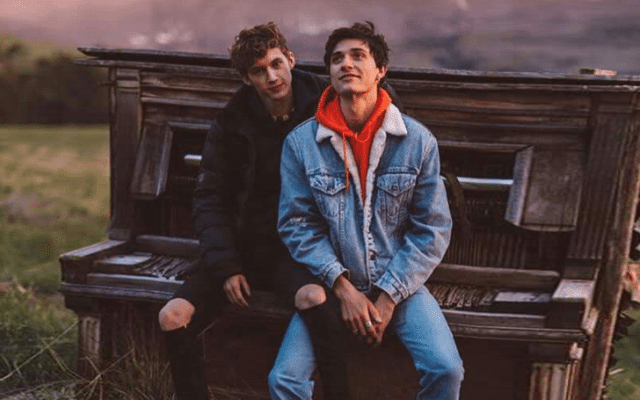 Troye Sivan is indeed gay, and very open about it. The YouTube sensation made this known to the public through a video via his YouTube channel on 7 August 2013. He further revealed that his family had accepted him just the way he was and that he had told them sometime as far back as 2010.
Sivan is currently in a relationship with Jacob Bixenman, a 6 feet 2 inches (1.8 m) tall American model from Orange County, California who was born on the 27th of May, 1994. The pair reportedly began dating sometime in 2016 and have ever since that time been spotted side by side getting very close and personal with each other even though they maintain very busy schedules. Bixenman, who was an English major at the University of Southern California before going into modeling, is being represented by Ford Models and IMG.
Not much is known about the couple as they like to keep things about them private which Sivan has said is the secret to a longstanding relationship.
Everything You Need To Know About Troye Sivan
Troye Sivan's favorite musicians and singing inspirations are Amy Winehouse, Michael Jackson, Taylor Swift and Lorde, and Frank Ocean.
He has a genetic disorder of the connective tissue called Marfan Syndrome (MFS), although his case is mild. People with MFS tend to be skinny and tall and also have flexible joints and scoliosis. It is a non-life threatening disorder that when managed, can allow the person to live a normal life although it does not have a cure.
In 2014, the year he took home a Teen Choice Award in the Choice Web Collaboration category for the song "The Boyfriend Tag" with Tyler Oakley, and a NewNowNext Award for the Best New Social Media Influencer (Male), Time magazine named him among the most influential teens of the year.
As of July 2018, Troye Sivan has 6.3 million subscribers on YouTube with views in excess of 249 million, as of that same date. He has also so far appeared in six movies, two television shows, and two theatre productions.
Troye Sivan is said to have an estimated net worth of $2 million.