Monica Bellucci has had a good taste of two sides of the entertainment industry; she is a fashion model as well as a successful actress. Her initial hopes of taking up a career in Law was cut short by her modeling life which began from while she was still very young.  Bellucci's career in modeling and eventually acting as well as business has recorded a very successful run as she is one of the most recognized and best-paid models in the industry.
The beautiful model turned actress was born as Monica Anna Maria Bellucci on the 30th day of September 1964 in Citta di Castello, a province of Umbria in Italy. Her parents are Brunella Briganti and Pasquale Bellucci who had her as their only child and raised her at Lama of San Giustino.
Bellucci studied law at the University of Perugia but as a beautiful young lady, she modeled part-time to get extra cash to put herself through the university. However, all of that changed when she decided to adopt the showbiz life fulltime. She moved to Europe in pursuit of better opportunities.
Career Timeline
At 13 years of age, Monica Bellucci got exposed to the modeling by posing for photographs for a local lensman. At 22, Bellucci sort for better modeling opportunities by moving to Milan where she took up a deal with Elite Model Management. Within a year, she had become one of the leading fashion models of her time and was recognized by brands like Dolce&Gabbana and French Elle who she had modeled for.
In 1989, Bellucci's vision for the future took a different turn that saw her take up acting classes in a bid to make a switch to acting. Despite this, she kept up her work as a model featuring on the cover page of Esquire in 2001 and working with Maxim men's magazine. She was ranked Number 21 out of the 100 hottest women of all time by Men's Health and featured twice on Vanity Fair. Her face soon became the signature for brands like Dior, Dolce & Gabbana, and GQ Italia and so on.
To achieve all of the above, she has been represented by other modeling agencies like Storm Model Management and D'management Group through which she has equally walked the runways on major Fashion Weeks. Soon enough, her love for acting became a career when roles came calling.
To the surprise of many, Monica Bellucci has combined modeling with acting over the years, starting from 1991 when she completed her training in acting. She started off with Italian films, and then progressed to Hollywood doing minor roles in movies like La Riffa (1991), Bram Stoker's Dracula (1992), Melana (2000), Brotherhood of the Wolf (2001) and Irreversible (2002). This was followed by more recognized roles in others like The Apartment which earned her a nomination for the Cesar Award. Although she did not take it, this brought her the necessary attention she needed to forge ahead.
Since then, Monica Bellucci's career as an actress has seen more impressive lineups in movies like Tears of the Sun (2003), The Matrix Reloaded (2003) The Passion of the Christ (2004), The Sorcerer's Apprentice (2010) and many others. She has equally provided voice in a number of movies and video games. There is no denying that the model has had a very successful career, however, the same cannot be said about her personal life especially as regards her relationships and marriages.
Who are Monica Bellucci's Husband and Children?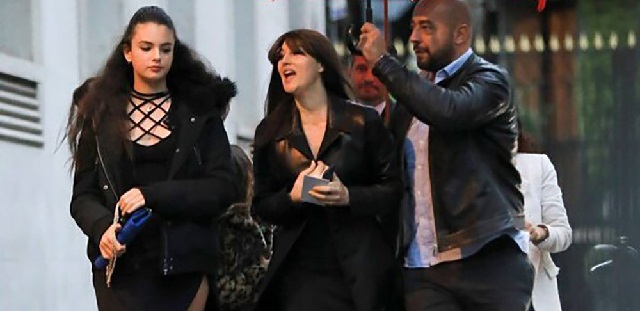 Monica Bellucci's first marriage was with an Italian photographer named Claudio Carlos Basso. The couple got married in 1990, and after 4 years of married life, they got divorced in 1994 with no children. Two years after her first marriage crashed, Bellucci started dating the renowned French actor, Vincent Cassel. They met on the set of the 1996 film The Apartment and after dating for three years, they tied the knot on August 3, 1999. Their marriage yielded two children; Deva and Leonie born in 2004 and 2010 respectively. They are the only known children of Monica Bellucci. After 14 years in marriage, the couple called it quits with a divorce on August 2013. Next, Bellucci moved on to date Telma Ismailov who is a businessman with a Jewish background.
See Also: Keisha Chambers, Justin Chambers Wife – Biography, Age, Children
How Much is She Worth?
Having had a successful run with her modeling and acting career, the star has won for herself quite a number of awards and nominations which all translate to a good financial status. Monica Bellucci has been able to garner for herself a large income from the two arms of her career. Her net worth has been totaled to $45 Million. Some sources say that Bellucci earns $7million annually as a salary but this figure is not completely accepted because there has been nop concrete proof what the salary is for.