Monica Bellucci has had a good taste of different sides of the entertainment industry; she is a fashion model, as well as a successful actress. Her initial hope of taking up a career in Law was cut short by her modeling venture which began from while she was still very young. Bellucci's career in modeling and eventually acting and business has recorded a very successful run as she is one of the most recognized and best-paid models in the industry.
While she has achieved so much in her professional life, her personal life also has so much to be told. She has been married twice thus far, has publicly dated a couple of men, and is now currently in a relationship that has spanned more than two years. In addition to that, she is a mother of two.
Her First Marriage Was To Claudio Carlos Basso And It Lasted Four Years
The first time Monica Bellucci got married, it was to a man named Claudio Carlos Basso. They got married in 1990, but by 1994, the marriage had already ended in a divorce. Basso is a fashion photographer who has earned some fame of his own but still finds himself in the shadows of his then-wife who was more popular.
Neither of the two has ever commented on how they first met, but the speculation is that they probably met during a photoshoot since she was a model while he was a fashion photographer at the time. Neither has also revealed anything about their relationship until they got married in 1990 in a private event that was attended by close friends and family members.
At the time of their marriage, the photographer was 31 while his beautiful model wife was 26. The marriage did not get so much coverage because they were not as famous as they would later be. 4 years into the union and with no child between them, Monica and Claudio ended the marriage in divorce. The reason behind the end of the marriage was never revealed.
Monica Bellucci Got Married Again In 1996 To Vincent Cassel
Following her first failed marriage, it did not take Bellucci a long while before she found love again, this time, in the arms of French actor, Vincent Cassel. The two met while filming the 1996 French film, The Apartment.
They dated for a few years before Monica and Vincent finally decided to tie the knot in a private event in Monaco, on the French Riviera. Although the model is three years older than the actor, this was no problem for them.
14 years into their marriage and with two wonderful kids between them, they released a statement in 2013, announcing that their marriage had ended based on a mutual agreement. Prior to the announcement, they were said to be living separately with the actor in Paris while the former model was in Rome.
Rumors Suggested Her Marriage To Cassel Ended Because of Telman Ismailov
Following the failed marriage between Bellucci and Cassel, it didn't take the former model a long while before she found herself another lover in Russian businessman, Telman Ismailov.
The rumor was that her relationship with the Russian began while she was still married to Cassel in 2009, but it was kept a secret. It was this romance that was claimed to be behind the crumbling of her marriage that lasted for more than a decade. Unfortunately, her relationship with the Azerbaijani-born businessman did not last very long before it also came to an end.
On his part, Vincent Cassel went on to start a relationship with the much younger Tina Kunakey whom he married in 2018. The two now have a child together, Amazonie Cassel who was born in 2019.
Monica Bellucci Is Now Dating Yet Another French, Nicolas Lefèbvre
In 2019, Bellucci made an appearance at the Chanel show at the Grand Palais, alongside a handsome young man who was later revealed to be a French sculptor and former model, Nicolas Lefèbvre. It was later revealed that he was now her boyfriend.
Even though that was the first time the two would be seen in public together, they were said to have been an item since 2017 when they started dating. Publicly, he was the first man that she got into a relationship with since her marriage ended four years earlier. Speaking about her new man, Bellucci revealed that she had been with him for a while, and although they were not in the same field of work, he had come to understand her.
The couple has continued to be together since then, with Monica being close to two decades older than her new boyfriend who has a daughter, Anahi.
A Closer Look At The Two Beautiful Daughters Of Monica Bellucci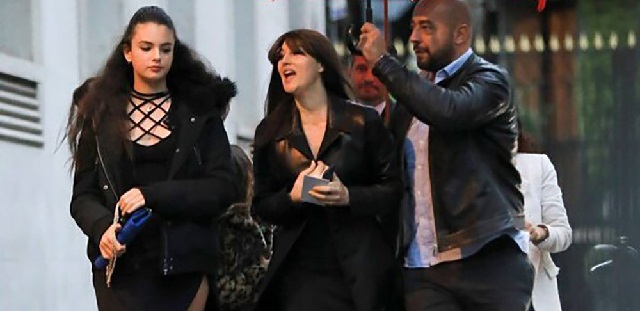 As stated, the marriage between Monica Bellucci and Vincent Cassel yielded two children; Deva and Leonie who were born in 2004 and 2010 respectively. They are the only known children of Monica Bellucci.
Her oldest daughter, Deva is a spitting image of her mother, but more than just the enchanting beauty, she has also chosen to follow in her footsteps. She has already signed a modeling contract with Dolce & Gabbana, while she is also revealed to be a brand ambassador for the perfume line of the brand.
Léonie Cassel also shares the good looks of her mother and older sister, but she is still too young to decide a career path that she wants; whether she would follow the world of beauty and fashion like her mother and sister, or that of make-belief like her father, or even something entirely different.
Her Hard Work Has Afforded Her Millions In Net Worth
Having had a successful run with her modeling and acting career, the star has won for herself quite a number of awards and nominations which all translate to a good financial status. Monica Bellucci has been able to garner for herself a large income from the two arms of her career. Her net worth is currently estimated to be $45 million. Some sources say Bellucci earns $7 million annually as salary but this figure is not completely accepted because there has been no concrete proof of what the salary is for.
She started building her fortune since she was 13 years of age when she got exposed to modeling by posing for photographs for a local lensman. At 22, Bellucci sort for better modeling opportunities by moving to Milan where she took up a deal with Elite Model Management. Within a year, she had become one of the leading fashion models of her time and was recognized by brands like Dolce&Gabbana and French Elle who she had modeled for.
To the surprise of many, Monica Bellucci perfectly combined modeling with acting over the years, starting from 1991 when she completed her training in acting. She started off with Italian films and progressed to Hollywood, doing minor roles in movies like La Riffa (1991), Bram Stoker's Dracula (1992), Melana (2000), Brotherhood of the Wolf (2001), and Irreversible (2002). This was followed by more recognized roles in others like The Apartment which earned her a nomination for the Cesar Award. Although she did not take it, this brought her the necessary attention she needed to forge ahead.
The ageless beauty spends her fortune on the things dear to her, including her family. She also spends money on the various charity endeavors she has been involved in, including AIDS charity.