Jake Tapper is renowned journalist and author who currently works with CNN as the Chief Washington Correspondent, and hosts the Sunday morning affairs program State of the Union and anchors the weekday TV news show The Lead with Jake Tapper. Tapper's over 27-year career has seen him cover major events across the United States including the inauguration of President Obama in January 2009 that earned an Emmy Award for Outstanding Live Coverage of a Current News Story. In September 2015, Tapper moderated The Republican primary debate which attracted over 23 million viewers, making it the most-watched program in the history of CNN and the second-most-watched primary debate ever.
Who Is Jake Tapper? (Age and Background Details)
Jake Tapper was born―Jacob Paul Tapper―in New York City, New York, United States, on March 12, 1969, to parents Theodore and Helen Anne Tapper. His father, who is originally from Chicago, graduated from Dartmouth College and Harvard Medical School and later served as the president of South Philadelphia Paediatrics and associate clinical professor of pediatrics at Jefferson Medical College. His mother, who is from Canada, is a retired psychiatric nurse at the Philadelphia Veterans Affairs Medical Center. Jake Tapper is Jewish and growing up, he spent his summers attending the Jewish summer camp Camp Ramah in the Poconos.
Tapper attended Akiba Hebrew Academy, an independent Jewish day school formerly situated in Merion, Pennsylvania. He then proceeded to Dartmouth College, where he graduated Phi Beta Kappa and magna cum laude with a Bachelor of Arts in History in 1991. While at Dartmouth, Tapper was a member of Alpha Chi Alpha fraternity. He attended the USC School of Cinematic Arts, albeit briefly.
Career
Tapper got his start in 1992, serving as a Campaign Press Secretary for Democratic congressional candidate Marjorie Margolies-Mezvinsky, who got caught up in a criminal campaign scandal, and later served as her congressional press secretary. Jake Tapper also worked for the D.C based public relations firm Powell Tate, run by Democrat Jody Powell and Republican Sheila Tate. He also worked for Handgun Control, Inc.—currently the Brady Center to Prevent Gun Violence. Within this time, Tapper began a freelance job writing articles which later launched him into a full-time journalism career.
Beginning from 1998, Tapper was a Senior Writer for the news outlet, Washington City Paper. His article about going on a date with Monica Lewinsky which began a train of events eventually won him a Society of Professional Journalists award. Between 1999 and 2002, he was the Washington Correspondent for Salon.com. In the wake of 9/11, he vehemently questioned the claims made by the Bush administration about Iraq having weapons of mass destruction.
Beginning from 2003, Tapper went to work for ABC News. While there, he covered from Baghdad during the Iraq war, from New Orleans after Hurricane Katrina, and from Afghanistan. In November of 2008, a day after the 2008 presidential election, Tapper became Senior White House Correspondent. His incredible work as Correspondent earned him the Merriman Smith Memorial Award for 2010, 2011, and 2012, by the White House Correspondents' Association.
In January 2013, Tapper joined CNN and began as an anchor for his program The Lead with Jake Tapper. He also served as CNN's chief Washington correspondent. The program was such a phenomenal success that within a year of airing, it had won three National Headliner Awards for its reporting. It also floored other broadcast TV networks, cable networks, and syndicators, to clinch the first prize for its coverage of the Boston Marathon bombing and second prize for its coverage of the Oklahoma tornadoes in the category of "Coverage of a major news event."
The following year, the program was awarded a Society of Professional Journalists' Sigma Delta Chi Award for Investigative Reporting; for a series of reports on academic fraud at the University of North Carolina at Chapel Hill by correspondent Sara Ganim. In September 2015, Tapper moderated two Republican primary debates from the Ronald Reagan Presidential Library at Simi Valley, California which drew a whopping 23.1 million viewers. It became the most-watched program in the history of CNN and the second most-watched primary debate ever. In March the following year, he moderated a Republican presidential debate in Miami, which attracted almost 12 million viewers.
From his works at CNN, Tapper received the Walter Cronkite Award for Excellence in Television Political Journalism from the USC Annenberg School for Communication and Journalism in 2017. That same year, he received the John F. Hogan Distinguished Service Award from the Radio Television Digital News Association. Tapper also received two honorary degrees from UMass Amherst and Dartmouth as part of a team of four at CNN who won the Merriman Smith Award for broadcast reporting on the White House under deadline pressure. The other three were Carl Bernstein, Jim Sciutto, and Evan Perez.
Salary and Net Worth
As of 2019, sources put Jake Tapper's net worth at $10 million. Why not? With such profile in journalism, Tapper deserves every penny he gets. His annual salary at this time is however not public knowledge.
Who Jake Tapper's Wife?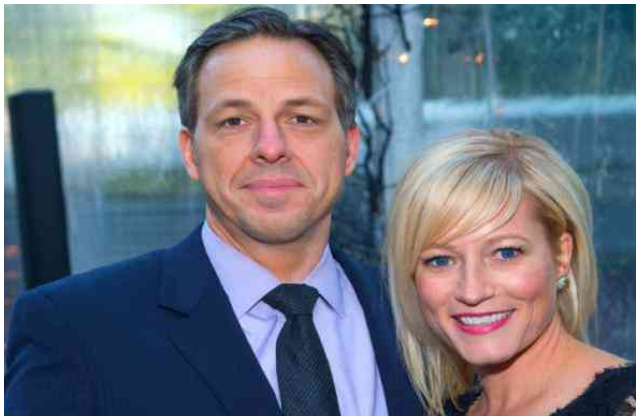 As of this writing, Jake Tapper has been married to Jennifer Marie Brown since 2006. Together, they and their two children reside in Washington D.C. The family are practicing Jews and observe Jewish ordinances.
See also: Hallie Jackson – Bio, Husband, Facts About The NBC News Correspondent
Height and Body Measurement
Jake Tapper maintains a sturdy average build. He stands 1.85 meters tall and weighs 85 Kg. He has light brown hair and dark brown eyes.