A list of American celebrities who never thought they would be making a living as an actor would not be complete without the mention of Matthew Gray Gubler. Although Matthew has a great passion for film directing and studied it at the university, he never imagined that he would be attaining fame in front of the camera. He has since then gone ahead to do other things like painting, illustrating, and writing a book.
The Nevada native gained public attention as a result of his excellent portrayal of the character of Dr. Spencer Reid in the Criminal Minds TV series. Before making his acting debut, however, Matthew did some work as a fashion model.
Matthew Gray Gubler Began Modeling While He Was at NYU
After having attended and graduated from the Las Vegas Academy of the Arts where he studied acting because his first choice of filmmaking was not offered in the school, Matthew Gray Gubler enrolled at New York University's Tisch School of the Arts to study film directing. It was during his time here that he was able to launch his modeling career.
Matthew got the idea to do so after a model scout discovered him while he was standing in front of a drugstore. The encounter led to him signing with DNA Model Management and he would go on to work for designers such as Tommy Hilfiger, Sisley, American Eagle, Burberry, Marc Jacobs, and many others. During his heyday as a model, Matthew was a fast-rising model as he attained the rank of 46th on models.com list of the top 50 male models.
Filmmaker Wes Anderson Encouraged Him To Try His Hands at Acting
Matthew Gray Gubler was already modeling when he bagged an internship with Wes Anderson as part of his college program in 2004. Anderson saw the talent in the youngster and encouraged him to audition for a role in his upcoming film, The Life Aquatic with Steve Zissou.
Matthew heeded the movie director's advice and attended the audition where he managed to land the role of Intern #1 (Nico the Intern). His outstanding performance in the movie led to the beginning of his propitious acting career, something he never hoped to embark on.
His Performance in The Life Aquatic with Steve Zissou Led To His Breakout Role in Criminal Minds
Even though he never envisaged ending up in front of the camera as an actor, Matthew's interest in the performing arts became high as he delved deeper into the acting world. As soon as he finished filming his role in The Life Aquatic with Steve Zissou in 2004, he began scouting for more roles through auditions. Luck would eventually smile on him in 2005 when he landed the lead role in CBS's Criminal Minds. He was cast as brilliant FBI agent Dr. Spencer Reid, a role he performed outstandingly, bringing him to the peak of superstardom.
At the onset, there was much speculation regarding Matthew Gray Gubler's credibility to perform as he was very much new in the acting business. However, the police procedural television series went on to become one of the most-watched shows in the year with excellent ratings. The actor remained a part of the series until it ended in 2020.
A Harvest of Roles Followed After Criminal Minds
With his acting career well established, Matthew Gray Gubler was able to flex his great acting skills in several other productions. In 2006, he played a cameo role as Joe Joe in the movie RV. A couple of years later in 2008, he made an appearance in How to Be a Serial Killer, depicting the main character of Bart. 2009 saw him playing the role of Paul on the set of (500) Days of Summer.
He played the role of Kyle Orfman in the zombie comedy film Life After Beth in 2014. Before the year ran out, he joined the cast of the movie Suburban Gothic as Raymond, whee his performance earned him a Screamfest Award for Best Actor. In 2015, Matthew appeared in the film Band of Robbers playing Joe Harper.
Other TV series and movies he has since appeared in include Magic Valley (2011), The Beauty Inside (2012), Hot Air (2014), Trash Fire (2016), Newness (2017), 68 Kill (2017), Zoe (2018), Dollface (2019), and Endings, Beginnings (2019). Matthew's latest project is the psychological drama film Horse Girl (2020).
He Has Equally Taken Some Voice Acting Roles
Matthew Gray Gubler has lent his voice to characters in animated films. In the Alvin and the Chipmunks film series, he voiced the character of Simon Seville in Alvin and the Chipmunks (2007), Alvin and the Chipmunks: The Squeakquel (2009), Alvin and the Chipmunks: Chipwrecked (2011), and Alvin and the Chipmunks: The Road Chip (2015).
In 2011, he was the voice behind the character of Winsor in Scooby-Doo! Legend of the Phantosaur. Matthew has also done some major voice work for the DC Universe Animated Original Movies line, lending his voice to the characters of Jimmy Olsen in All-Star Superman (2011) and Edward Nygma/The Riddler in Batman: Assault on Arkham (2014).
Matthew Gray Gubler Did Not Lose His Passion For Making Films Even Though He Was Becoming a Big-Name Actor
While filming The Life Aquatic with Steve Zissou, Matthew Gray Gubler made the documentary, Matthew Gray Gubler's Life Aquatic Intern Journal. This was a behind-the-scenes view of the making of the movie and it was later included as part of The Criterion Collection DVD release.
Matthew later took some time out to direct and star in a series of self-deprecating mockumentaries titled Matthew Gray Gubler: The Unauthorized Documentary and Matthew Gray Gubler: The Authorized Documentary. He would later shoot the music videos of bands like Whirlwind Heat and The Killers before getting to direct an episode of Criminal Minds.
Criminal Mind Episodes Directed By Matthew
Matthew Gray Gubler takes the credit for directing some episodes of Criminal Minds. The first episode he directed was in its 5th season, an episode titled Mosley Lane which aired on the 3rd of March 2010. He then directed the episode titled Lauren that aired on the 16th of March 2011. This particular episode included the departure of Paget Brewster – a Criminal Minds series regular who has a good friendship with Matthew away from work on the show. The actor directing the episode was a specific request from Brewster.
Other episodes directed by Matthew include episodes Heathridge Manor which aired on the 4th of April, 2012 and The Lesson which was aired on the 5th of December 2012. The list extends to include the Alchemy episode., Gatekeeper, Blood Relations, Mr. Scratch, A Beautiful Disaster, Elliott's Pond, The Capilanos, and The Tall Man. The A Beautiful Disaster episode included the exit of series regular Shemar Moore.
Matthew Gray Gubler is a Talented Painter As Well
Matthew Gray Gubler has also contributed to humanity through his skillful art-works that includes watercolor, oil, pastel, and gouache. The artist has a unique website and social media accounts where he has been posting most of his artistic works since 2005.
In September 2005, twelve of his watercolor artworks that were featured in a museum of fine arts in the Czech Republic were all sold out. On the 6th of September 2008, his artwork was featured in the Little Bird art exhibition, Paper Cuts, in Atwater Village, California.
Matthew made a contribution to the Western Heritage Museum & Lea County Cowboy Hall of Fame in the form of a painting of "Sandy The Mammoth". In July 2010, the talented artist's paintings were featured in Juxtapoz magazine. A year later in October 2011, an original watercolor painted by him titled "Mushface" was sold at auction site eBay for the sum of $10,100. The Nevada native used to proceeds to make a donation to the Smith Center of the Performing Arts in his hometown of Las Vegas. His artworks were highlighted in a 2013 interview with BuzzFeed.
He Has Further Written a Book That Was An Outright Success
Having already done significant work as an actor, director, and painter and garnered a huge fortune for himself along the way, Matthew Gray Gubler opted to try his hands at writing. On the 2nd of April 2019, he published the book, Rumple Buttercup: Story of Bananas, Belonging, and Being Yourself.
The book, which was published as a children's book, was self-illustrated as the multi-talented entertainer hand-wrote everything in the book – from the words to the illustrations, including both the bar code and the lengthy copyright page. According to him, the publication is not just for children, but for people of all ages as he wrote the book in the hopes of giving the world a 136-page hug. He said it was "for anyone who's ever felt like they didn't quite fit in, just to make them know that they're not alone."
Rumple Buttercup was an outright success as it was ranked #1 in its category on the New York Times Best Sellers List within mere weeks of its release. Matthew initially planned on self-publishing the book, however, he later decided that Random House would be a good fit for him.
Matthew Gray Gubler Has Along the Way Dated Quite a Few People in Hollywood
Matthew Gray Gubler has never been married, but there is a very long list of beautiful ladies he has had romantic affairs with. They include people like Eve Wind, Charlotte Kemp Muhl, Kat Dennings, Marisa Morris, Victoria Asher, Ali Michael, and Rachel Bourlier among many others.
Kat Dennings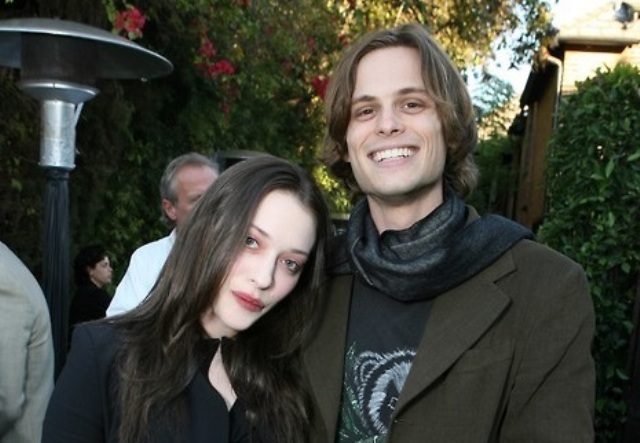 Two Broke Girls star Kat Dennings is one of the people Matthew has dated. Their relationship happened sometime in 2007 and became public knowledge when the duo was spotted together all lovey-dovey at the premiere of the series Weeds. Their relationship was, however, short-lived although they have remained good friends since they parted ways.
Taylor Swift
In 2013, reports surfaced linking Matthew Gray Gubler to a romantic relationship with Grammy Award-winning superstar musician, Taylor Swift. Though neither of the two came out with a denial or a confirmation, they were spotted spending quality time with each other severally. The actor even traveled to visit Taylor on the fourth of July that year. However, the two parted ways before things could get more serious between them. Swift is popular for writing music about her past failed romances, thus, one wouldn't be far off the mark to wonder whether Gubler has been the subject of any of her hit songs.
Victoria Asher
Victoria Asher, who records as a solo artist under the name Vicky-T after having served as the keytarist of band Cobra Starship until their split in November 2015, also once dated Matthew. Their relationship commenced in 2010 and lasted through 2011 before it hit the rocks.
Marisa Morris
The list of Matthew Gray Gubler's exes still extends to include Portuguese actress Marisa Morris. The duo became an item in 2008 and their dalliance lasted for a couple of years before coming to an end in 2010. Morris has since moved on to date other people like Barbara Bongiovi, Rob Lowe, and Julian Ovenden.
Charlotte Kemp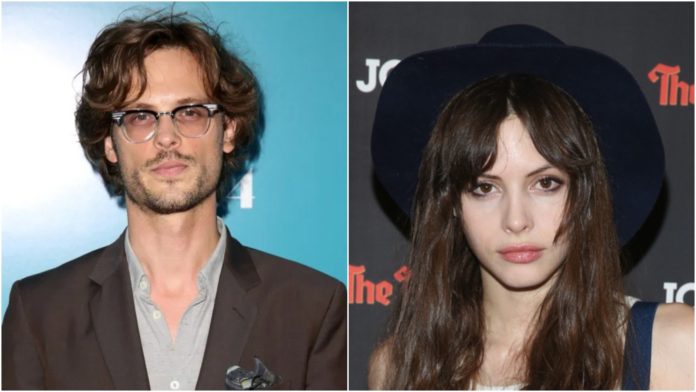 Matthew's relationship with singer, songwriter, writer, model, and film director Charlotte Kemp Muhl started in 2004 when they made several red carpet appearances together. Muhl remained a part of his life until 2005 when they called it quits. She has since moved on to date John Lennon's son, Sean Lennon.
Eve Wind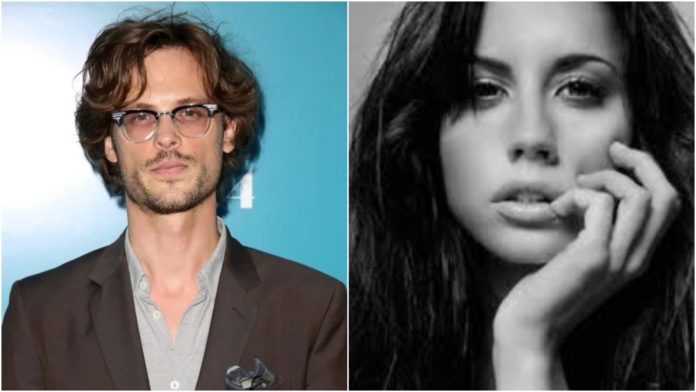 Matthew's name has also been linked with American singer Eve Wind. However, the details of their relationship were never made public. His name was equally linked with Ali Michael but they split in 2013.
Who Is Matthew Gray Gubler Dating Now?
All the information about Matthew Gray Gubler's romantic history comes from several years ago. However, from what is perceivable the actor has been single for quite some time. Though, it may be possible that he has been dating all this while and has chosen to keep it a secret from the press. After all, there are plenty of ladies out there who would love to be associated with Dr. Spencer Reid. Many fans of Criminal Minds have expressed their attraction to the famous entertainer on Twitter as well as other social media platforms.