There are very few American celebrities who are so talented from birth that they started making headlines in show business at a very tender age. Film and television actor Nathan Kress is one of such people, having been a much sought after child artist during his younger days. He had appeared in some live TV shows, such as Jimmy Kimmel Live as a small boy and had captured the world's attention with his innate abilities and talent. Kress' walk to stardom started with his excellent performance in a TV series, titled Drake and Josh which was aired on the American Teen TV cable network, Nickelodeon.
Following his striking depiction in the aforementioned series, Dan Schneider, a movie producer took interest in him and landed him a leading role in the TV series, iCarly, which announced him to the world. He has also flexed his voice-over skills in so many animation movies. Aside from being an actor, Nathan Kress has previously done some work as a teen model for three years. For a low down about the dexterous actor, continue reading!
Nathan Kress' Biography (Age)
The handsome actor was born in the beautiful city of Glendale, California in 1992 to his parents Steven M. Kress and Allison Kress. He celebrates his birthday on every 18th November. Kress has two older brothers, Kevin and Andrew Kress. Kress is believed to have acquired his basic education, although the name of the school is yet to be made public. However, he had a homeschooling experience and nursed an ambition of acquiring a degree from the University of California, Los Angeles.
Nathan Kress kicked off his career at the age of three when his mother observed that he is endowed with the ability to rehearse and mimics everything he sees on screen. She then took him to an open talent-show titled, Cattle Call which led to the arrangement of a talent scout for him. Soon after, Kress started modeling for different printing adverts and also appeared in several commercials. He additionally did some voice works during that time amongst which was his dual role as the voices of Easy and Tough Pup in a popular movie, Babe: Pig in the City.
Kress took a break from acting at the age of six in order to focus more on his studies. He abstained from show business for five years and eventually re-appeared at the age of eleven, following his participation in a playlet produced by his school titled, The Emperor's New Clothes. This singular-act rekindled his interest in acting which prompted him to request for a homeschooling arrangement from his parents in order to focus more on his acting career.
In April 2005, he made his debut in live TV show, Jimmy Kimmel Live, where he was cast to play the role of little Simon Cowell of American Idol in a short comic performance. He played recurring roles in the aforementioned TV show for the next five years. He additionally displayed his adept skills in some short movies such as Pickled, Magnus and Bag, with the latter earning him a 168 Film Festival Jury Award.
The talented actor further landed a minor role in the widely known Nickelodeon TV show, Drake and Josh, in 2007. His awesome performance in the aforementioned series landed him another acting gig as he was featured in iCarly, which surprisingly became fans favorite and also shot him to fame. Other Television series he has appeared in are CSI; Crime Scene Investigation, Game of Your Life, Figure it Out, Mr. Young, Major Crime, and Game Shakers. However, in 2014, Nathan Kress made his first appearance in a big screen by starring in, Into the Storm, and has gone on to feature in many others including Tell Me How I Die and Alexander IRL.
What's Nathan Kress' Net Worth
Having been active in the movie industry since 2005, Nathan Kress has featured in several movies and series and has garnered an impressive wealth as a professional actor and director. Hence, he has accrued through his career an estimated net worth of about $1.5 million which is still on the rise.
His Family – Wife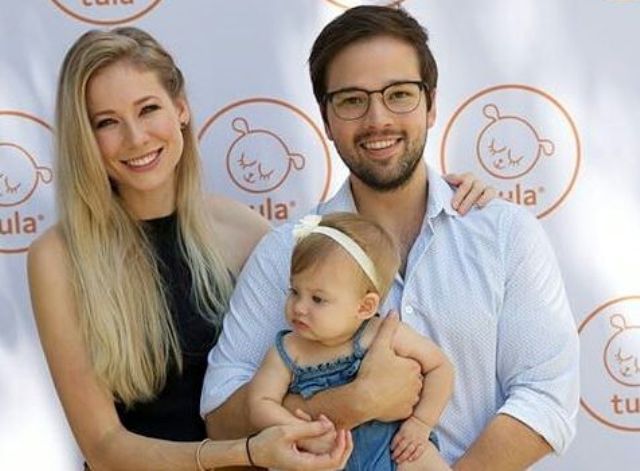 The dexterous actor is a happily married man. He met his now-wife, London Elise Moore at the set of the popular action movie, Into the Storm. Soon after, they started dating and in May 2015, Kress got engaged with the love of his life, London Elise Moore. The pair tied the knots a few months later, on 15th November 2015 in Los Angeles. Their union have produced a beautiful baby girl, Rosie Carolyn Kress, who was born on 21 December 2017. The couple are still living together and there is no sign of divorce.
See Also: Landon Liboiron – Biography, Girlfriend, Movies and TV Shows
Where is Nathan Kress Now?
Since making his last appearance in the movie titled, Breaking Brooklyn in 2017, Nathan Kress has not featured in any motion picture. Meanwhile, the multi-talented actor seems to have concentrated fully on his ongoing project as he serves as the director of the TV series, Henry Danger, a role he has been executing since 2015 till present.
Height
The handsome actor stands at a height of 5 feet 7 inches (1.7 m) and weighs 65 kg (143 lb). His other body measurement is given as 44-14-32 for his Chest, Biceps, and Waist respectively and his shoe size is 9 (US).