Michelle Rodriguez is a celebrity spouse who is married to the renowned National Football League franchise, Pittsburgh Steelers linebacker Ryan Shazier. The former high school basketballer is currently a special education instructor at Judson Independent School District. But how much do you know about Ryan Shazier's wife? Just before we go into all there is to know about her, here's her bio.
Who is Ryan Shazier's Wife, Michelle Rodriguez?
The former basketball star whose parents are Zoraida Feliciano and Felix Rodriguez was born on 12th August 1992 in the city of Ponce, Puerto Rico. She had her childhood experiences along with her siblings, Jennifer Rodriguez and Felix Rodriguez Jr in San Antonio, Texas, United States. She mentioned on her Facebook and Instagram handles that Aaron Warren is also her brother though no one knows whether he is her stepbrother or not.
Regarding her educational background, Michelle Rodriguez acquired elementary education from Karen Wagner High School. Almost soon after her graduation from high school in 2010, she enrolled at the University of Texas situated in Arlington, Texas and graduated with a Bachelor's degree in Education under sports and exercise science. Now let's get to the interesting facts you never knew about Michelle Rodriguez.
Everything You Should Know About Ryan Shazier's Wife
– Michelle Rodriguez' Marriage
Michelle Rodriguez began dating the pro-American footballer, Ryan Shazier in 2012. Their relationship attained new heights when Shazier proposed to her in 2016 which she shared with her fans on Instagram with many picture uploads. Interestingly, the lovebirds expanded their small circle with the arrival of their son, Lyon Shazier on 6th of January, 2019. It was indeed a joyous moment for the couple as she uploaded many pictures of her son on her Instagram handle.
– Her Wedding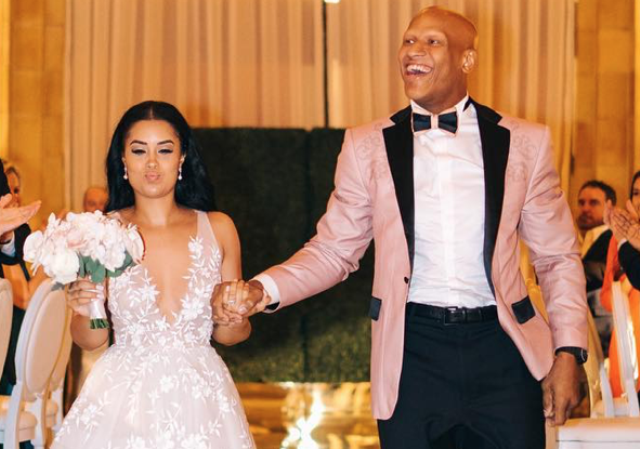 Seventeen months after her fiancé, Ryan Shazier sustained a life-threatening injury (spinal contusion) during a Monday Night Football game against the Cincinnati Bengals, the duo solemnized their union in a glamorous ceremony on 3rd May 2019 held in The Pennsylvanian, a downtown Pittsburgh wedding venue. The occasion was attended by many personalities from all walks of life including Joe Manganiello, Xavier Grimble, T.J. Watt, Tyler Matakevich and many others. Their wedding dance video which went viral made a big hit among the Steelers fans and Pittsburgh as they haven't stopped talking about it because of Shazier's miraculous recovery from what would have been a total paralysis.
– Michelle Rodriguez' Husband
Her husband, Ryan Shazier is a linebacker for the National Football League franchise, Pittsburgh Steelers. Before being drafted by the Steelers in the first round of the 2014 NFL draft, he was an Ohio State college footballer. As a result of a spinal contusion he suffered against Cincinnati Bengals on 4th December 2017, he landed on the Steelers' Physically Unable to Perform (PUP) roasters of 2018 and 2019 seasons.
– Her Past Relationships
Prior to her marriage to Ryan Shazier, Michelle Rodriguez has been in relationships with some handsome dudes including Damian Swann, Zoey Zuko, and Bandhunts Izzy.
– She is a Licensed Special Education Instructor
Going by her Instagram profile, Ryan Shazier's wife is a certified Special Education Instructor who has been associated with Judson Independent School District. More so, Michelle Rodriguez uses her students' picture uploads on Instagram in creating awareness about kids with special needs.
– Her Basketball Career
Rodriguez immensely participated in basketball while in Karen Wagner high school, having guided her team as a guard player to many district championships. During her senior year, she was ranked among the Top 15 players in the vicinity and was picked to participate in the Senior Alamo All-Star game. The adept athlete additionally featured in 27 games in the 2011/2012 season as a freshman with the University of Texas Arlington Athletics, UTA Mavericks. Nevertheless, Michelle Rodriguez opted against playing basketball in order to concentrate on her studies.
See Also: Jessica Lockhart, Chris Jericho's Wife – 6 Things You Need To Know
– Body Measurements
Ryan Shazier's wife is endowed with a picturesque body structure. She stands at a height of 5 feet 7 inches (1.7 m) and has a body mass of 63 kg (138.9 lb). Rodriguez further has body measurements of Bust size – 36 inches, Waist size – 27 inches and Hips – 36 inches. She also has a black hair color with a hazzle eye color.
– Michelle Rodriguez' Net Worth
Having worked as a teacher for quite a while now, Michelle Rodriguez has made a decent fortune as she has a net worth estimated at $135,000.