There are several sports in the world but only a few have the glamour that basketball has, not to mention the fans. It is because of this that the name, Yao Ming, will be easily recognized. Yao Ming's family background helped in shaping his athletic career and the success he enjoys today. He is one of the most recognizable athletes from China and was the top-earning Chinese celebrity for 6 consecutive years during his active period as a basketball player. He performed in the NBA, earning a selection to start for the Western Conference in the NBA All-Star Game eight different times.
Yao Ming was also named in the All-NBA Team on five different occasions and as a result, he became the only non-US basketball player to have the most All-Star votes. He is beloved in his home country, China, as well as in the United States of America. One of the reasons for this is his easy-going attitude and ever-ready smile. He lives in Texas with his parents, wife, and child.
Yao Ming's Parents Were Also Basketball Players
Yao Ming was born on September 12, 1980, in Shanghai, China, as the only child of Fang Fengdi (mother) and Yao Zhiyuan (father). His mum and dad were professional basketball players in their own rights. His parent's marriage was arranged by the government and as his parent's only offspring, Yao grew up showered with all the love and affection they could spare.
Yao Zhiyuan
Yao Zhiyuan is the patriarch of the Yao Ming's family who played professionally as a member of a local basketball squad in Shanghai. Prior to his stint as a basketball player, the NBA star's dad was formerly a worker but was drafted into the Shanghai Basketball Team, thanks to his towering height of 6 feet 10 inches. The retired player recounted memories of his son's childhood, saying that Yao had a passion for geology as a growing child. The youngster was inspired by a dream to travel around the world.
Fang Fengdi
Fang Fengdi, Yao Ming's mother is 6 feet 2 inches and was an active basketball player during the 1970s and played for the Chinese national team. Fang was just 15 years of age when she joined the Shanghai Sports Team where she improved rapidly. She was then selected to the Chinese National Team to play as the starting center in the 1970s.
Fengdi was also a Red Guard and had a great influence on her son during his formative years. The young Yao never liked basketball until his mum took him to a Harlem Globetrotters game where he saw basketball players enjoying themselves. Fengdi was the one who took Yao at age 12 to a famous basketball coach who dismissed him as someone who will not be good at the game.
Yao Ming Tied the Nuptials With Ye Li in 2007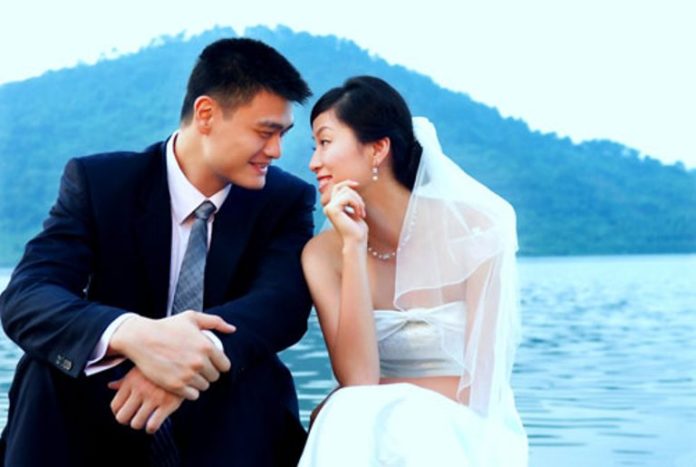 While at the 2004 Olympics, the NBA center sported a red friendship bracelet on Yao Ming. The bracelet was a gift of love from the only woman in his life, Ye Li who also had a career in basketball. Yao was just 17 years old when he met Li who did not take an instant liking to him. According to reports, she rejected all his advances and refused to go on a date with him.
However, Li would have a change of mind after Yao Ming presented her with a collection of the Olympics pins he collected during the Sydney Olympics in 2000. Prior to meeting Li, Yao has never dated any woman which gave her the distinction of being the first woman he ever dated as well as the only woman in his life. Though they started dating earlier, their dalliance became public knowledge after they made an appearance as a couple at the closing ceremony of the 2004 Olympics. Li's towering height of above 6 feet made her most suiting for her husband as Yao is one of the tallest men alive, standing at a height of 7 feet 6 inches.
The couple dated for quite a while before moving their relationship to the next level. Their wedding took place in Shanghai on the 6th of August 2007. It was a private affair, closed to the media but attended by family and close friends. Yao Ming treated his Chinese teammates to a 10-course meal in addition to repeated shots of bottles of fiery mao tai liquor at a posh restaurant in Beijing.
The Couple Are Parents To One Girl 
As the first month of 2010 was ushered in, it was revealed that Ye Li was in the family way, and with Li also being part of Chinese basketball, Netizens went wild with several predictions of the child's likely impact on future basketball in China. When the baby girl finally announced her entrance on the 21st of May 2010, she weighed 3,345 grams. Her name is Yao Qinlei but her parents deemed it necessary to give her the English name Amy. Qinlei is also an American national as she was born in a hospital in Houston, Texas.
When it was revealed that Li was going to have her baby in the United States, fans of basketball in China became really upset over the whole idea. They believed that for being born in the United States, Yao Ming's child would be entitled to have an American passport, thereby deprive China of a potential great basketball player.
Chongqing Business Daily and AFP quoted an internet posting of a fan who wrote that in addition to it being a huge loss to China basketball, it will be something very difficult for Chinese fans to accept as far as feelings are concerned.
The NBA All-Star center implored the media not to throw the spotlight on his family. His reason for saying this was the Yao Ming family had enough of the limelight already and he wants his little girl to grow up like other babies of ordinary families. Yao Ming's daughter just clocked 10 and it may be too early to determine if she is inclined to basketball or not.
Yao Ming's Wife Had A Brief Stint Playing Basketball With China Women's Basketball Team
Born on the 20th of November 1981, Ye Li is a Shanghai native who has also played basketball at a professional level. She participated in the 2004 summer Olympics playing for the China Women's Basketball team. The wife of the NBA All-Star center equally played on the Shanghai Octopuses.
Li is distinguished among average Chinese women by her imposing height which is measured at 6 feet 3 inches. With her gigantic height, the mother of one surpassed the average height for female basketballers by 3 inches. More importantly, she towers above the average height of regular Chinese women by a few feet and several inches. Li may have come to the limelight playing at the 2004 Summer Olympics when she was 22, but she made more history as she joins Yao Ming's family as the NBA star's wife and the mother of his child than she made as a basketball player in China.