Yasiel Puig is an MLB player who made his debut in 2013 playing for the Los Angeles Dodgers. With several awards to his name as well as several records broken and set, he has since then established himself as a force to be reckoned with in the MLB. Here is all you should know about Puig who was nicknamed "The Wild Horse" by Vin Scully, the legendary Dodger broadcaster.
Yasiel Puig Biography (Age)
The MLB star was born Yasiel Puig Valdés in Cienfuegos, Cuba on December 7, 1990, to two engineer parents, Omar and Maritza Puig. His family includes a younger sister named Yaima Puig. At the age of 99, Yasiel Puig had begun hitting the baseball. He improved quickly at the game and by 2008 was part of the Cuban national baseball team that won a bronze medal at the 2008 World Junior Baseball Championship.
Following this Puig signed up with his local Cienfuegos baseball team which played in the Cuban National Series. Puig had five home runs that season in his debut season and batted .276. He had his breakout season the following year during the 2009-10 Cuban National Series, with a batting average of .330, 17 home runs, a score of 78 runs out of 327 at-bats and 47 batted-in runs. Yasiel Puig, then played for the Cuban national team the following year at the 2011 World Port Tournament.
By the end of the 2011 season Yasiel and his teammate, Gerardo Concepcion, attempted to defect to the United States, while Concepcion succeeded, Yasiel Puig failed and for his punishment, he was banned from playing for Cuba during the 2011-12 seasons.
Yasiel Puig's attempt to defect to the United States wasn't his first defect attempt back in 2009, it is reported that he made 13 failed attempts to defect to Mexico. His plan was to become a legal resident in Mexico which would then render him eligible to sign a contract as a Major League Baseball player. Finally, Puig found success in 2012 and he was signed by the Los Angeles Dodgers to a 7-year contract worth $42 million.
MLB Career
Yasiel Puig began by playing in the minor league. He made his MLB debut on June 3, 2013, and went on to impress greatly. In his first game for the Los Angeles Dodgers, he had two home runs and in his second game, he recorded 5 home runs; this made him the first Dodger player ever to have more than one home run in their first two games. Three games later (to make a total of five games), he became the second baseball player in recent times to have four home runs in his initial five games. Also, he had 10 RBIs which equaled the MLB record for most RBIs scored in the initial five games of a ball player's career.
Yasiel Puig proved unstoppable in his first year for the Dodgers as he went ahead to set several records including becoming the first player to have at least 34 hits as well as seven home runs in the first 20 games played in the Major League. He also became the Dodger with the most hits and most bases covered in his first 20 games.
At the end of his first month, Puig had amassed 44 hits which broke and set the team record for the most rookie hits in one month and second all-time for the most rookie hits in their first month. He went on to win the National League Player of the Month Award as well as the National League Rookie of the Month Award for that month.
Yasiel Puig went on to set several other Dodger records (and matched others) before being traded (along with some teammates and cash considerations) to the Cincinnati Reds in 2018.
Yasiel Puig's Girlfriend and Children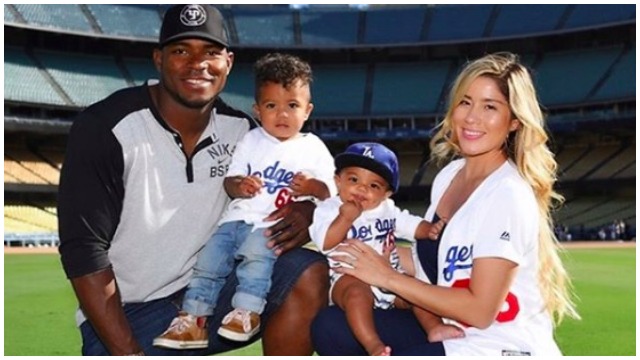 Puig is, as of this writing dating Andrea de la Torre, a brunette of Mexican descent. They started dating in 2014, the year after he welcomed his first son with ex-girlfriend Nicole Chaves. Little is known about Andrea except that she has two brothers. She is also known to be very supportive of her boyfriend as she frequently shows up at his games. She has quite a following on Instagram with over 20,000 followers and sometimes gives insight into what their family is like.
In addition to his son born December 2013 with his first girlfriend, Nicole Chaves, Puig has at least two other children. His second and third sons were given birth to by Andrea de la Torre, on February 2, 2017, and January 28, 2018, their names are Daniel Puig and Damian Puig respectively.
See Also: Yu Darvish – Biography, Age, Height, Wiki, Facts about the Baseball Player 
Height and Weight 
Being physically fit is one of the many priorities of any sportsman and for Yasiel Puig, he has made endless efforts to be fit for most of his games. Yasiel Puig height of 6 feet 2 inches seems quite perfect for his games. His weight of 111 kg has never limited his carriage on the field.