Since turning pro in 2013, Zach Ertz has proven himself to be a versatile player and an invaluable asset to the Philadelphia Eagles. An athletic and intelligent target, Ertz focuses on what really matters and has been shining with the franchise.
More so, the NFL star has a unique personality which transcends from being born into an athletically inclined family to building his own immediate family with a co-athlete and longtime love. Here are interesting facts about the star Eagles tight end including details about his career and peculiar love story.
Who Is Zach Ertz?
The eldest of four children, Zachary Adam Ertz was born on 10th November 1990, in Orange California to Doug and Lisa Ertz. Zach attended Monte Vista High School, Danville, California where he excelled at basketball and football playing quarterback, receiver, and safety on the school's team. He later proceeded to Stanford on an athletic scholarship.
Given his advantageous height, Zach initially wanted to play basketball in college, but his mother and coaches made him discover his innate football skills and convinced him otherwise. Interestingly, Zach is from a football inclined family as his father Doug played college football for Lehigh University in the 1980s. At Stanford, Ertz established himself as a dynamic blocking and receiving tight end.
Zach's golden chance for the professional play came in 2013 when he was drafted into the NFL in the 2nd round as the 35th overall pick by the Philadelphia Eagles. His outstanding performances with the Eagles has helped the franchise to several breakthroughs including their first-ever Super Bowl (LII) win. Leading the team in all receiving categories, Ertz also surpassed expectations with the Eagles by producing the most receptions and receiving yards ever by a tight end in their first four NFL seasons.
Having given the franchise value for their money, Ertz had his contract renewed in 2016. After signing a 5-year contract extension to keep him in Philadelphia, Zach Ertz continues on a trajectory of making history with the franchise either as a tight end or a receiver.
Is He Married or in Any Relationship?
Zach Ertz is happily married to Julie Johnston, a World Cup champion and former Olympian soccer player. The long-term lovers first met through a mutual friend in 2012 at a baseball game in Stanford and soon sparked up a romantic relationship. Despite being in different schools as Julie was at the time studying communications and playing football at Santa Clara University, while Zach was attending Stanford, love still conquered for the couple.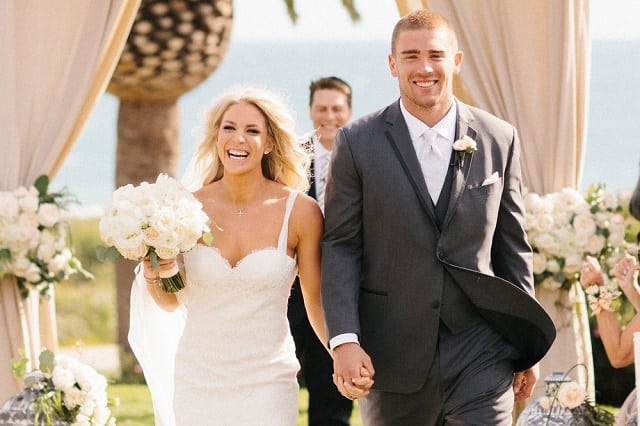 After courting for about 4 years, Ertz decided it was time to take the relationship to the next level and popped the question to Johnston on February 26, 2016, at the Stanford University stadium where they first met. A year later, on March 26, 2017, Zach and Julie tied the knot in a beautiful ceremony attended by family, friends, and colleagues at Bacara Resorts, Santa Barbara, California. The sports power couple who apparently share a great connection has been going strong and hope for better days ahead in their marriage.
As a professional soccer player, Zach Ertz's wife is a midfielder for the U.S national women soccer team and the Chicago Red Stars of the National Women's Soccer League (NWSL) on the club side.
Here's What We Know About His Brother
The oldest of four boys, Zach played an important role in his siblings' upbringing after their parents divorced. His younger brothers are Shane, Nick, and Jackson Ertz. He tried to stay close to home to help look after his brothers, balance studies with football and was readily available whenever his family needed him.
Apparently, Zach isn't the only son who inherited his father's athletic genes. His youngest brother Jackson is also towing the same career path. Also, despite undergoing two back surgeries that threatened his ability to ever walk again, his brother Nick recovered and even went on to play varsity basketball at Trinity-Pawling, New York.
See Also: Saquon Barkley Girlfriend, Height, Weight, Wife, Daughter, Parents
Other Interesting Facts About The NFL Star
1. Zach Ertz towers at a height of 6 feet 5 inches and weighs 250 lb. His body measurements are chest – 40 inches, waist – 30 inches, and biceps – 15.5 inches.
2. Ertz has so far had a successful NFL career with bigger opportunities in the near future. With a net worth currently estimated at $16 million, Zach is obviously doing well for himself and living the good life.
3. Like most athletic stars, Zach's success story hasn't been without some travails. He has suffered some health challenges in the course of his career including a knee injury in 2011 and a head injury in 2017 which cost him some games and even victories. Nonetheless, he bounced back and better to the field after each of these challenges and continues to help his team to more wins.