When he was 17, not quite out of high school, Tom Osborn, an entrepreneur from Awendo in Kenya observed how deforestation which was necessary to create cooking fuel for the masses, resulted in those same masses suffering from smoke inhalation.
A passion for bringing clean energy to Kenya was birthed in him.
See Also: UN Honors Valiant Senegalese Peacekeeper Capt Mbaye Diagne
Combining that passion with technology, he came up with the idea of a "clean charcoal" briquette. The idea won him a $3000 innovation grant in 2013.
Just a little while after, together with another schoolmate Ian Oluoch, he founded Greenchar. Greenchar is a company that produces these briquettes, made out of sugarcane waste for both household and industrial use.
They were joined afterwards by Yina Sun, a student at Chapel Hill University in Chapel Hill, North Carolina, who became their third partner.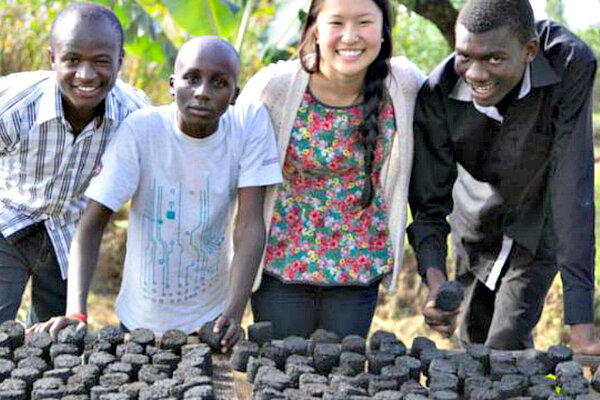 Its been a few years down the line and today the original vision of bringing clean energy to Kenya is still steadily being realized as Greenchar now has 10 full-time employees and 15 part-time salespeople who get its products to 3,000 homes and 20 companies.
In an interview, Osborn revealed that they started with an initial total investment of $210,000 and have since generated $40,000 in revenue, selling to pilot projects in rural areas in the southwest of the country, and in two urban slums in Nairobi.
The products which are branded as Maaka Poa (cool charcoal) are sold by local kiosks and therefore continually provide employment and revenue for the communities.
Bringing clean energy to Kenya may have been especially necessary for health reasons because 75% of the population uses charcoal, firewood or biomass creating pollution and depleting natural resources, but Osborn and his team have also managed to make Maaka Poa a cheaper alternative.
See Also: Bernice Dapaah: The Woman Growing Bikes In Ghana
Tom Osborn and his team are basically creating change from waste and in the future, Greenchar plans to expand its range of products as well as its distribution, selling to more places in Kenya as well as in Eastern African countries.
They hope to produce a cooking stove that works more effectively with Maaka Poa and also that the  clean fuel will be used not just for cooking but to generate electricity.