Michelle Obama may be the First Lady of the United States, but she was not afraid to plunge into the issues (especially concerning girls) in the course of her visit to Liberia.
See Also: South Africa May Discard Plan To Give Virgins Scholarships As It Is Deemed Unlawful
She published a diary and images of her visit in Liberia on the hellogiggles website, focusing especially on how the girls in Liberia fight against all odds to get an education.
She does not take an obligatory or high handed tone in detailing her experiences as she first enumerates the struggles that the country has overcome;
"I started my day in Liberia, a country that has overcome extraordinary challenges – including a civil war and the recent Ebola outbreak – but remains one of the poorest countries in the world.

The average Liberian family lives on less than two dollars a day, and about 90 percent of the country has no access to electricity. During the Ebola epidemic, entire communities were devastated, infrastructure crumbled, and most schools closed for six months, which left girls particularly vulnerable.

Teen pregnancy rates increased, and when schools did re-open, attendance rates dropped, in part because in Liberia, pregnant girls are strongly discouraged from attending school."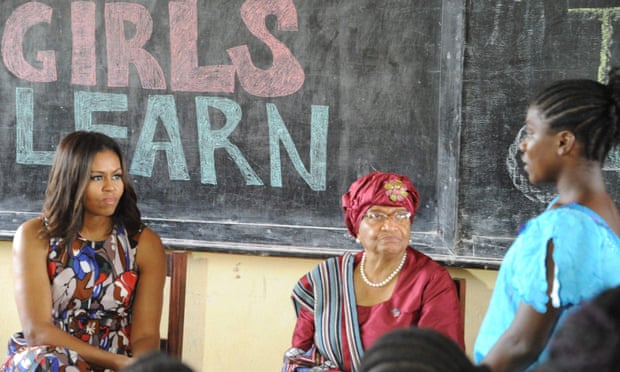 She then goes on to write about the activities that she was engaged in, in the course of her visit. She partook in two hands-on activities; the first saw the girls showing her their WASH (Water and Sanitation, Hygiene) Station and the second involved the girls showing her how they make re-useable menstrual pads (or "RUMPs" as they call them) — which are much more affordable and available than disposable products.
Michelle Obama then went on to talk to them about the importance of proper hand washing to prevent the spread of illness and also about menstrual health and hygiene, both very important issues in Liberia.
See Also: Zimbabwe Introduces Swahili And Chinese In Schools' Curriculum
Hand washing became an important issue in Liberia due to the fairly recent Ebola outbreak and an inability to handle menstrual periods makes many girls to miss school. She encouraged them not feel embarrassed about, or ashamed of, their periods.
She also shared stories of some girls who are expected to feature in a CNN film about girls' education;
"One of these girls lived in a remote forest for the first 11 years of her life, and her parents couldn't afford to send her to school. But when her aunt and uncle visited and realized how smart she was, they adopted her, enrolled her in school, and soon, she was at the head of her class and even skipped two grades."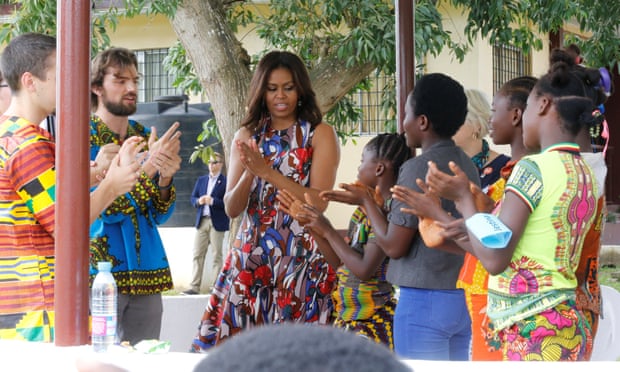 "Another girl wakes up early every day to cook for her family, care for her younger siblings, and work in a local market – and she does all of that before she even gets to school in the morning.

In the evenings and on weekends, she seeks out a local Peace Corps volunteer to get tutoring in science and math because she is determined to fulfill her dream of being a nurse."
The first lady ended her diary by announcing new investments by the U.S government in empowering girls in Liberia and restated the motive behind the Let Girls Learn effort;
We want to give every girl the very best chance to learn, grow, and fulfill her boundless promise, because we know that they will seize that promise – to benefit themselves and others – and because we believe that they deserve nothing less.