The daughter of Archbishop Desmond Tutu, Mpho Tutu van Furth has been speaking about how difficult it was to leave the priesthood following her same sex marriage in December.
She described it to the BBC in a video interview as a feeling that part of her had been stripped away and had a more in-depth conversation with The Guardian on the matter.
Mpho Tutu van Furth was ordained when she was in her early 40s in the diocese of Washington, where she actually remains a "priest in good standing".
This is because the global Anglican Communion has a different stance on the matter of homosexuality from the US Episcopal church where the latter has embraced homosexuality, ordaining its first openly gay bishop in 2003 and embracing same-sex marriage totally in 2015.
See Also: Anglican Church Of Southern Africa To Recognize Same-Sex Couples
She furthered on her statement to the BBC that her marriage would hopefully start up conversation in the Anglican church, telling The Guardian;
"Those who are vehemently opposed to same-sex marriage really dug in their heels and those who have been letting the issue slide, so to speak, have realized that they can't afford to let it slide for another umpteen years, umpteen synods. And that we really do have to talk about marriage and same-sex unions, and that we do have to address all of our membership and not just those with whom we find easy agreement."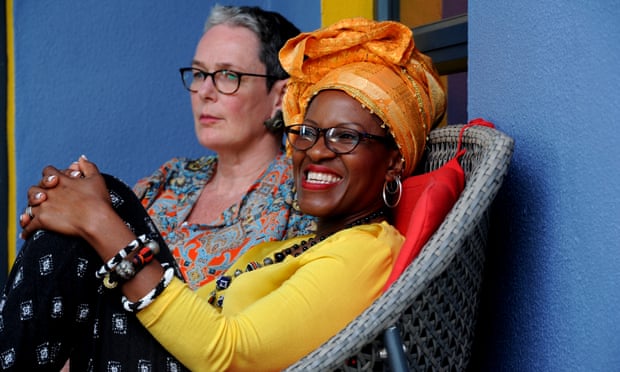 Mpho Tutu got married to Marceline van Furth in a civil wedding which took place in the Netherlands in December and it was followed by a celebration at a vineyard in Franschhoek, near Cape Town, just last month.
She gave up her license to officiate in South Africa last month and she again told The Guardian that one of the reasons she is sad about the loss is her father's legacy;
"My father campaigned for women's ordination, and so every time I stand at the altar I know that this is part of his legacy. And it is painful, a very odd pain, to step down, to step back from exercising my priestly ministry."
Archbishop Desmond Tutu on his end is fully in support of same-sex marriage, even declaring at one time that he is as passionate about it as he was about the apartheid struggle and that he would not; "worship a God who is homophobic and that is how deeply I feel about this,".