A fight which broke out in the South African Parliament on Tuesday saw members of the Economic Freedom Fighters expelled.
The fight which is the second this month ensued when the EFF tried to stop president Zuma from speaking. Bottles were thrown and fists were exchanged before the Speaker of the parliament ordered security officers to take them out.
At the beginning of this month, President Zuma appeared in parliament over the presidency budget debate but the EFF MPs in their usual red boiler suits were not happy with Zuma's presence in court.
SEE ALSO: South Africa Court Battle: DA Vs Zuma
"He failed to respect, defend and uphold the Constitution. No sooner than that a court set aside his previous issues of the 783 charges of corruption.
"Is it Parliament and Constitution that this very important and revolutionary house to be addressed by a man who was found by two courts to be wanting," said EFF MP Godrich Gardee.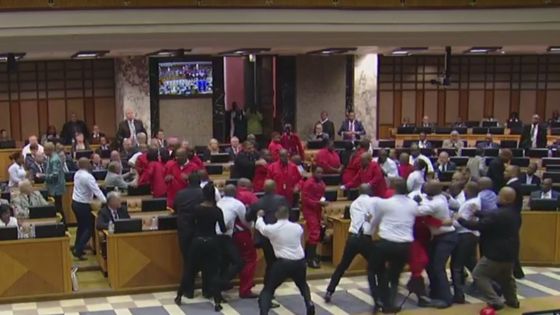 This led to the EFF MPs being evicted and suspended for 5 days. Their hatred for Zuma has however not depleted since the first brawl.
Shortly after the EFF MPs were evicted on Tuesday, Julius Malema, party leader threatened President Zuma saying he will never find peace.
SEE ALSO: US Diplomats Walk Out As Museveni Gets Sworn In For 5th Term
"We need to do more than what we have been doing as this House, which is like the mirror of our people. They look to this House to give leadership in nation building, in making of the laws, in discussing the challenges of the country, in helping build this country," Zuma said urging the different parties to coexist because of their common goal, which is the success of South Africa.