A revolution is the situation of repudiating the ruling government as a matter of the people's dissatisfaction of their reign. Every generation is and has been blessed with a number of people who see the need to disagree with an impeding social construct. Certain things come to mind when the word 'revolution' is mentioned – fundamental need in structural change and subsequent revolt, however subtle or drastic. First of, there is an implication of inequality and lack of fairness in the system which has painfully been long overdue; and then follows a struggle between the superior and the inferior class caste system. In one word, oppression; when oppression goes on for so long it never poses a surprise when it gives birth to a full-blown revolution.
The 18th – 19th century celebrated the renaissance ideologies including industrialization which became a channel to grow the economy but unfortunately, that did more harm by subjugating the poor masses, abusing them and cheating them, all for one reason, they are not landowners but mere laborers. The low-class people who literally worked to urbanize the world were exploited. In a slightly different view, countries that have served as colonies also apply revolutionary tactics to get back their freedom. The 20th century did not only enjoy industrial revolution but also gave rise to notable personalities who changed the course of world governance in order to ensure that all men and women were treated as equals, with fairness and respect.
It is inherent to have revolutionaries from time to time who are fed up and committed to the sole purpose of setting lives free by making it better. More than several more others, some revolutionary characters made resounding and humongous impacts in the lives of people both in history, for the present time and posterity too.
1. Malcolm X
Country: U.S.A
Malcolm was a resilient and brave leader of the American civil right movement. As a signature style he was initially and irrationally seeking the complete separation of the black and white races, making his stand point on it all the more evident in his choice of harsh words to paint the racial picture like he saw it. Tirelessly he fought for the emancipation of black Americans. Malcolm had a very tough and rough beginning; orphaned and lived in several foster homes; got in and out of trouble, till his contact with Elijah Muhammad, the leader of the Nation of Islam, who helped him tame his vision towards the emancipation of "Afro-Americans" under the auspices of the Nation of Islam.
His passionate vision for a better black community made him the most outstanding and important figure in the Nation of Islam brotherhood. With his encouragement, Malcolm completed his PhD programme behind bars but like his father and uncles(victims of racism), he was assassinated on February 21, 1965 at the age of 39, by his later estranged brothers from the brotherhood. After years of serving as the group's spokesperson, Malcolm broke out of the group and founded Muslim Mosque Inc, and that fired up the jealousy that resulted in his death. Malcolm's later diplomatic feature owing to his denouncement of the group did not last as much as his characteristic radical personality. From the other side of the story, the American government turned a blind eye to the plot to assassinate Malcolm, if that's not callous and racist, I wonder what is.
2. Nelson Mandela
Country: South Africa
Madiba, as fondly called is a global figure whose name speaks for itself. Regardless of the penalty, he fought for the freedom of his people. 27 years imprisonment is no joke but with Madiba it was all worth it. He is that kind of revolutionary that the prison bars could not subdue. Madiba was great, compassionate, resilient and incredibly influential. Without the sword and the gun, he did it, obtained freedom for South Africans. In life and in death, he remains their national father.
3. Martin Luther King
Country: U.S.A
Minister, humanitarian and civil right activist, that was Luther. From the 1950's till 1968, the year of his assassination, he staunchly led the movements against racism in the United States. His advocacy positively influenced the legal segregation of Blacks in America. He believed in defending the human right of every individual, white or colored. Martin Luther was another revolutionary activist that did not see the need for the gun or sword. He believed in peaceful demonstrations and diplomacy as against the initial Malcolm x strategy. He first turned the face of the Ebenezer church around, starting with just 13 members, with that same vision and hard work Luther was determined to transform the face of the Black American community. His "I have a dream" speech is one of the most powerful declarations with striking future significance as Obama assumed the presidency of the United States.
Martin learnt from his father, not to condone the idea of racial supremacy, in the same way he fought to transfer this precept to the Black American community and the United States Justice system too. Thanks to his efforts, the black community was legally enfranchised to be part of the voting process; he led the movement that resulted to the Montgomery bus boycott victory. In terms of principles, he took after Gandhi's non violent activism but similar to Malcolm's story, Martin's teenage formation was not as smooth as expected of a minister's son. In due time however he became a better person and one of Black America's trailblazers.
4. Muammar Gaddafi
Country: Libya
Muammar Gaddafi was a Libyan revolutionary and politician who governed Libya as its primary leader from 1969 to 2011. He toppled the ruling government for their infamous laxity and disservice. He was known for promoting and developing his own variant Arab ideologies/movement – Third International theory – and rejecting imperialism of every form. To that effect he set up the  revolutionary council which automatically warranted violence from First world nations – The United States and the United Kingdom. He was a significant figure in the founding of AU- African Union – and served as the chairperson of the organization from 2009 to 2010.
Gaddafi was destined to be great as his prominence was felt and spotted in his early days, when as a devout Muslim, he would disappear into the desert to meditate. Side by side to his controversial nature, the once bullied Gaddafi was an uncompromising Pan-African and Pan-Arabic advocate. Rumor has it that Libya could have been a towering economic force in Africa and the world, were he still alive.
5. Robert Mugabe
Country: Zimbabwe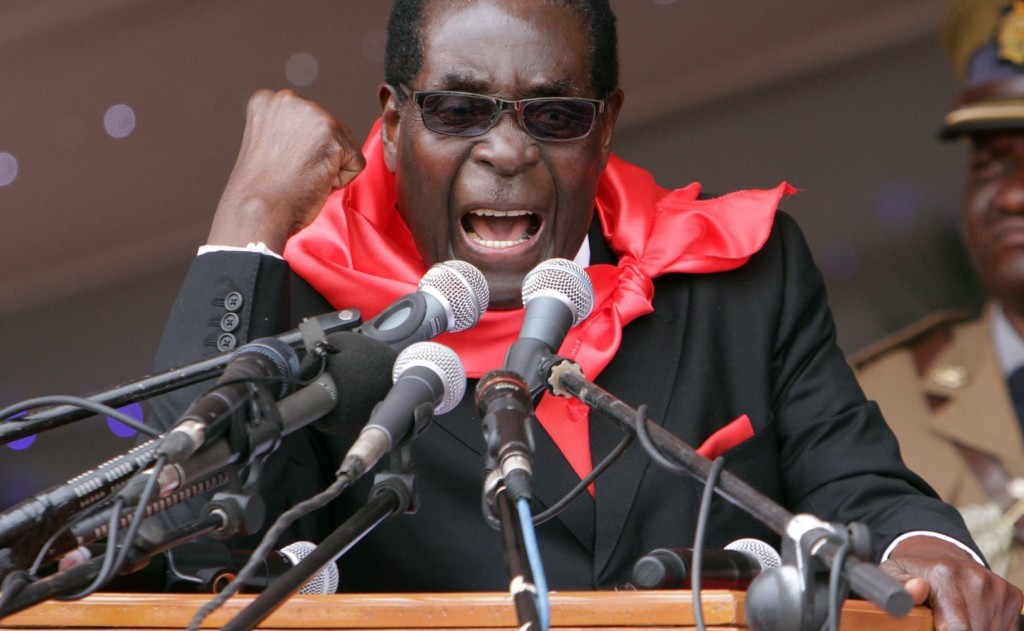 Everyone knows Mugabe, the immovable mover in Zimbabwean political scene and one of the longest-serving presidents in Africa. Only a tough seasoned revolutionary knows how to sit tight for that long regardless of coup attempts, age and health matters. Mugabe started his political career in the early 1960's and just like Gaddafi, he also fancied the idea of Pan-Africanism and has been active in a number of revolutionary activities in Zimbabwe, against the slightest form of western or foreign interference in his government. Astoundingly he had conquered several coup attempts, one of which is speculated to be engineered by international forces. Presently he still stands his ground alongside most sub-Saharan African nations, against the international pressure to legalize gay rights in Africa.
6. Ernesto "Che" Guevara
Country: Cuba
Ernesto was of Argentine decent; a Marxist revolutionary and Fidel Castro's right hand man. He worked closely with the Castro brothers to topple the Batista government (a government that made the entire country a puppet for the United States); a political zealot who did not limit his activism in Cuba but in neighboring nations, till the revolutionary occasion that claimed his life in Bolivia where he led a guerrilla troupe. His jointed efforts with Fidel, made Cuban revolution a success. To return the priceless favor and most definitely for unity of ruling ideology, Ernesto occupied a political space during Fidel Castro's rule. However, Che was guilty of hundreds of extra-judicial killings. Growing up, Ernesto was a lover of books and poetry. During his course of study as a medic, he witnessed the ugly plight of the poor, and this made him develop optimal dislike for capitalism and so, advocated for communism in a rather more practical way until the Bolivian mission that claimed his life.