Adriel Jeremiah, also known as A. J. Green is an All-Pro National Football League wide receiver for the Cincinnati Bengals drafted as 4th overall in the 2011 NFL Draft. He is also a multi-talented and outstanding chap, who plays football, basketball, and runs the track. A. J. Green has had Pro Bowl mention from 2011 to 2017 and won other notable NFL awards.
Read on to acquaint yourself with more juicy information about this wide receiver, like his biography, who is wife and kids are, net worth, as well as his body measurements.
 Who Is A. J. Green of The NFL?
To answer the above question, we will be digging deep into his biography, education, and his background. Please read on to learn all these and much more.
He was born on the 31st of July 1988 in South Carolina and he is an American by nationality. His growing years were filled with sad memories as he was said to have lost his older brother, Avionce Andre Green in a tragic accident which occurred on his way to a school carnival. Green was only four when his brother died at the age of nine in a crash which also saw his aunt, Valerie, paralyzed.
This hunky wide receiver has been talented from childhood and was an all-rounder in sports but had difficulty in reading. He went to Summerville High School where he actively partook in three sports; basketball, field and track events. His outstanding performance, especially in football playing for the football team, earned him good publications as a top National Football prospects of the Class of 2008, No.1 in the Sports Illustrated, while USA Today also nominated him 4 times as the only junior for All-State honors among other notable recognitions.
Moreover, A. J. Green led his Summerville High School team to their 25 points, as they won the State Basketball Championship which they played in honor of their late coach Louis Mulkey, who kicked the bucket in 2007 while on firefighting rescue mission, in his senior year.
He thereafter proceeded to study at the University of Georgia where he signed up for football with the Bulldogs football team in 2008. He finished his years in college with neck-breaking catches for receiving yards passes. His college footballer statistics is summarized as 166 pass receptions for 2,619 passing yards and 23 touchdowns in 32 games played which earned him the top wide receiver for the NFL draft.
Other Facts You Need To Know
Career in the NFL
He declared for the 2011 NFL Draft on 9th January 2011 and became selected 4th overall by the Cincinnati Bengals in the 2011 NFL Draft as a wide receiver. He signed a 4-year contract worth $19.6 million and had a blazing hot rookie season alongside his rookie teammates Andy Dalton with whom he broke the All-Time NFL record for most yards thrown and pass receptions caught with his 1,031-yards which were more than the record set by Cris Collinsworth for most receiving yards by a rookie. He ended his rookie season with 7 touchdowns, 65 pass receptions for 1,057 receiving yards, clinching for himself a spot in the 2011 Pro Bowl.
In 2013, he recorded 98 pass receptions for 1,426 receiving yards and 11 touchdowns all in 16 games played and started. Fast forward to 2016, he had a tear on his hamstring that saw him off the field but that did not stop him from getting his 6th Pro Bowl mention.
The wide receiver is not spared from the injury risks associated with the rough game of football as he had suffered from quite a few injuries starting with toes, knees, shoulders and even the groins that saw him off actions for some time but he has always recovered to join his teammates on the pitch slogging it out.
Net Worth
The 2-time All-American winner is estimated to be worth about $35 million according to TheRichest.com. He also signed contract deal in 2015 with the Cincinnati Bengals that will elapse in 2019 worth $60 million and a signing bonus worth $15 million.
Family – Parents, Siblings
A. J. Green's father, Woodrow Green once worked in a steel company and also drove a truck for a living, while his mother, Dora Green, worked as a clerk in Wal-Mart. He once had an older brother, Avionce Andre Green, whose untimely death shook the family and equally confined his aunt, Valerie Goodwine to a wheelchair because she was paralyzed from the waist down from the crash. He was said to have been close to his brother and there was no love lost between the two.
Read Also: Who is Tyreek Hill of NFL? His Career Stats, Injury, Girlfriend, and Education
Is A.J. Green Married, If So, Do They Have Kids?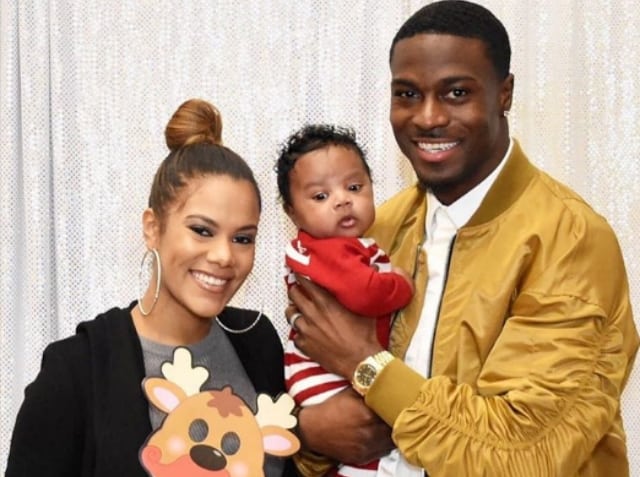 The 7-time All-Pro Bowl, wide receiver married his college love, Miranda Brooke, on the 21st of March, 2015. Miranda, who is a singer and actress dated Green for 9 years before they got married. The couple welcomed their first child, Easton Ace, on the 21st of September, 2016. Miranda Brooke has a large pool of massive social media followings and has dropped a music video single in 2011.
In the spirit of giving back to his community, he and his wife have reached out to the University of Georgia to set up scholarships for 2 students from a less privileged background and a football player.
Height, Weight and Body Measurement
A. J. Green stands at about 6 feet 4 inches and his frame is supported by a weight measured at 95 kg. His other body measurements include; his arms measured at 343/8 inches and hands that measure about 9¼ inches.