Abby Phillip is the political correspondent for CNN who formerly worked as a White House reporter for the giant news network. She has reported widely on Donald Trump's administration along with other latest political happenings around the world. The American journalist is mostly recognized as a Washington D.C reporter who has covered several local and foreign stories, including the Charleston Church Shooting.
Before joining the CNN team in 2017, Phillips worked at different news networks, including Washington Post, Politico, and ABC News. She also served as Hillary Clinton's presidential campaign reporter for the Washington Post. The talented political reporter who is well-known for her hard work and commitment to her chosen career has also been a regular guest on many radio and television channels such as WDEL radio, News Channel 8, FOX News, and MSNBC. Interestingly, Abby didn't set out for a career in Journalism but she has gone ahead to make it worth her while.
A Service Trip Changed Her Career Path
Abby Phillip is a graduate of Harvard University and there, she achieved a Bachelor of Arts degree in Government. At first, the gorgeous reporter wanted to pursue a career in the medical field as she had the desire to become a heart surgeon.
Along the line, she had a change of heart after carrying out a task that involved writing a blog post about the experience she had during a service trip to Mississippi. Afterward, Phillip decided to pursue a career in journalism.
Abby Phillip First Came To The Spotlight For Her Works As Politico's Reporter
Abby Phillip's first journalistic gig was during her internship at ABC7 News. Soon after her internship at the TV station, she was recruited by Politico and served as a political reporter along with providing reports from the White House. During her time at the news agency, she covered several topics on healthcare legislation, foreign policy, political strategy, and education policy.
Also, she provided coverage on the Obama administration and equally reported on campaign finance and lobbying. Later on, she gained full-time employment at WJLA ABC-7 News which spanned from 2012 to 2014. While working there, she was contributing to some of the TV network's programs such as Nightline, This Week with George Stephanopoulos, and their website as well.
Joining Washington Post In 2014 Took Her Career To New Heights
After her stint at WJLA, Phillip began working for the Washington Post in 2014. She initially started as a writer but eventually rose to the position of a political reporter. During this time, she made an excellent coverage of many local and international stories such as the San Bernardino massacre and the Charleston Church Shooting.
In 2016, Abby Phillip was assigned to report on Hillary Clinton's presidential campaign and since the inauguration of Donald Trump in January 2017, the political reporter primarily focused her reportage on his administration, covering several topics, including the president's first G-20 trip to Germany, as well as his overseas trip to Poland and efforts to reform the Affordable Care Act.
She Has Gained Worldwide Recognition Since Joining CNN
As a result of her hard work and commitment to her job, Abby Phillip was recruited by CNN in 2017, in the capacity of a Washington D.C correspondent who reports from the White House. As such, she has covered Trump administration through 2019 and has currently been promoted to the news agency's political correspondent. Abby has reported several political stories since becoming part of the CNN team.
Some of her works include New Questions about Trump's Influence over the USPS, why ballot drop boxes are an easy alternative to USPS, and DNC analysis: Biden offers normalcy, decency. Following her diligent attitude towards her profession, Abby Phillip was selected among the three moderators for the 2020 Democratic Presidential debate. This was a notable career milestone for the proficient journalist who has gained the attention of a wide audience with her incredible works on on-air.
As a result of the exceptional accomplishments Phillip has executed over the years, she was listed on The New York Times article on Millennial Reporters.
Highlights Of Her Stint As Moderator At The 2020 Democratic Presidential Debate
In the course of her career, this CNN political correspondent has had special moments on-air through which she has perfectly displayed her journalistic skills. Moderating the 2020 Democratic presidential debate at Drake University situated in Des Moines, Iowa, on January 14, 2020, has been one of her notable career highlights. She was selected to represent the Cable News Network alongside anchor Wolf Blitzer, with the political correspondent, Brianne Pfannenstiel representing Des Moines Register.
The debate which was sponsored by CNN and the Des Moines Register was attended by former US Vice President Joe Biden, Sen. Amy Klobuchar, Sen. Bernie Sanders, former South Bend, Indiana Mayor, Pete Buttigieg, Sen. Elizabeth Warren, and billionaire Tom Steyer. Even though Phillip actually gave her best in moderating the debate, she came under heavy criticism for raising the issue about Sen. Bernie Sanders reportedly telling Sen. Elizabeth Warren that a woman can't win the US presidential election during their meeting in December 2018.
I'm obviously not a Bernie fan, but the way CNN handled the questions around his alleged "a women can't win" comment was completely outrageous and wrong

Bernie Sanders's most vociferous opponent in the Iowa debate was CNN https://t.co/If3V8l76QZ

— Rich Lowry (@RichLowry) January 15, 2020
Abby was backlashed for asking Warren what she thought about Sanders' remark, seconds after he vehemently denied telling Warren about such a thing. Despite the blunder, the fact still remains that the talented journalist recorded an outstanding achievement by serving as the moderator of the seventh Democratic primary debate of the 2020 presidential campaign season. In addition to her achievements, the US president admitted to watching Abby Phillip's works on CNN in the year 2018, though not in a pleasant encounter.
During a Q&A session with Donald Trump at the White House in November 2018, the president called her question "stupid" and though he admitted to watching her works on CNN a lot, he retorted that she asks a lot of stupid questions. Despite the ugly encounter, Abby never lost focus and has continued to execute her roles excellently, covering Trump administration, as well as political happenings in the country.
Abby Phillip Is Married To Her Long-Time Boyfriend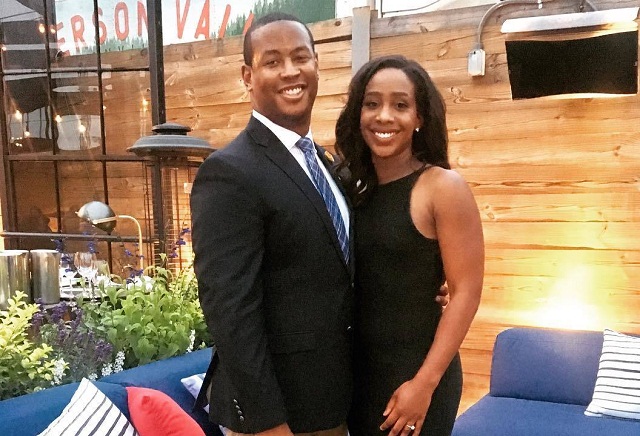 Abby met her husband, Marcus Glenn Richardson for the first time at a mutual friends' party in 2011 in Washington. Although they didn't exchange contact details on their first meeting, as they were interrupted by a lady, fate brought the two together again a month later when the same mutual friends organized another party. A week after their second meeting, the pair started dating and eventually got engaged in December 2016.
Two years later, the lovebirds exchanged vows specifically on 26th May 2018 at the Anderson House in Washington. They are head over heels in love with each other and often go on vacations, spending special moments together in different countries. The pair are yet to expand their family.
What To Know About Abby's Husband
Phillip's husband, Richardson works as a managing consultant at a web and mobile app security company – nVisium, located in Hendon, Virginia. He is a graduate of Florida State University where he achieved a Bachelor of Arts degree in International Affairs.
His parents are Col. Russell G. Richardson and Toussaint Richardson. His father served as a Squadron Commander in the Gulf War for one year, from 1990 to 1991, and retired as an Air Force Colonel, as well as the director of logistics for the Third Air Forces deployed in Europe at Ramstein Air Base situated in Germany.