The White House correspondent for CNN who reports widely on the administration of Donald Trump, along with other latest political happenings around the world is none other than top female American journalist, Abby Phillip. She is mostly recognized as a Washington D.C reporter who has covered several local and foreign stories including the Charleston Church Shooting and the 2015 San Bernardino Massacres.
Before joining the CNN team in 2017, Phillips has worked at different News Networks including Washington Post, Politico and ABC News and has served as Hillary Clinton's presidential campaign reporter for Washington Post. The talented political reporter who is well-known for her hard work and commitment to her chosen career has also been a regular guest on many radio and television channels such as WDEL radio, News Channel 8, FOX News and MSNBC. See more facts about the biography, career and family of the Washington D.C reporter below.
Abby Phillips' Biography
The CNN White House correspondent was born as Abigail Daniella Phillip into the family of Carlos W. Phillip and June C. Phillip in Bowie, Maryland, United States on 25th November 1988. Her father is associated with the District of Columbia Public Schools serving as their Psychology program manager. Her mother, on the other hand, is into real estate investment. Phillips grew up in Bowie, Maryland and has two sisters, Ann-Marie and Asha.
Her Education 
Information about Abby Phillips' elementary education has not been made available to the public. However, it is known that she is a graduate of Harvard University where she achieved her Bachelor's of Arts degree in Government.
At first, the gorgeous reporter wanted to pursue a career in the medical field as she had the desire to become a heart surgeon. Along the line, she had a change of mind after carrying out a task which involved writing a blog about the experiences she had during a service trip to Mississippi. Afterward, Phillip decided to pursue a career in journalism.
CNN Career
Abby Phillip's first journalistic gig was during her internship at the ABC7 News. Soon after her internship at the TV station, the deft journalist was recruited by Politico and served as a political reporter along with providing reports from the White House. During her time at the News Agency, she covered several topics on healthcare legislation, foreign policy, political strategy and education policy.
Later on, she gained full-time employment at WJLA which spanned from 2012 to 2014. While working there, she was still contributing to some of ABC7 News programs such as Nightline, This Week with George Stephanopoulos and their website as well.
After her stint at WJLA, Phillip began working for the Washington Post in 2014. She initially started as a writer but eventually rose to the position of a political reporter, during which she made excellent coverage of many local and international stories such as the San Bernardino massacre and Charleston Church Shooting. In 2016, Abby Phillip was assigned to report on Hillary Clinton's presidential campaign and since the inauguration of the current US president, Donald Trump in January 2017, the political reporter primarily focused her reportage on his administration covering several topics including his efforts to reform the Affordable Care Act.
As a result of her hard work and commitment to her job, Abby Phillip was recruited by CNN in 2017, in the capacity of a Washington D.C correspondent that reports from the White House The adroit journalist has been featured on few occasions on PBS Washington Week and has gone on to become a regular guest on several radio and TV stations including News Channel 8, FOX News, MSNBC and WDEL radio. Following the incredible works Phillip has executed over the years, she was listed on The New York Times article on Millennial Reporters.
See Also: Sona Movsesian – Biography, Age, Husband, Family Facts
Abby Phillip's Husband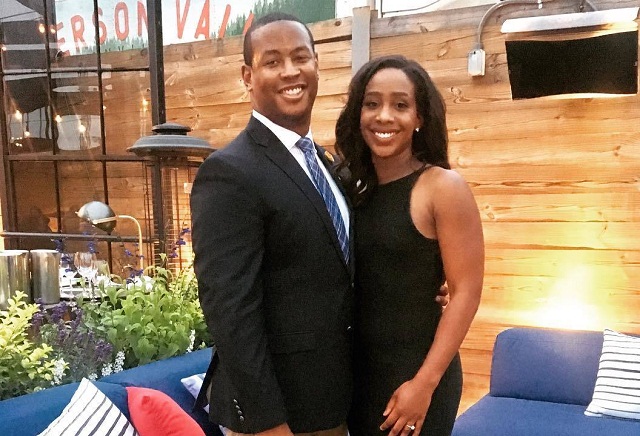 Abby Phillip met her husband, Marcus Glenn Richardson for the first time at a friend's party in 2011 at Washington. Almost soon after, the pair started dating and eventually exchanged vows on 26th May 2018 at the Anderson House in Washington. Richardson works as a managing consultant at a web and mobile app security company, nVisium located in Herndon. He is a graduate of Florida State University and the son of Col. Russell G. Richardson and Toussaint Richardson.