As a well-known American media figure, whose radio show; The Alex Jones Show attracts an audience of about 2 million people on a weekly basis, Alex Emerick Jones is regarded to be among the highly-rated media personalities in America. He is also famously known as a conspiracy theorist and the owner of the online channel; Alex Jones Channel. He works as the publisher and director of two news conduit websites – Infowars.com and Newswars.com. However, these websites and the channel have been tagged as a medium through which Jones spreads his conspiracy theories and was further labeled as fake news channels.
As a result of the illicit propaganda he spreads through these mediums, the famous American radio figure has been permanently suspended on many social media platforms like Twitter, Facebook, YouTube, LinkedIn among others. Nevertheless, he has made cameo appearances in movies like After Last Season and Walking Life. He has also written two books where he shared his views as a Libertarian and Paleoconservationist.
Alex Jones Started His Career On TV After Quitting College
The popular media figure is a Texan native, born in Dallas on the 11th of February, 1974. His Father David Jones works as a professional dentist, while his mother Carol is fully engaged as a homemaker. Jones was raised in the suburban region of Dallas called Rockwall and also in the Austin city of Texas. He attended Anderson High School in Austin and while he was there, he was part of the School's football team. After graduating from high school, he shortly attended Austin Community College but subsequently dropped out and wasn't able to complete his higher education.
At a very young age, Alex Jones had a great admiration for Gary Allen, a conspiracy theorist whose books he became an ardent reader of. He was also greatly influenced by the conspiracy theories he penned down in one of his books; "None Dare Call it Conspiracy." Interestingly, a few years later, New York Magazine labeled him America's leading conspiracy theorist while the Southern Law Center branded him the most prolific conspiracy theorist in contemporary America.
Alex Jones kicked off his career in the 1990s when he featured in a live broadcast of a call-in cable television program. After working on the TV program in Texas, Jones took to the path of radio hosting as he got associated with KJFK radio station.
He Was Fired From His First Radio Gig Before Launching His Own Show
Having become a member of staff of KJFK in the year 1996, Alex Jones began hosting a program called The Final Edition on the radio station. While he was there, he began spreading many conspiracy theories including incrimination of American government as the perpetrator of the Oklahoma City bombing which occurred in the previous year. Later in 1999, Jones attended a George W. Bush rally at the Baypoint Industrial District, Texas, but was asked to leave the rally after interrupting Bush's speech by requesting for the quashing of the Federal Reserve, as well as the Council on Foreign Relations.
Having been involved in many controversies, the media personality was relieved of his duties at the radio station and he subsequently put a start to his own radio show called The Alex Jones Show, broadcasting it from his home. By 2001, the show gained syndication on almost 100 radio stations, and today, it is syndicated to over 100 radio stations across the United States by the Genesis Communications Network.
Throughout his career as a radio host, Alex Jones has found himself subjected to heavy criticism, most notably for spreading a conspiracy theory about the Sandy Hook Elementary School shooting that happened in 2012. He claimed that the massacre was a false flag staged by the advocates of gun control. As a result, defamation suits were filed against him by over 10 families of the victims of the shooting in 2018 and 2019 as well.
This eventually prompted the radio host to acknowledge that the deaths were real. He later paid $100,000 to the father of one of the victims in court costs and legal fees in December 2019. More so, Jones speculated that the 9/11 attack was orchestrated by the US government. Apart from being a radio personality, Jones also works as a movie director and has starred in some movies like Ameriggedon and A Scanner Darkly.
The Controversies He Has Courted With His InfoWars Website
Beyond working as the host of The Alex Jones Show, the famous conspiracy theorist serves as the founder, director, and publisher of the widely known news website, InfoWars. Over the years, his website has gained notoriety as a fake news website which has been used by Jones to disseminate conspiracy theories. Despite the negative vibe about the website, it still attracts millions of visitors on a monthly basis, with Alex Jones claiming in 2014 that his news website rakes in revenues worth over $20 million per annum.
Nonetheless, InfoWars had violated the harassment and hate speech policies of many social media platforms leading to its ban on the platforms. Additionally, Alex Jones has constantly questioned the effectiveness of MMR Vaccines through InfoWars, claiming that people get infected with vaccines. This, like his other theories, received heavy criticism from the public. Despite the controversies surrounding him, he has been rated as one of America's most famous media personalities.
The Famed Radio Personality Has Accumulated Impressive Fortune From His Business Ventures
In addition to the revenues he gets from InfoWars, Jones also gathers tremendous wealth from selling toothpaste, dietary supplements, bulletproof vests, and other products which he markets on his InfoWars website. Reportedly, two-thirds of Jones' fortune flows from the sales of his products, as his net worth is estimated at $10 million. However, tests carried out by Labdoor Inc, a medical company in California, show that some of his dietary supplement products have a too low quantity of the major ingredients needed for the effectiveness of the products, hence, casting doubt on the marketing claims of these products.
In March 2020, the Attorney General of New York issued Jones a cease and desist following his claims that his products can be used to treat COVID-19 effectively. This claim, also attracted a warning from the Food and Drug Administration in the following month, citing that the products he was marketing as an effective treatment for COVID-19 would be seized by the federal government if he continues to sell them.
Recent Troubles With The Law
Alex Jones has faced many legal suits in the past years. Chobani yoghurt filed a suit against him in April 2017 for alleging that the employment of refugees by their Idaho factory had a connection with a 2016 child sexual assault case, as well as giving rise to tuberculosis. Following the suit, Jones retracted his allegations and also rendered a public apology to the company.
Later in March 2020, the controversial radio host had a run-in with the law as he was apprehended in Texas and charged with driving while intoxicated. He was subsequently booked at the Travis County Jail, Austin, and released a few hours later after posting a bail bond of $3000.
Jones Had Three Children With His Ex-wife, Kelly Nichols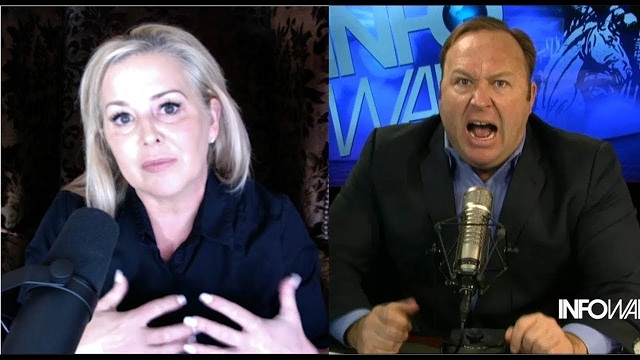 As a media figure, Jones knows how to keep his personal details under the radar; information regarding his early love life is not known. Nevertheless, it is known that he was previously married to Kelly Jones in 2007. Kelly is associated with People for the Ethical Treatment of Animals (PETA) and there, she works as the head of public relations and media operations.
Before the relationship between the two turned sour, their union produced three children; two daughters and a son. Following his father's footsteps, his son Rex Jones was part of the InfoWars team. However, Alex Jones' marriage to Kelly packed up in late 2013, when she filed for a marriage annulment and two years later the divorce proceedings were finalised.
Why Kelly Walked Away From The Marriage
After Kelly and Jones divorced in March 2015, it was rumored that Alex Jones's ex-wife decided to end the marriage after finding out that her ex-husband was having extramarital affair with one of his InfoWars staff member named Lee Ann McAdoo. Kelly additionally cited that Jones's emotional instability brought about a domestic turmoil for which she had to undergo up to 800 hours of therapy sessions.
She subsequently received a divorce settlement of $3.1 million and has also been receiving monthly support of $43,000 from her ex-husband since the divorce. After Alex was granted full custody of their children in 2015, a custody battle ensued between the former couple as Kelly demanded sole custody of their kids, having claimed that her husband wasn't emotionally sane.
Eventually, she was granted joint custody of their children and was given the right to choose where her kids would reside. At the moment, Jones's relationship status remains elusive to the media.