As a well-known American media figure, whose radio show; The Alex Jones Show attracts an audience of about 2 million people on a weekly basis, Alex Emerick Jones is regarded to be among the highly rated media personalities in America. He is also famously known as a conspiracy theorist and the owner of the online channel; Alex Jones Channel. He works as the publisher and director of two news conduit websites – Infowars.com and Newswars.com. However, these websites and the channel have been tagged as a medium through which Jones spreads his conspiracy theories and was further labeled as fake news channels.
As a result of the illicit propaganda he spreads through these mediums, the famous American radio figure has been permanently suspended on many social media platforms like Twitter, Facebook, YouTube, LinkedIn among others. Nevertheless, he has made cameo appearances in movies like After Last Season and Walking Life. He has also written two books where he shared his views as a Libertarian and Paleoconservationist. Learn more interesting facts about Alex Jones' early life, career, and personal affairs below.
Biography
The popular media figure is a Texan native, born in Dallas on 11th of February, 1974. His Father David Jones works as a professional dentist, while his mother Carol is fully engaged as a homemaker. Jones was raised in the suburban region of Dallas called Rockwall and also in the Austin city of Texas. He attended Anderson High School in Austin and while he was there, he was part of the School's football team. After graduating from high school, he shortly attended Austin Community College but subsequently dropped out and wasn't able to complete his higher education.
At a very young age, Alex Jones had a great admiration for Gary Allen, a conspiracy theorist whose books he became an ardent reader of. He was also greatly influenced by the conspiracy theories he penned down in one of his books; None Dare Call it Conspiracy. Interestingly, a few years later, New York Magazine labeled him America's leading conspiracy theorist while the Southern Law Center branded him the most prolific conspiracy theorist in contemporary America.
Alex Jones kicked off his career in 1995 when he featured in a live broadcast of a call-in cable television program. He then followed it up by working as a radio host for KJFK's program; The Final Edition in the following year. Coincidentally, the tragedy of the Oklahoma City bombing occurred in the same period, so the notable radio host used his radio program as a medium to incriminate American government as the perpetrator of such catastrophe.
Subsequently, throughout his career as a radio host, he has found himself as the subject of many controversies including one for his support of the conspiracy theories which sprung up following Sandy Hook Elementary School shooting and also speculating that the 9/11 attacks were orchestrated by the US government. Furthermore, apart from being a radio personality, Jones also works as a movie director and has starred in some movies like Ameriggedon and A Scanner Darkly. Despite the controversies surrounding him, he has been rated as one of America's most famous media personalities.
Alex Jones Family – Wife, Children, and Divorce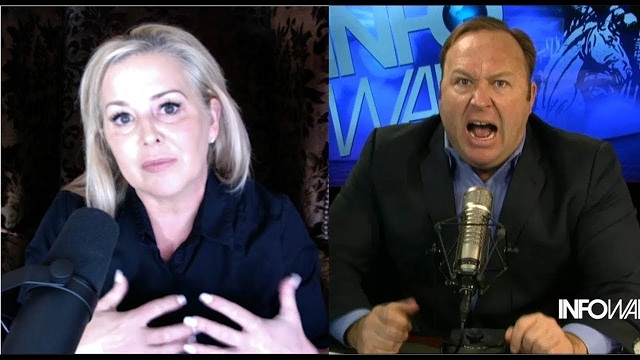 As a media figure, Jones knows how to keep his personal details under the radar; information regarding his early love life is not known. Nevertheless, it is known that he was previously married to Kelly Jones in 2007 and that the union produced three children; two daughters and a son. Following his father's footsteps, his son Rex Jones was part of the Infowars team.
His marriage to Kelly packed up when they signed the divorce papers in 2015 after which she demanded sole custody of their kids as she claimed that her husband wasn't emotionally sane. Eventually, she was granted joint-custody of their children and was given the right to choose where her kids would reside. At the moment, it is still unknown if Jones is in a relationship or still single, as he has managed to keep his relationship away from the media eye.
See Also: John Oliver Wife, Son, Height, Age, Salary, Net Worth, Family
Is He Gay?
Jones became a subject of gay rumors following his low-profile personal life details, especially because no one can easily dictate his relationship status. Meanwhile, part of the reason Jones Facebook account was removed was as a result of his violation of the hate speech policy; he was cited to have made transphobic comments among others. As it stands, there is no concrete evidence to prove that the famous radio personality is involved in a love affair with someone of his own gender.
Net Worth
As a notable media personality whose radio show has about 2 million listeners on a weekly basis and his Infowars.com website is reported to have about 10  million visitors monthly, it's quite obvious that the American born personality has acquired huge wealth. Hence, his financial value is estimated at the sum of $10 million.